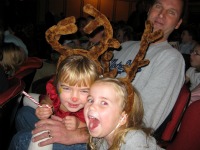 Cincinnati does Christmas right – everywhere you look there is something to charm even the Scroogiest amongst your brood.  And one of my most favorite things is heading Downtown for all that is Macy's Downtown Dazzle.  We've been going for a few years now and it gets better and better as P gets older.
So Saturday, after an amazing Brunch with Santa followed by Holiday Follies 2 (WONDERFUL AGAIN THIS YEAR!), at The Children's Theatre of Cincinnati, we hopped on the Holly Jolly Trolley right at the Taft Theater and jollied towards Fountain Square.  The rain had just started to trickle but we refused to let our spirits be dampened!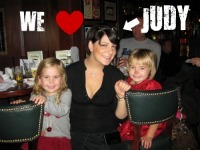 Starving, we dined at McCormick & Schmick's.  Delicious as always with superb service provided by Judy.  We were there with another family and when P and her friend get together it can get pretty crazy, but Judy was so great with the kids.  And BONUS: through the holidays, KIDS EAT FREE there on Saturdays!
After dinner we headed to the Hyatt for the Gingerbread House collection which will likely make you feel very inferior about your own gingerbread house as they are just amazing.
Then back to the Square for the big show.  Look, up in the sky – it's a bird, it's a plane, it's superman er, I mean Rudolph, Santa and Buddy the Elf! The stars of the season bounce and bobble their way down the side of a building and let me tell ya, you're never too old for that fun!  Follow that with Rozzi's fireworks and it's dazzle-licious!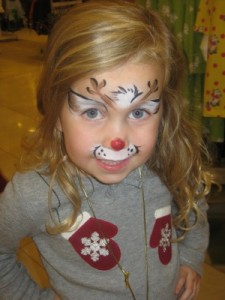 We hustled and bustled into Macy's for more fun – Mrs. Claus' storytime, complete with cookies she baked herself (wink); crafts, balloon animals, and the worlds' BEST face painter – all provided by Macy's throughout their store.  If you are ever in the market for a face painter, please check out www.bymaddy.com – great designs, terrific people and the artists are super-fast, which helps immensely with those 4-year olds and their patience levels!
And then of course  some quality time with the one, the only, SANTA CLAUS.  How generous of Macy's to provide Santa for everyone free of charge where you can snap as many shots as you want for the perfect holiday memory. Don't forget your letters to Santa as Macy's donates $1 to The Make a Wish Foundation for each letter it receives on behalf of the Big Guy!
You can read all about the happenings Downtown, at Macy's and in the surrounding shoppes and restaurants on Downtown Cincinnati Inc.'s website.  Saturday  (12/18) is the last night for Downtown Dazzle, so make plans to visit this weekend.  But plenty of festivities will be happening all the way through Christmas and even into the new year.