Editor's Note ~ Sadly, Lavomatic has closed, but the doors to that same building re-opened as Kreuger's Tavern, where you can find delicious food and craft brews.
With tickets to see the Nutcracker at the School for Creative and Performing Arts (SCPA), last Friday, we thought we'd eat downtown and I'd wanted to try Lavomatic Café for some time.  This "Urban Wine Bar" is located in the trendy Gateway Quarter in Historic Over the Rhine at 1211 Vine Street.    The menu looked eclectic, yet diverse enough to serve my family of four different preferences in dining.  I was also happy to see they supported local, seasonal ingredients and the slow food movement.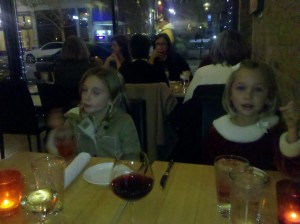 Apparently Lavomatic is French for laundry and they suspect this space used to be an old laundry mat.  At any rate it adds a fun flare to the quaint establishment that serves up good food.  My husband enjoyed seared scallops with soba noodles in a dashi broth.  I had a Salmon dish that had me salivating at creamed spinach and artichoke that included orzo wild rice and was made perfectly beautiful with a phyllo pastry triangle on its side.
The girls enjoyed macaroni and cheese to which S said, "this mac&cheese is real good" and grilled cheese was prepared way more fancy than we do, served with greens and a side of "real" potato fries.  They also had their very first Shirley Temple's since we were out celebrating the season of good cheer.  With our Best of Cincinnati dining card we enjoyed this dining experience at 40% off without coupons to keep up with; now that's what I call family friendly.  Turns out we were only blocks from SCPA so we walked over to the show and checked out a shop or two on the way.
Lavomatic Cafe
1211 Vine Street
Over-The-Rhine
Cincinnati, Ohio 45202
513-621-1999