Looking for a family-friendly pizza place in northern Kentucky? Check out Newport Pizza Company in Newport, Kentucky.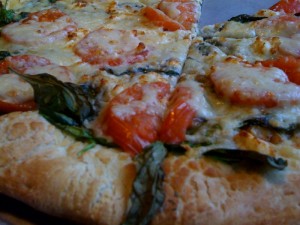 The menu at Newport Pizza is quite delicious and includes appetizers like homemade Fried Mozzarella, an Antipasti Basket, Asiago Spinach Dip and Boneless Wings.  For the main attraction – pizza – the menu takes it up a notch, and while you have your traditional pepperoni and BBQ Chicken type pizzas, they feature specialty pizzas like the Zeus with fresh baby spinach, feta cheese, Roma tomatoes, roasted garlic, olive oil, and asiago cheese and the Lotsa Mozza and Roma with Mesh mozzarella, Roma tomatoes, fresh basil, garlic and olive oil. For those not interested in pizza (gasp!) the menu also includes salads and sandwiches.
For our first visit, my family – which consisted of myself, my husband, our two boys and my father – ordered Fried Mozzarella as our appetizer, The Zeus (16″), a half cheese/half pepperoni (16″) for the boys, and then two stuffed apple calzones for dessert. Our total bill came to just over $50, not bad for feeding 5 people!