Katie's recent post on Zips Café in Mt. Lookout, got everyone at FFC motivated to find the best burger in Cincinnati.  So our FFC "Burger Wars" was launched. Now, I'm no burger aficionado but I do like a good burger.  Recently, I was able to check out two of Cincinnati's Best Burgers.  The first was at Brazenhead Irish Pub .
We were excited to try their $3 burger deal  which they offer all day on Wednesdays.  The burger will come dressed with lettuce and tomato but if you'd like additional toppings (cheese, mushrooms, etc, it'll cost you $.75 a topping).  I like Brazenhead's ambiance – this restaurant is huge but it has little nooks that make you feel like you're in a more intimate setting.  It's a great place to host a family party or fun night out with friends and they also host lots of great community events.  They have many great things to entice you to come in, a Kids' Eat Free night on Tuesday, happy hour M-F from 3-7pm with half priced appetizers and drinks, Thursday night Karaoke, all you can eat Fish & Crisps ($9.95) on Sunday, and a  live DJ or bands on the weekends.  Even though I've previously enjoyed some of  Brazenhead's other menu selections , I found their burger a bit lackluster.
The burger was on the smaller scale (comparing this to the other burger I tried this week) and was slightly overdone.  Of course, that didn't deter me from finishing the burger and I liked the pub chips that were served with it.  The Boursin cheese and mushrooms I added were a yummy added bonus. If I was grading the burger, I'd give it a B-.  Even with a" B-", I'd still return to Brazenhead to enjoy some of their other menu items.
For anyone on Facebook, you know it's a great place to post comments and when I mentioned that I was heading out to the newly opened "Five Guys Burgers and Fries" , the comments started coming (thanks fans, it's nice to know someone is reading my posts). Some loved "Five Guys" while others thought their burgers were a bit on the dry side.  Quatman's Café and Terry's Turf Club were mentioned as other great burger joints so I'll need to visit those one day too.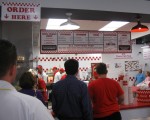 My "Five Guys Burgers and Fries" experience was a good one.  Of course, I think any newly opened restaurant should be on the top of their game so I'll need to re-evaluate after the honeymoon is over. My first impression was that this is a great place to take a family with school age kids – it's loud, you order at a counter and they have free peanuts that your kids can crack open while you wait (mine won't eat them but they sure like to open them).  Now, if you have a stroller, it may be difficult to navigate to your seat since they do have the tables packed in.  There was a good sized crowd there on a Friday night but we didn't have to wait too long in line and our order was ready in about 10-15 minutes.  There were a slew of workers behind the counter and they were working hard calling out order numbers one after the other.  The menu is simple – sort of has to be when your name is "Five Guys® Burgers and Fries".  I did have to ask what the difference is between a "Little Burger" (one patty) and a regular burger (two patties). In addition to the burgers, they have veggie burgers, hot dogs, and grilled cheese.  There aren't any special kids meal prices so it was sort of sticker shock when I saw that drinks were $1.89 but that does include free drink refills.  I ended up buying two drinks and got two cups for water.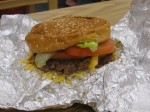 My "Little Cheeseburger" was delicious ($4.09).  I really liked it.  I also liked that you don't have to pay anything extra for toppings.  You can add as many toppings as you like or just order "all the way" and they pile them on for you (mayo, lettuce, tomato, grilled onions, grilled mushrooms, ketchup & mustard).  I ordered cheese and mushrooms with lettuce, tomato, mustard and ketchup.  The lettuce was crisp, the bun was big enough to hold it all together without falling apart, and the burger was moist and juicy.  I'd rather add on the amount of ketchup and mustard to my burger instead of having them do it since I think they added a little bit more than I would have and the burger did get a bit messy.  My kids each ordered a hot dog ($3.19) but since they are finicky eaters, you have to take their assessment with a grain of salt.  My oldest said she liked the dog but my youngest took two bites and said she was full.  I think she got turned off by the look of the dog.  They slice it down the center and grill it so this was probably too much for my five year old to handle – too many textural changes for her.
The hand cut fries were yummy and I love adding vinegar to them.  We got the small fry ($2.79) and it was enough to share for our family.  The fries can also be spiced up if you order them Cajun style. My husband ordered the regular two-patty cheeseburger ($5.49) and he really liked it too.  We'll definitely go back for a second visit after we've gone to the gym and worked off some of what we ate.  Five Guys Burgers® and Fries gets an "A-" in my playbook.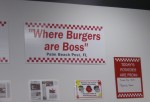 We're always excited to hear more from our viewers.  If you have any great burger places you think reign supreme, leave a comment and hopefully we'll be able to try them out too.
Where can you find these burger places?
Five Guys Burgers and Fries is open 7 days a week from 11am-10pm. They are located at 9540 S. Mason Montgomery Road, Mason, Ohio 45040. You can also call ahead for a carry out order (513) 204-5900.
Brazenhead is open Sunday through Thursday from 11am-11pm and on Friday & Saturday from 11am-2am. They are located at 5650 Tylersville Road, Mason, Ohio 45040 and their phone number is (513) 229-0809.