Well, I had thought that my perfect park blog entries were finished until the spring, but seeing as Mother Nature has blessed us with a mild fall, I figure I can add another park to the list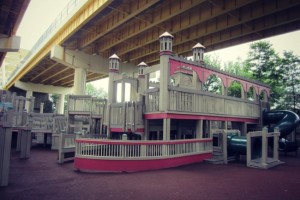 of parks around town that you simply must check out.
Every Child's Playground at Sawyer Point ::
One of my children's favorite parks is located in Sawyer Point, directly beneath the "Big Mac" bridge (I'm sure this bridge has a proper name, but this is it's most popular title).  The playground is a huge wonderland for children of all ages to explore.  It was built in 2003 by a group of volunteers working in conjunction with 1000 hands.  Local businesses donated equipment for the playground.  The playground was designed for children of all abilities, so that everyone could play together. The playground is wheelchair accessible, with soft surfaces.
The playground is enormous, with a wide variety of activities for adventure.  There are musical instruments, a climbing wall, a truck to drive, slides galore, swings, ramps, steps, ladders, passageways, nooks, crannies, tunnels and so much more!  When we visit this park my children do not stop!  And since it is located underneath a bridge, it stays pretty shady at the playground, which is nice in the heat of summer.
There are only a few downsides to this playground, the first being that if you would like to park close by you have to pay $2 to park.  Of course, you could find somewhere to park in Newport and walk across the Purple People Bridge and make a day of it, as I did with a group of friends last summer.  Or you could park by the International Friendship Park and ride your bikes or walk to the playground.  The other thing about this park that bothers me, is something that I bragged about in the last paragraph.  It is HUGE!  I like to have another adult with me when I go, since there are four children and one of me.  It is hard to see all of them at once, because they usually take off in all different directions.
I highly suggest you spend a day exploring not only this playground, but the area surrounding it.  Take a walk by the river, ride your bike along the paths, explore the other playground nearby, play baseball in the grass, pack a picnic and have a wonderful time!
801 East Pete Rose Way, Cincinnati