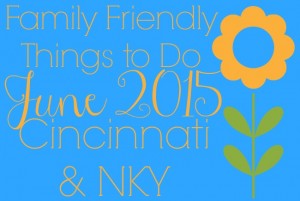 Summer has arrived…the children are going to be home from school, the pools are open, and the grills are lighting up!  It's time to have some summer fun!  Lucky for you we've put together an awesome list of things to do around town in June!  And keep checking back, because we'll be updating this post with events all month long!
PS. Don't forget to check our Cincinnati Free Summer Concerts and Cincinnati Free Summer Movies posts for more great family fun options!
Family Friendly Things to Do in Cincinnati &  NKY ::
June 1 – 6 ::
Incline District Street Fair Saturday, June 6th ~ 3001 Price Ave Cincinnati, OH 45204 A collection of local artisan vendors in support of the community. www.facebook.com/InclineDistrictStreetFair
Crafts N Critters June 6, 2015 Wal-Mart 3201 Princeton Rd Hamilton OH Benefit for the Animal Friends Humane Society in Butler Co.   513-383-9255
Passport to Fishing, June 6, Marsh Lake. 10:00 a.m. to noon. Free, two-day program for all ages that provides the skills, techniques and information to allow any beginner angler to start fishing in their own community. Presented by the Fairfield Parks and Recreation Department. The program consists of an interactive, hands-on learning session taught by seasoned staff. Registration is free, but required by calling 867-5348. www.fairfield-city.org/fishing.
BugFest at the Cincinnati Museum Center ~ a day of activities and programming that will not only educate you about insects but leave you fascinated with these amazing creatures. Celebrate the 12th annual BugFest on Saturday, June 6 at Cincinnati Museum Center.  BugFest is included with admission to the Museum of Natural History & Science and is free to Cincinnati Museum Center Members. Join us Saturday, June 6 from 10 a.m. to 4 p.m. For more information visit www.cincymuseum.org/events/bugfest.
Keck Family Carnival June 7, 2015 11am-7pm   St Joseph's Church Free  Sunday June 7th, 11am-7pm  St. Joseph Church Hall 7536 Church Lane West Harrison, In 47060  Join us for a fun day for your whole family! There will be carnival games, food, music, prizes, a silent auction, FUN and much more! All proceeds benefit the Tony Keck family. Tony is a 35 year old husband and father who is fighting stage 4 pancreatic cancer. Come support them and have a good time!
St Gertrude Festival June 12-13-14 6543 Miami Ave Madeira ~ Live music all 3 days, 1800 sq. ft auction booth, 65 activities, Sunday June 14 3-6 Armband ride special $10, 20 food booths all your festival favorites
Casino air-conditioned  www.stgertrude.org/festival
Ludlow "Trains and Tracks" Railroad Memorabilia Show and Craft Fair ~ June 13 9am-3pm.  Start your day on Davies Street browsing through tables of railroad memorabilia and craft items. There'll be something to satisfy both railroad enthusiasts and shoppers alike.  In the afternoon, make your way down to the city park to enjoy the LYF Festival and be sure to stick around for the City's Fireworks display which will begin at dusk.
It's a great day to be in Ludlow!  If you are a craft vendor and would like to participate in "Trains and Tracks" please contact Ken Wynn at 859-912-5806.
Touch of Amish – Summer Expo June 13, 2015 Hebron, KY  Touch of Amish, Crafters, and Vendors Welcome You!!! Saturday, June 13th, 2015 9 a.m. to 3 p.m. 1853 Petersburg Road, Hebron, KY
Second Saturday Street Faire June 13, 2015 Waynesville OH Waynesville Merchants Association is hosting the Second Saturday Street Faire on the second Saturday of June from 10am-5pm. The festival includes booths where artists, crafters, and authors display and sell their creations. Over forty artisans will feature everything from woodworking to fiber arts. Chalk Walk Art Contest is free to enter to compete for cash prizes. Krafty Kids Market is a great place for young artisans ages 7-16 to sell their creations.  There will be a free Book Swap and a Cruise-In as well as local entertainment www.secondsaturdaystreetfaire.com
June 14 – 20 ::
Ohio River Paddlefest June 18-20, 2015 Coney Island, 6201 Kellogg Avenue, Cinti, OH 45228 www.ohioriverpaddlefest.org
Wump Mucket Puppet Show, June 15, 4:00pm. Campbell County Public Library, Fort Thomas, Admission: FREE. All Ages. 1000 Highland Avenue.  We look forward to meeting lots of pals in Fort Thomas!
MainStrasse Village Original Goettafest June 19, 20, 21 406 West 6th St, Covington KY  41011 If you've never tried Goetta, now is you chance!.  Enjoy goetta pizza, goetta chili, goetta sliders, goetta chedda cheese, goetta tacos and many other goetta specialties and other festival favorites, browse the arts/crafts and enjoy the music along the tree lined Sixth Street Promenade. www.mainstrasse.org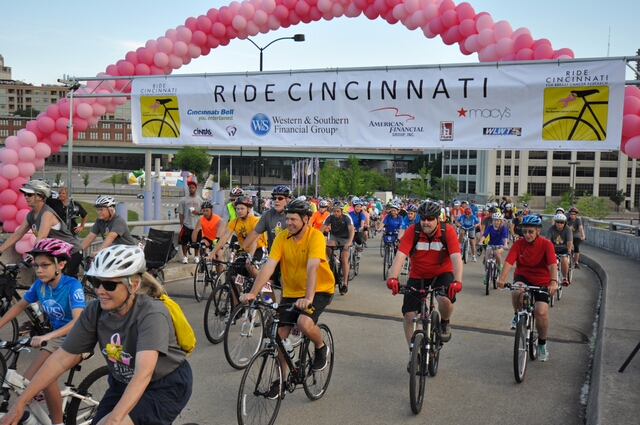 Ride Cincinnati bike event, happening Sunday, June 14. Departing from Yeatman's Cove, participants have the option of riding 63, 45, 26, 16 or 8 miles in the event. While there will not be kids-only ride this year, Ride Cincinnati has built on the popularity of the shorter 8 and 16 mile distances by making them completely closed-road courses.  Adult entry is $40 and includes the t-shirt and after party. Children's entry is $15. More information and registration details can be accessed at: www.ridecincinnati.org.
United Way of Greater Cincinnati Hosts Day of Action, Saturday, June 20, Purple People Bridge, 10am-3pm. Free educational event for parents and children to help bridge the summer learning gap. Will include interactive puppet show, mural painting, hip-hop dancing, celebrity children's book authors reading and book signing, science experiments, sing-a-longs, book swap (bring your gently used children's book and swap it for a different one), prize drawings and enough cake for hundreds in celebration of our 100th birthday. More info: (513) 762-7100
Art Around Towne June 19, 2015 Towne Center Fort Thomas, KY We are excited to announce the Art Around Towne event in the beautiful Towne Center District spanning the cross sections of Highlands Ave and North Fort Thomas Avenue to the City Building in Fort Thomas, KY! Every third Friday from June through September, Fort Thomas businesses' will open their doors to the community to celebrate in the cultural arts. As you walk from business-to-business and vendor booth-to booth, all of your senses will be engaged in great art, artisan creations, art demonstrations, food, music and entertainment along the art hop route that makes this the place to turn your Friday night into great fun and memories! www.artaroundtowneft.com
Family Fun Night at Paint and Bake Ceramics June 19, 2015 | 6-9pm Paint and Bake Ceramics http://www.paintandbakeceramics.com/family-fun-night.html 3972 Alexandria Pike, Cold Spring, KY 41076 Cost is variable.  Join us Friday, June 19th from 6-9pm for some pottery painting fun, family time, and FREE PIZZA for all studio painters!  Don't miss this opportunity to share some much-needed fun family time and get creative together! This would also make a great outing for dad on Father's Day weekend. Call us at 859-415-1909 to reserve your family's spot today!
Summer Fun on the Farm festival at Bonnybrook Farms on Saturday, June 20  The festival lineup sounds like a blast: live country music, zesty BBQ, many signature attractions and fun contests for the entire family.  Read this post on Family Friendly Cincinnati for all the details!
RoeblingFest June 20, 2015 Covington, Ky Focus on the Roebling Bridge History with tours, exhibits and character portrayals/performances. Day long Local Music, Arts and Craft fair, Silent Auction, Raffle, Local Food and Drinks, Fireworks, Pet and Family Friendly. Hand Across the Bridge Challenge. Please visit RoeblingFest and Roebling Suspension Bridge on Facebook to learn more details as we get closer to June 20th. Sponsors include CCSBC and Roebling Point Merchants, The City of Covington, Mercedes-Benz of Ft Mitchell, and Renaissance Investment Management . RoeblingFest – Facebook and RoeblingBridge.org Partners, Volunteers and Planners welcome!
Family Class: Flower Friends June 20, 2015 | 10:30 am – Noon Civic Garden Center http://www.civicgardencenter.org/classes-events/classes/ 2715 Reading Road Cincinnati, OH 45219 $5 We love to eat straight from the garden in the summer, and so do some of our favorite insects. Munch your way through the garden and discover what bugs help our garden grow.
The City Flea June 20 / Washington Park 10a-4p 2015  The City Flea is one of the most interesting and unique markets around. Check out the works of awesome crafters and vendors while chowing at the food trucks  and listening to fine tunes by the DJ. Take the whole family! Read more in this post:  http://www.familyfriendlycincinnati.com/2014/06/08/city-flea-washington-park/
June 21 – 30 ::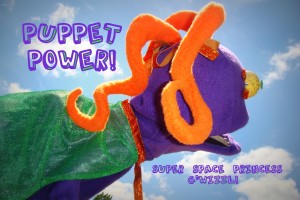 Wump Mucket Puppet Show June 21, 2 PM, Taft Museum of Art, 316 Pike Street Cincinnati, Ohio 45202, Celebrate the first day of summer and Father's Day at the Taft! Wump Mucket Puppets will put on a special show at 2 p.m. Explore "Dads in Art" in the Museum, check out traditional Appalachian toys at the Art Cart, and play some games for kids of all ages on the lawn. Make a puppet of your own to take home and extend the fun—or give it to Dad to say "Happy Father's Day!" FREE admission!
BB Riverboats Father's Day Cruises ~ Sunday, June 21, 2015  Brunch: 1 – 3pm and Dinner: 5:30 – 7:30pm This year, skip giving Dad that tie. Take him out on BB Riverboats instead. Tell him he's #1 by treating him to spectacular views and sensational food. He'll even receive a souvenir photo to remind him of the great gift you gave him this time.  Visit the BB Riverboats website for more details.
Farmers Market Petting Zoo June 24th, 2015 4pm-6pm Northside Farmers Market at Hoffner Park, 4101 Hamilton Ave Free! The Norhtside Farmers Market bring a bit of the farm into the city.  Kids can visit with 13 farm animals from the Honey Hill Farm Petting Zoo right at the farmers market in a safe and fun environment.  The Petting Zoo is part of the market's Summer Sprout Series, which offers free kids activities all summer long.
Young Chef's Kitchen at the Northside Farmers Market June 24th, 2015, 4:45-6:00pm Northside Farmers Market at Hoffner Park, 4101 Hamilton Ave $3.00 The market partners with the Baker Hunt Art and Cultural Center to bring Young Chef's Kitchen to the Northside Farmers Market.  Kids learn to cook with fresh local foods right at the market, making simple and healthy recipes. Ages 7-11.
Mary, Queen of Heaven FunFest June 26, 27, & 28, 2015 1150 Donaldson Hwy., Erlanger, KY 41018 3-Days of great family fun. (Friday, June 26 6-11PM, Saturday, June 27 5-11PM and Sunday, June 28 3-8PM) Come out and join us. Games of skill, Games of chance, Rides, Entertainment, Food & Drink, Kidsland, $10,000 Raffle. Raffle tickets are $20 each and may be purchased by credit card by calling 859-525-6909. 2nd & 3rd prizes are $1,000 each. 3rd & 4th prizes are $500 each. Need not be present to win. KY Gaming license 0000535. Plenty of parking available in our back field and at St. Henry District High School with a free shuttle. On Sunday, the kids can ride the rides the entire time the festival is open (3:00-8:00PM) for one price of $20.
 St. Veronica  ~ June 26-28,2015 4473 Mt. Carmel Tobasco Rd.  Cincinnati 45244 Great live music, petting zoo, poker, raffles, rides, air conditioned children's game area, used media sale, bid and buy, and the best festival food in Cincinnati.  Sunday is family day with a salute to veterans and a homemade fried chicken/roasted pork dinner.
Family Festival: The Sky's the Limit! June 27, 2015 1:00-4:00pm Contemporary Arts Center http://contemporaryartscenter.org/calendar/2015/06/27/family-festival-the-skys-the-limit 44 East Sixth Street Cincinnati, Ohio 45202 Free with Admission or Membership (kids 5 and under free) Join us in the UnMuseum as we look to the sky for inspiration. We'll be making cloud lanterns, scratch board constellations, beautiful kites and glow in the dark stars. The Cincinnati Observatory will also be here for an event that's sure to be out of this world!
Big Bone Lick Discovery Day June 27, 2015 10:00 AM – 2:00 PM  Big Bone Lick State Historic Site Free The day event is sure to offer something for everyone and seeks to showcase numerous facets of the park's interpretive themes.  Everything from Ice Age bones and stones to Pioneer Life to Native American culture will be considered.  Exhibits and demonstrations planned include Pleistocene bones and Indian artifacts, honeybee hive life, spinning bison fur into yarn, native plant uses, live birds of prey; you can even have the hands-on experience of sitting at the potter's wheel and receive instructions for making a make-n-take pot!   In addition, the park's interpretive staff will offer crafts and the opportunity to try your hand at using an atlatl in a participatory prehistoric weapon demonstration.
Ongoing Events in June ::
International Butterfly Show at the Krohn Conservatory:  Butterflies of the Philippines ~ April 3 – June 21, 2015  Open Daily 10:00am – 5:00pm  $7 adults • $4 children • 4 & under are FREE!  $12 Unlimited Admission Pins  Join the Krohn as they celebrate their 20th Butterfly Show!  It's a real treat for the family every year!  Visit the Krohn Conservatory website for directions, coupons and more:  http://www.cincinnatiparks.com/butterflyshow/
Dining Outdoors ~ Summer has arrived and it's the perfect time to go out to eat and eat OUTSIDE!  Check out our list of Outdoor Dining in Cincinnati & NKY for new places to check out!
FREE Summer Movies : Be sure to check out our post about Free Movies this summer.  We know it costs a small fortune to take a family to the movies, so save a few bucks this summer with all the wonderful free movie events going on around town!
The Cincinnati Reds are back in town, and you can watch their games for FREE on the big screens at Fountain Square!  Visit the Fountain Square website for more details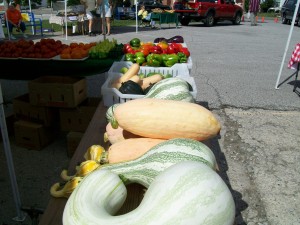 Farmer's Markets:  With the warmer weather it's the perfect time to visit a local Farmer's Market!  We have a HUGE list of local Farmer's Markets you can check out: Farmer's Markets in Cincinnati & NKY ~ cook fresh, cook local!
Did we miss something?  We will be updating this post periodically through the month of May.  Add your event to our calendar using this link :