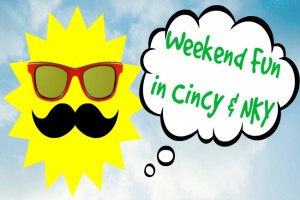 There is less than a month left of summer vacation!  There is no time to waste…get out there and make some memories around town so when your child has to go to school on the first day of school and write about what they did on summer vacation they'll have something to say.  You don't need to leave town to make summer memories, there's plenty going on this weekend on both sides of the river to entertain all ages.
 Family Friendly Things to Do in Cincinnati & NKY this Weekend ::
Friday ::
Final Friday     The last FRIDAY of each month ~  6-10pm    Cincinnati Arts    Pendleton Art Center  1310 Pendleton Street in Cincinnati    FREE    The Pendleton Art Center is home to the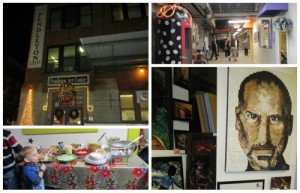 world's largest group of artists under one roof.  Over 200 artists come together at PAC to work and to show their masterpieces.  There are 8 floors of studios to browse, as well as the Studio at 510, the Annex, and the Cafe Studios.  Final Fridays are a fun celebration for the whole family!  Read more about Final Fridays on Family Friendly Cincinnati.
Madeira Movie Night    July 25, 2014 9:00pm    Stanley Realty    www.facebook.com/stanleyrealty    7701 Railroad Ave. (Behind Rootbeer Junction)    Free!  Madeira Family Movie Night Sponsored by Stanley Realty!  Friday, July 25 at 9pm  7701 Railroad Ave (Behind the Rootbeer Junction)  Bring drinks, snacks and chairs and then sit back and enjoy the show.
Vote for the movie that is shown at our movie night here: Stanley Realty Facebook Page
Saturday ::
Dixie Heights Community Yard Sale Extravaganza    July 26, 2014 8AM-2PM   Dixie Band Boosters, Inc.    eyeswithpride.net    Dixie Heights High School    Free entry    Come shop Dixie's INDOOR Yard Sale to support the Marching Band. Car wash, cookout and bake sale. Booth space still available! Go to eyeswithpride.net for vendor application.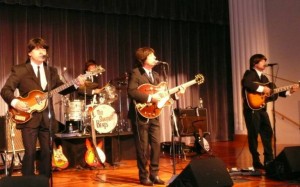 The Sweet Beats, the area's #1 Beatles Tribute Band will be playing at Boone Woods Park in Burlington, Kentucky, at a FREE concert on Saturday, July 26, at 7 p.m.! You will not want to miss this chance to hear your favorite Beatles songs played on period instruments and gear! Pack your lawn chairs, blankets, your favorite picnic foods and bring the whole family!   In the event of inclement weather, the rain site is the Main Library in Burlington. If rain begins after 5 p.m., we may not be able to move it indoors, and the concert will be rescheduled. Call the Library at 342-BOOK or the Parks hotline at 334-2283 for more info.
Taste of OTR    July 26, 2014    Tender Mercies    www.tasteofotr.com    Washington Park    FREE    Tender Mercies is continuing the new tradition of celebrating the tastes, flavors, and sounds of Over-the-Rhine. The event will showcase the food, art, shopping and people that make OTR the cultural center of Cincinnati. Join us at Washington Park from 11am – 11pm for live music, samples of OTR food and unique merchandise!
Save the Mountains Barn Dance in Rabbit Hash, KY Saturday, July 26, 2014, 7:45 – 9:00 p.m.  KFTC (Kentuckians for the Commonwealth) with guests: The Red Cedars, Ma Crow and the Lady  Slippers, Kristi Kruer, Mike Henson and Scott Goebel.  Check out the event on FB.

Family Saturdays    Fourth Saturday of the Month  1pm – 4pm    Contemporary Arts Center    http://contemporaryartscenter.org/    44 East Sixth Street  Cincinnati, Ohio  45202    Members: Free, Non Members: included with CAC Admission   Family Saturday is a program for CAC families that uses current and upcoming exhibitions to inspire learning and creativity through guided artmaking activities. Family Saturday is the fourth Saturday of each month from 1-4 pm. An artist joins families in creating art projects in the UnMuseum®. Check the CAC calendar for specific Family Saturday events.  To read more about the UnMuseum at the CAC read this post by Katie S.  This program is designed for children ages 5-105 and their caregivers.
Free Family Concert  ~ Saturday, from 1-4pm Join Zak Morgan with guests Jason and Joanie at Smale Riverfront Park for music and fun!
Disney Junior Live on Tour! Pirates & Princess Adventure ~ Saturday, July 26, 2014 at 1pm, 4pm and 7pm  Grab your tiaras and doubloons and join us for Disney Junior Live On Tour! Pirate & Princess Adventure. Mickey and Minnie are taking their seats too at this never-before-seen live show featuring your favorite characters from Disney Junior's hit series, Sofia the First and Jake and the Never Land Pirates.  Visit the USBank Arena Website for more details.
Art in Action    Last Saturday of the Month 11am – 3pm    Pendleton Arts Center    http://www.pendletonartcenter.com/    1310 Pendleton Street, Cincinnati, Ohio 45202    Free    Art in Action takes place the Saturday after Final Friday from 11am-3pm. It offers the public a chance to meet artists, view and purchase their artwork, attend lectures, live demonstrations and FREE interactive classes.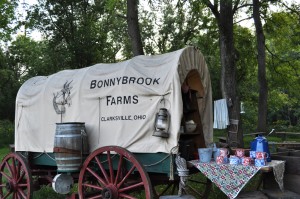 Bonnybrook Farms' Chuck Wagon Dinner Ride    Saturdays June, July & August 5pm-9pm    Bonnybrook Farms    www.BonnybrookFarms.com    3779 State Route 132, Clarksville, OH 45113    $35. adults, $23 youths 4 -12, 3 & under free    A Chuck Wagon Dinner Ride offers a FUN Evening of GREAT Food and Camaraderie for Families, Friends and Groups of all Sizes on a Beautiful and Historic 370 Acre Working Farm.  Chuck Wagon BBQ, Giant Slingshots, Clodhopper Golf, Petting Animals, 80′ Horseshoe Hill Underground Slide & Farmyard Play Area, Wagon Ride, Campfires and S'mores.
Build It!    July 26, 2014 | 12:30 – 5:00    The Betts House www.thebettshouse.org    416 Clark St, Cincinnati, OH 45203    $2    The Betts House, Ohio's oldest brick home, built in 1804, is proud to host a new exhibit, Build It!, which offers fun activities on construction concepts for children. The exhibit, on loan from archKIDecture of Chicago, consists of nine modules presenting architectural subjects including roofs, tools, and shapes. Build It! encourages children to interact with each module, either on their own or by collaborating with other children or adults. Designed for children age three to twelve, the exhibit promotes visual literacy with activities on shapes, color, and symmetries.
July Family Open House: Mini Sun-Catchers     Sat, July 26 | 10am – 1pm   Brazee Street Studios School of Glass     www.brazeestreetstudios.com    Brazee Street School of Glass-4426 Brazee St, Cincinnati, OH 45209.  Parking  is located behind the building  $15/Sun Catcher    Celebrate Summer with us! Join us any Saturday in July to design and create a hanging Mini Sun-Catcher using a variety of Bullseye Glass materials. Open to all students ages 5+, so bring the entire family anytime between 10am-1pm.
All Weekend Long ::
BB Riverboats offers many family friendly cruises and summer is a perfect time to take a cruise on the Ohio!  On Fridays there are Pirate cruises and on Sundays they have Ice Cream Socials.  There are also Super Hero Cruises, Princess Cruises, Sightseeing Tours and MORE!  Visit BB Riverboats for all of the details and to purchase your tickets: http://www.bbriverboats.com/index.html
Farmers Markets: Warm weather means that it is Farmers Market Season!  Find a market near you, or try a new one in a different neighborhood, either way you are sure to find fresh produce and other delicious and healthy things to feed your family.  Here's our line up of some of the great Farmers Markets in Northern Kentucky and Cincinnati
2014 Krohn Summer Floral Show The Edible Landscape    July 4, 2014 – August 24 2014    Krohn Conservatory    www.cincinnatiparks.com/krohn    Krohn Conservatory $4 Adults, $2 Children (5-12) (4 and under FREE)    The Edible Landscape will run from July 4 – August 24.  This year's creative floral show will feature a landscape filled with summer annuals and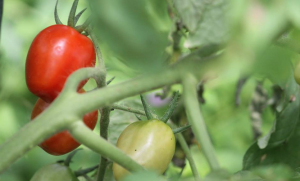 edible plants.  Included among the plants will be fruits, vegetables, edible trees and shrubs, as well as new, top-rated plants from All America Selections selected by the National Garden Bureau.  The Edible Landscape, presented by Scherzinger Termite and Pest Control, will demonstrate how a carefully planned landscape design can create a residential garden that is both attractive and productive.
SharonFest ~ Friday & Saturday in Sharonville:  Come enjoy rides, music, family fun and MORE!  And while you are having fun you will be helping to raise money for local organizations.  Visit the SharonFest website for all the details.
St. Margaret of York Church Festival ~ June 25-27 ~ Food, drinks, kids games, rides, entertainment and more!  Check out the SMOYFest website for all the details.
FREE Movies!  Check out this post with a huge list of free movies all over town this summer.
Looking for somewhere to take the family for Brunch this weekend?  Check out our post about all the best places to grab brunch in Cincinnati & NKY: http://bit.ly/1lgwq2F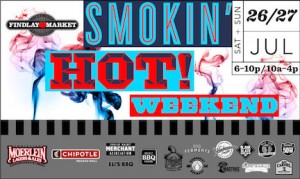 Smokin' Hot BBQ Weekend at Findlay Market ~ Saturday & Sunday enjoy great music, craft brews and of course…BBQ!  Visit the Findlay Market website for all the details.
Cincinnati Museum Center:: Diana, A Celebration.  We had the chance to preview this event and it is FANTASTIC!  For any Diana fans and lovers of royalty, it is a must see!  More than 15 years after her death, Princess Diana's memory still stirs interest and emotion. The award-winning exhibition Diana, A Celebration, which chronicles the life of the late Diana, Princess of Wales, will be on display at Cincinnati Museum Center from Feb. 14 through Aug. 17, 2014. This is the final showing for the renowned exhibition, which has been touring the world since 2003, before the items return to her sons in England to be preserved for future generations.