After all the rain this week I am ready to get my family OUT OF THE HOUSE!  And thankfully, there's a whole lot of fun stuff going on around town all weekend long to keep us entertained.  I hope your family finds this list useful too…find yourself some fun and get out of the house!
Family Friendly Things to Do in Cincinnati & NKY ::
Friday ::
The talented students of SCPA invite you to spend your lunchtime with them in Washington Park. Every Friday from now until the end of October, students from grades K-12 will share their artistic, musical, theatrical skills with the rest of the world from Noon to 1PM. – See more at Washington Park's Website.
Friday is BAG DAY at the Friends Used Book Sale @ Main Library!!   Public Library of Cincinnati and Hamilton County — Friends of the Library    Call 513-369-6035. Visit http://friends.cincinnatilibrary.org/.    Public Library of Cincinnati and Hamilton County Main Library atrium, 800 Vine St.    The next Friends of the Library used book sale is May 31-June 6 in the  Browse for books, vinyl records, CDs and DVDs. Items can be purchased with cash, check, MasterCard or Visa. Friends of the Library members will receive a 50 percent off coupon to be used only once on their choice of days — Monday, Tuesday, or Wednesday. Then on Thursday, June 5, all merchandise will be half-off for both Friends members and non-members, and Friday, June 6 is Bag Day! Buy a Friends' shopping bag for $10 and everything you can get into it is yours.
Story Time with Miss Sarah –     Fridays June 6, 13, 20, 27 | 9:30am – 10am    blue manatee children's bookstore and decafe    www.bluemanateebooks.com     3054 Madison Road Cincinnati, OH 45209    Free    The tradition of stories and songs continues at blue manatee with Miss Sarah and her guitar!
Saturday ::
Floor & Decor is opening up their newest store in Cincinnati and they are having a Grand Opening Celebration on June 7th – with life-sized games, face painting, and a visit from Mr. Redlegs, it's certainly a family friendly event!  Plus, there's even a chance for you to walk away with half a million dollars!  Read all about it here:  Floor & Decor Grand Opening Celebration
The Cincinnati Rollergirls are having their last home game of the season on Saturday, June 7th.  And it's fan appreciation night!  This is always a fun event for the whole family!  Check out the Cincinnati Rollergirls Website for all the details and to order tickets.
FREE Movie in Washington Park ~ this week Rocky (PG) is playing at 9pm on Saturday the 7th.
The Campbell County Library will be kicking off it's Summer Reading Program on Saturday, June 7th from 9am until 5pm at all three branches of the library.  They will have food, carnival games, freebies, a Mad Scientist Lab and MORE!  Visit the Campbell County Public Library Website for more details.
Bonnybrook Farms' Chuck Wagon Dinner Ride    Saturdays June, July & August 5pm-9pm    Bonnybrook Farms    www.BonnybrookFarms.com    3779 State Route 132, Clarksville, OH 45113    $35. adults, $23 youths 4 -12, 3 & under free    A Chuck Wagon Dinner Ride offers a FUN Evening of GREAT Food and Camaraderie for Families, Friends and Groups of all Sizes on a Beautiful and Historic 370 Acre Working Farm.  Chuck Wagon BBQ, Giant Slingshots, Clodhopper Golf, Petting Animals, 80′ Horseshoe Hill Underground Slide & Farmyard Play Area, Wagon Ride, Campfires and S'mores.
Wump Mucket Puppets     June 7, 2014  3 – 4 pm    Cincinnati Public Library Corryville Branch    www.wumpmucketpuppets.com    2802 Vine Street Corryville    FREE    Come and have fun with the Wump Mucket Puppets for a thirty-minute puppet show of songs, skits, and silliness.  Joining the cast is a new puppet character, Unka Unka the caveman.  This traditional hand puppet is the featured performer of a brand new skit "Elvis and The Shoemaker".
Exotic Petting Zoo!    Saturday, June 7, 2014, 1 – 3pm    Kenton County Public Library    http://www.kentonlibrary.org/events    William E. Durr Branch    FREE    "Honey Hill Farm brings its traveling exotic petting zoo to the Durr Library.  Meet a camel, cow, kangaroo, ducks, rabbits and many more visitors!  We'll also play a round or two of ""cow bingo.""
Colors and Cupcakes paints "The Last Unicorn"    June 7, 10am -noon    Wyoming Fine Arts Center    MusicArtDance.org    322 Wyoming Ave, 45215 Cost: $35 Come to the PARTY and get ready for a memorable experience led by an art educator and local artist who will guide you step-by-step through a feature painting on canvas. At the end of the party…leave with your own masterpiece. We will have everything you need – you will just add your own flare and become an artist in no time. Oh, did we mention there will be cupcakes?  Each party lasts 2 hours.
ALOHA Annual Day    June 07, 2014 | 10:00AM-2:00PM    ALOHA Mind Math Of Mason    723 Western Row Rd, Mason OH 45040    Free    Are you ready for some math magic? Are you ready to sharpen your brain and race against time?  Inviting all students, parents, friends and family to a day of math fun!  Children get ready to show your mind math prowess! Parents, get ready for the "proud parent"" moment!
NKY Hates Heroin 5K Walk and Run sponsored by St. Elizabeth    June 7 8:30 AM    www.nkyhatesheroin.com    www.nkyhatesheroin.com    Simon Kenton High School    $25    NKY Hates Heroin is hosting a 5K on Saturday, June 7 at 8:30 a.m. Race day registration begins at 7 a.m. and cost $ 30, which includes a Tshirt while supplies last. Breakfast, awards for top 3 males and top 3 women and door prizes provided. Proceeds benefit heroin education, prevention and recovery.
Summer Fun at Smale Riverfront Park ~ June 7 FREE Concert with Ooh Lala and the Greasers  – 1 – 4pm  Enjoy the free music and then explore the gorgeous Smale Riverfront Park.  Perhaps jump in the fountains or ride your bike?
June 7 ~ KCP&R's Kids Fishing Derby at Middleton-Mills Park! "Take me fishing!" Kenton County Parks & Recreation will present the Kids Fishing Derby for kids of all ages on Saturday, June 7 from 9 am until 12 pm at Middleton-Mills Park. It's free! Even adults won't need fishing licenses when they are helping their kids because it's 'Fish Free in Kentucky' weekend! Start a family tradition!  Don't worry if you have never fished before. We will have everything for you and your child to enjoy a great day of fishing ~ spincast rods and reels, hooks, bobbers, and bait. Special "Thanks" to our friends at Latonia Bait & Tackle for helping with the bait and Walmart and Reel Cool™ Fishing Bottles™ for helping with the prizes!  Even if you don't have a kid to bring, mark June 7 on your calendar. We will surely need fishing partners to pair up with youngsters who may need some help. Come on out to Middleton-Mills Park, share your experience, and help teach kids the fun of fishing.  It all happens at Middleton-Mills Park, located at 3415 Mills Rd., Covington, KY 41015. Directions are easy! From I-275, take Exit 79 (Covington-Taylor Mill) and drive seven miles south on KY Hwy 16 to Mills Road. Turn left on Mills Road and drive about one mile to the park. We'll be using Shelterhouse 1, right on the pond you see as you enter the park.  For news of upcoming programs, activities, and events to be held in Kenton County's parks, call the Parks & Recreation office at (859) 525-PLAY (7529). Ask about signing up for a once-a-week e-mail update of What's Happening in Kenton County's parks.
German Story Time    Saturday, June 7 | 10:30am – 11am    blue manatee children's bookstore and decafe    www.bluemanateebooks.com     3054 Madison Road Cincinnati, OH 45209    Free    Willkommen! Learn simple German vocabulary through stories and song.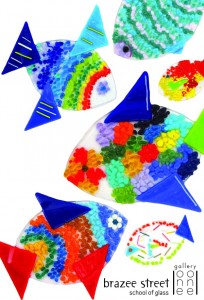 June Family Open House: The School of FISH    Sat, June 7   | 10am – 1pm    Brazee Street Studios School of Glass     www.brazeestreetstudios.com     4426 Brazee St, Cincinnati, OH 45209     $15/fish    Kick off the Summer with a fun fused glass project, and be a part of Brazee Street School of Glass and gallery One One's 4th Annual SOG Kids Gallery Show: Brazee Street School of FISH! Design and create your own fused glass fish using a variety of Bullseye Glass materials, to be added to the School of FISH in the gallery. Open to all students ages 5+, so bring the entire family anytime between 10am – 1pm.  Fish made during the Open House will be hung in gallery One One at Brazee Street Studeios after they have been fired. Visit the School of FISH and see how it grows! Receptions will be held Friday, June 13, and Friday, July 11, 2014, from 6-9 pm.  We will keep track of your name, so you can find your fish and take it home after the exhibition's close, the week of July 28th. If you need your fish before the end of the exhibition, contact [email protected] to make arrangements.
SOG Summer: 6" Suncatchers    Sat, June 7 | 1:30pm – 3pm    Brazee Street Studios School of Glass     www.brazeestreetstudios.com     4426 Brazee St, Cincinnati, OH 45209     $25/suncatcher    Join us to create a beautiful 6" suncatcher of your own design, using a variety of Bullseye glass materials. Bring ideas and inspiration if you'd like, and create your image in glass! No experience necessary, ages 5+.
Sunday ::
 One-Day Sunday, Family Fun Day at Camp Livingston    June 8, 2014 | 11am – 5pm    Shalom Family & Mayerson JCC    www.myshalomfamily.org    Camp Livingston, 4998 Nell Lee Road, Bennington, Indiana 47011    Free    Shalom Family and Mayerson JCC invite families in the Jewish community to a One-Day Sunday, Family Fun Day at Camp Livingston, located less than two hours away in Bennington, Indiana! Ditch the distractions of everyday life and get back to basics with the whole family for an afternoon adventure in the great outdoors. Enjoy tons of activities and amenities, including a lake front aqua park with giant waterslide, climbing wall, ropes course, zip line, canoeing, kayaking, arts and crafts, sports, a s'mores cookout and so much more! The event is open to families in the Jewish community with children 12 and under. Grandparents welcome! Shalom Family is an initiative of The Mayerson Foundation, in partnership with the Mayerson JCC.
All Weekend Long ::
The Cincinnati Cyclones will be playing against the Alaska Aces this weekend in the Kelly Cup Playoffs at USBank Arena.  They will be playing Friday for sure, and possibly Saturday, Sunday and Wednesday as well.  It is the best of four games, with three games having been played already in Alaska.  Go Cyclones!  Check out the Cincinnati Cyclones Website for more details.
St. Michael Summer Festival ~ June 6, 7, & 8 2014 http://www.stmichaelfestival.net/
DCCH Music Festival    June 6 & 7, 2014    75 Orphanage Road  Ft. Mitchell, KY  41017    The DCCH Music Festival is two days of fun for the whole family!  Enjoy live music all weekend, local food trucks, a craft beer garden, a Kids' Zone and Bounce House Village and a chance to win $5,000 in cash!      www.DCCHCenter.org/events/Festival
Farmers Markets: Warm weather means that it is Farmers Market Season!  Find a market near you, or try a new one in a different neighborhood, either way you are sure to find fresh produce and other delicious and healthy things to feed your family.  Here's our line up of some of the great Farmers Markets in Northern Kentucky and Cincinnati
Western Bowl is participating in a national program called Kids Bowl Free. This program allows children 15 and younger to bowl 2 free games every day (Monday-Friday) starting May 27th through August 31st. If you would like more information you can visit the site for Kids Bowl Free at www.kidsbowlfree.com and the direct sign up page at https://www.kidsbowlfree.com/center.php?alley_id=3468
Looking for somewhere to take the family for Brunch this weekend?  Check out our post about all the best places to grab brunch in Cincinnati & NKY: http://bit.ly/1lgwq2F
Butterflies of Costa Rica at Krohn Conservatory    April 12 – June 22, 2014    Krohn Conservatory    http://www.cincinnatiparks.com/krohn    1501 Eden Park Drive    $7 adult, ages 5-12 $4, 5 and under FREE    This year's show is going to be amazing…and has expanded into all rooms of the Krohn Conservatory…the butterflies will still be in the Main Showroom but the culture and beauty of Costa Rica will be reflected in the others exhibit rooms as well…like LIVE birds, fish and reptiles, a "cloud forest" … and an oxen cart, painted in the traditional Costa Rican village style, greeting each visitor as they arrive. Both in and out of the Krohn, visitors will be able to enjoy the "Pura Vida" of Costa Rica.  On Memorial Day, all active military and veterans get free admission.
Cincinnati Museum Center:: Diana, A Celebration.  We had the chance to preview this event and it is FANTASTIC!  For any Diana fans and lovers of royalty, it is a must see!  More than 15 years after her death, Princess Diana's memory still stirs interest and emotion. The award-winning exhibition Diana, A Celebration, which chronicles the life of the late Diana, Princess of Wales, will be on display at Cincinnati Museum Center from Feb. 14 through Aug. 17, 2014. This is the final showing for the renowned exhibition, which has been touring the world since 2003, before the items return to her sons in England to be preserved for future generations.
Check out our new post of Fun Runs and Walks in Cincinnati and Northern Kentucky!  There are several this weekend!
Do you have a weekend event you would like to share?  Simply submit it with this easy online form and we'll add you to our post!  http://bit.ly/cincyweekendcalendar