One of the things we love to do here at Family Friendly Cincinnati is to shine a spotlight on local businesses unique to our area. Today we are excited to introduce you to Christy White, the creative force behind Whirlybird Granola. We first discovered Whirlybird Granola during an open house event at the Northern Kentucky Incubator Kitchen in Covington. It was there that we fell in love, walking out with three bags (and returning less than a week later for more…).
————————–
1. Tell us a little about you, and how you came up with the idea for Whirlybird Granola.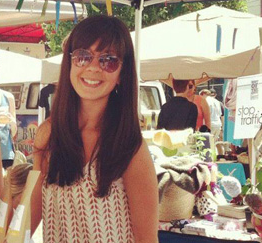 My name is Christy White. I have always LOVED granola and had been looking for the perfect one. When I couldn't find it on the shelves, I started playing with recipes and making my own. I was just making it for fun when a friend approached me to sell it at her markets (The City Flea.) I said ok and started playing with all different ingredients and I knew I wanted to focus on the Pure Maple Syrup as my sweetener. I toured a local maple syrup farm to find out all about the process and then came up with the name…The seed of the Sugar Maple Tree is the Whirlybird (those little helicopters you see all of the ground). That is why the logo is a bird with a helicopter coming out of the top of it's head.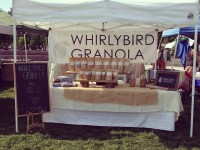 I sold out at my first market, and that's when I realized that I had something. That was May 2011, and it has literally been a whirlwind since then. I have had twin boys (2 years old) and a little girl (7 months old). And they are a huge part of this! I take them with me everywhere I go…on every delivery, to every market. They are the reason that I do all of this…and because I love the granola. 🙂
2. Tell us about Whirlybird Granola products. How do you come up with your flavor/product ideas?

Whirlybird Granola is all-natural and made in small batches to ensure that hand-made taste. It is 40% organic and completely vegan. We use a local pure maple syrup and organic agave nectar to sweeten our granola. There are now white sugars at all. We use olive oil, which is much cleaner than canola oil (used in most other granolas).
We currently have 4 flavors: Original (pistachios, sunflower seeds, pumpkin seeds and dried cranberries), Vanilla Berry (almonds, flax seeds, pumpkin seeds, and dried blueberries), Chocolate (almonds and dark chocolate), and our Seasonal Gingerbread (flax seeds and gingerbread spices).
I am currently working on another flavor, maybe coffee inspired. I usually just think of what flavors I would like and then try them out in my kitchen. I have some good taste-testers here.
3. You are part of the NKY Incubator Kitchen, can you talk about that?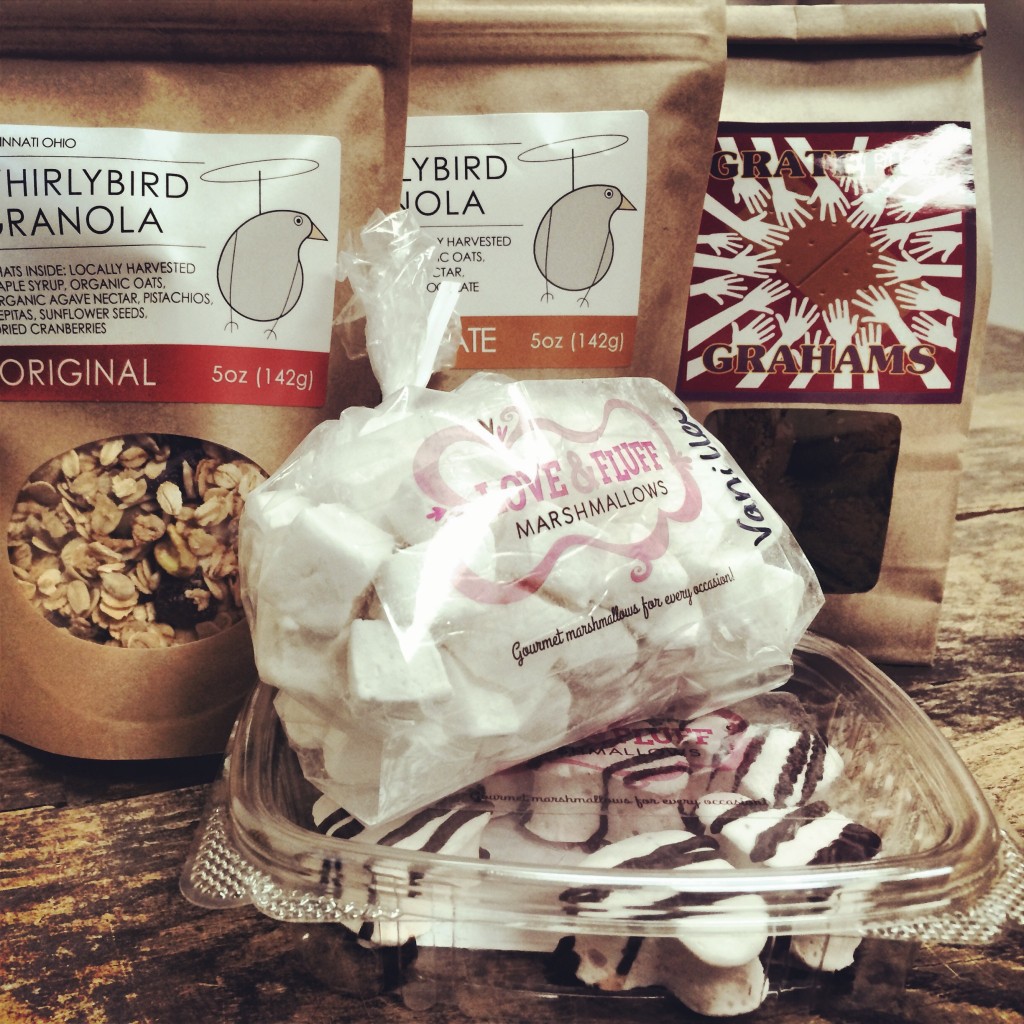 I am a part of the NKIK, and it is truly so wonderful. Rachel DesRochers of Grateful Grahams has started this incubator kitchen and it is so great! It is truly more than just a kitchen that we bake and cook in. It is a place to bounce ideas off of one another, collaborate on ideas and markets, and change the world one bite at a time. 🙂 There are currently about 7 businesses cooking in the kitchen and we all make something completely different. Most of them are women. I am truly honored to be making my granola in such a wonderful spot!
4. What do you love most about owning your own business?
I love that I can be home with my kids and still make granola. I love that they are a part of what I do everyday.
5. Where can people find Whirlybird Granola products?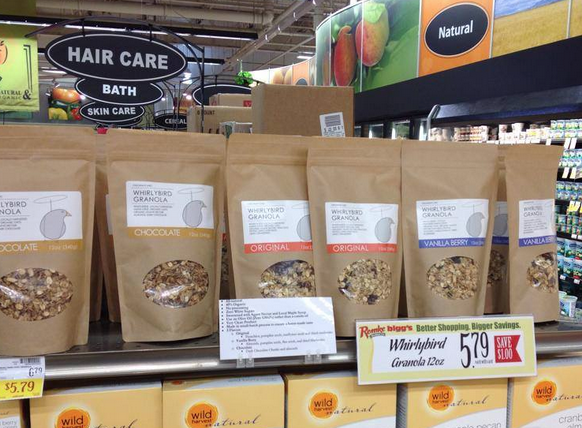 Whirlybird is currently available at Whole Foods Cincinnati and Mason, Remke Hyde Park, Buttermilk and Skytop, Jungle Jims Fairfield and Eastgate, Joseph-Beth Booksellers Cincinnati, Park + Vine, Anthony's Salon, Aroma's Java and Gelato, Zip Dip, Keegan's Seafood, Pipkin's Market, Fort Thomas Coffee, and Totem Supply Co in Chillicothe. You can also purchase them online at whirlybirdgranola.com. View a complete list of locations.
6. Where can people get more information? How can they connect with you online?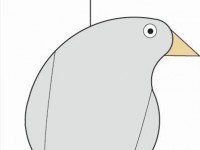 My website is whirlybirdgranola.com, and you can find me on Facebook at www.facebook.com/pages/Whirlybird-Granola and twitter @whirlygranola. You can email me at [email protected] with any questions, special orders, or just comments.
7. What is the one thing you most want people to know about you and your company?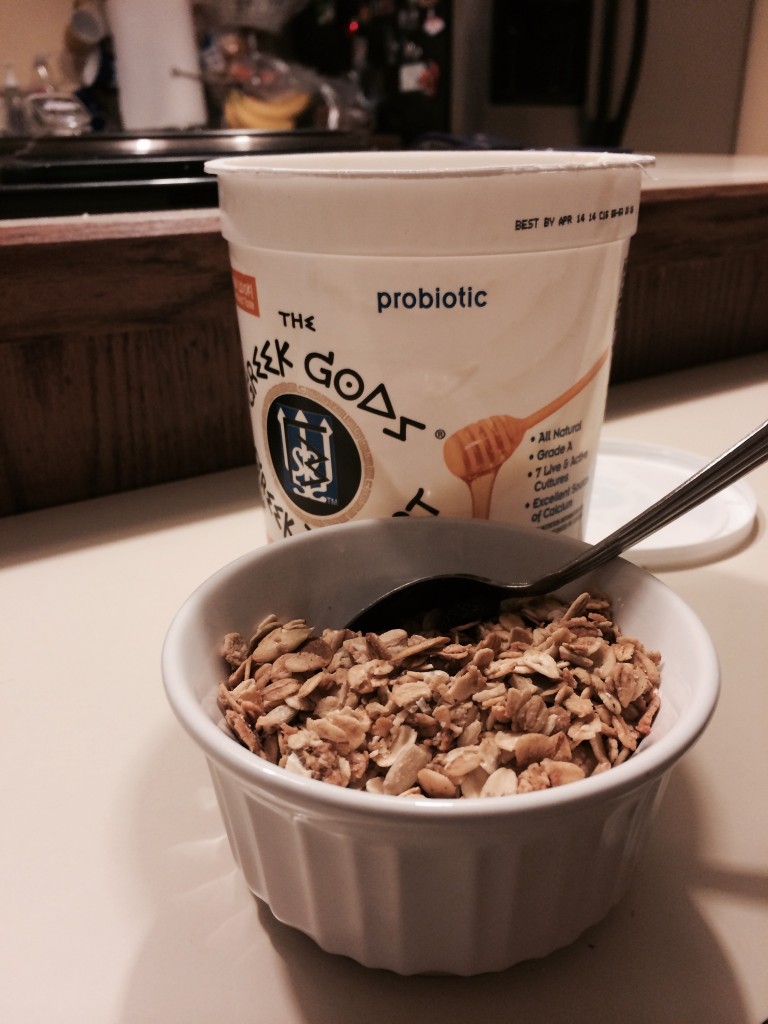 I am totally centered around family and providing a healthy snack for my family and yours. I really do care about what you think and take any suggestions that you have to heart. I am dedicated to making the best granola out there!
I also want people to know that there is so much that you can do with Whirlybird Granola. I have lots of recipes on my website and on Facebook. But many people don't know what to do with it. You can surely eat it plain or on yogurt, but you can also make parfaits, pancakes, cookies, muffins, biscotti, crispy treats and so much more with it!
GIVEAWAY (Closed: Congratulations to FFC Reader, Jessica S.)
How would you like to win three 12oz bags of Whirlybird Granola: Original, Vanilla Berry and Chocolate? Entering our giveaway is easy. Simply answer the main question below.  Additional items are bonus entries. Leave a separate comment on this post for each one you complete. A total of six entries are possible. You must reside in the Tri-State and be at least 18 years of age to enter.
Question:
Which flavor of Whirlybird Granola are you most excited to try?
Bonus Entries:
Sign up for our Enewsletter: http://eepurl.com/bxdIb
Check out 

Whirlybird Granola 

on Facebook
Follow us on Pinterest: http://pinterest.com/FamFriendlyCin (where you can find lots of other great ideas like recipes, crafts and so much more!)
Follow us on Instagram: www.instagram.com/famfriendlycin
Tweet about this giveaway, including @FamFriendlyCin and @whirlygranola in your Tweet.
That's it…that's SIX ways to enter which means SIX chances to win!  A winner will be drawn (randomly) Friday, May 9 at 4pm and notified via email (we'll also announce it on our Facebook page). Winner will have 24 hours to respond or another winner will be chosen.
Disclosure: Items for this giveaway were provided by Whirlybird Granola.