Introducing Salon DeSales in East Walnut Hills
Recently we were invited to check out Salon DeSales in East Walnut Hills and want to share with you what a wonderful experience we had with this friendly and fabulous full service salon!
You may have read about DeSales Corner in East Walnut Hills in our posts about the Spring Pottery Fair that takes place about this time every year (and it's coming up again on May 3rd if you are interested in attending!)  If you've never been to East Walnut Hills then you really are missing out on a lovely historic area of the city that deserves a little more attention than it gets.
Entering East Walnut Hills you'll likely immediately sight it's best known landmark – St.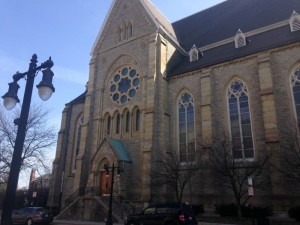 Francis de Sales Church.  This gorgeous structure, dedicated in 1879, will take your breathe away with it's beauty and lends it's name to the surrounding area making the intersection it sits upon commonly known as DeSales Corner.  Just across the street from this gorgeous church is where you'll find Salon DeSales and the DeSales Flats, along with shopping and tasty spots to grab a treat while you are out.
Salon DeSales is a sleek and trendy full service salon right in the heart of East Walnut Hills and DeSales Corner.  The salon is newly renovated and stylishly appointed with a comfy waiting area and clean and efficient work stations.  The Salon DeSales staff is comprised of two massage therapists, three nail artists, and seven hair stylists.  They do natural hair, ethnic hair, color, cuts, perms, manicures, pedicures…well, they do it all!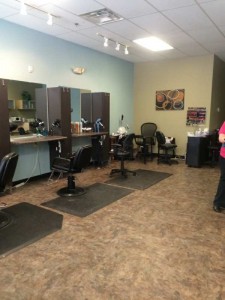 I was sorely in need of a new 'do and my color needed upgraded along with the cut so I made my appointment and made my way from Northern Kentucky to the salon (a quick trip…KY friends, it only took about 15 minutes tops!)  You can find street parking easily enough but there is also a free parking lot for DeSales Corner patrons directly behind the salon.   I have to admit, it was hard not to get distracted by the cute shops and delicious scents coming from Suzie Wong's on Madison.  I managed to resist and make my way to the salon in time to meet all of the ladies working that day, along with my stylist Jacqui.
Jacqui is an award winning hair, makeup and nail artist whose work has been featured in
national magazines.  As we chatted and she got to work on my hair I had a chance to take a look around the salon.  Gorgeous!   A steady stream of customers made their way in and out of the salon.  In the chair next to me an adorable little girl was getting her hair braided for a wedding and when she left she looked like a princess!  I chatted with all of the folks working and they made me feel right at home from the start.
I spent a good deal of time looking like this under a hair dryer and nearly fell asleep it was so relaxing and quiet under there:
Jacqui managed to keep me awake and alert long enough to see her turn my lackluster locks into this:
Cute and sassy.  That little bit of blue and turquoise and teal in the front really makes me feel like a rockstar…and I get compliments on it all the time!  Don't worry, crazy colors are not required at Salon De Sales, but I encourage you to think outside of the box.  I tell you…you'll be glad you did!
FFC's Michelle also got a chance to check out the salon for a pedicure!  Here's what she had to say about her experience:
I decided to make my visit to Salon DeSales a girl's afternoon with my almost five-year-old daughter.  I had never been to the DeSales area and am so glad to have discovered this charismatic part of Cincinnati.  We loved admiring the cute shops and beautiful architecture of the surrounding buildings on the way to the salon.  The most striking piece, of course, is St. Francis de Sales Church at the intersection before Salon DeSales.  As you are driving down the street, it suddenly comes upon you and is magnificent.  The salon is right across the street from the church.  We went around the salon and parked behind it, walking through the parking lot and under the breezeway into Salon DeSales.  We were immediately greeted by Jacqui, our nail technician, and were in a relaxing nail chair right away.
I had not planned on my daughter getting a pedicure, but I mentioned it to Jacqui and she quickly said it was no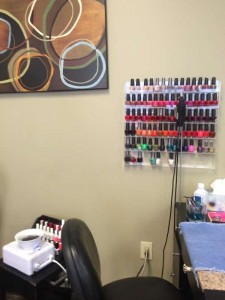 problem and guided Meredith to the color wall to pick out her nail polish.  Because she is 100% fancy, she picked out pink sparkles.  While my feet soaked, Meredith was treated to polish on her fingers and toes!  Jacqui was so sweet with my daughter and the entire salon was very friendly.  All of the stylists seemed to know each customer personally and they were all having a great time chatting.
As you can imagine, after a long hard winter, my tootsies had seen better days.  I told Jacqui this and she laughingly told me about how some times people give themselves their own pedicure before they get a salon pedicure.  She assured me there is no need for this and that she wants her clients to feel comfortable and pampered—and I certainly did.  I really enjoyed the comfy pedicure chair and foot massage!  She fixed me up in no time and I loved the peacock blue shade I chose for my toes.  I left feeling like a new lady and can't wait to visit again!
I think Michelle and I  definitely agree that this salon is a hidden gem that you don't want to miss!  I am already planning my next visit up for a mani/pedi for spring time fun!
You could definitely make this a girl's day out by grabbing lunch at Suzie Wong's or Cafe DeSales, then get your hair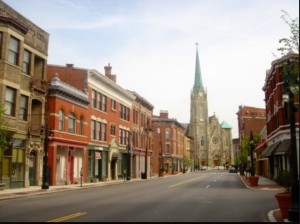 and nails done (don't forget the massage!) at Salon DeSales before you head to Le Bon Vivant to shop!  There are many more places to explore that I didn't even get to sneak a peek at yet, so give yourself plenty of time to look around and find a new favorite while you are there.
Salon DeSales will be my new salon for sure.  Comfortable, relaxing, friendly, and full of talented stylists…everything you could ever want in a salon!
Salon DeSales is located at 2839 Woodburn Avenue in East Walnut Hills.  For information on pricing and services please visit their website www.salondesales.com or their Facebook page, or call to make your appointment 513-861-8600.
Disclosure: Michelle and I were both invited to receive complimentary services in order to experience the salon and share our opinions.  I can assure you that I adored my time in the salon 100% and will absolutely be a regular client, all opinions expressed above are honest and heartfelt and definitely our own.