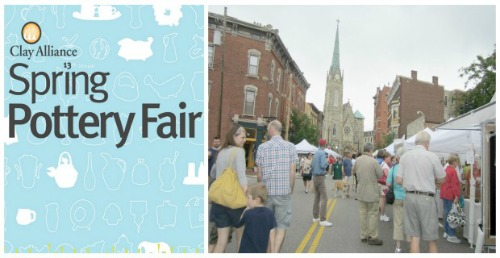 It's time once again for the 13th annual Clay Alliance Spring Pottery Fair.  Last year was my first time attending this event, and my family had a great time.  We watched artisans create their masterpieces out of clay, listened to great music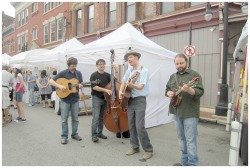 by Jake Speed and the Freddies, and we did a little shopping.  I found some great unique gifts while we were there, it's the perfect place to find one-of-a-kind mother's day, father's day, birthday or wedding gifts.  Sometimes it's fun to surprise a loved one with a completely unexpected but very cool gift of a work of art.  My kids really enjoyed this event last year, and we're planning on going again this year.  They were fascinated by the artists working, and by all of the cool creations on display.  They took their job of picking out a Father's Day gift very seriously that day.  And they had fun making their own creations at the hands-on art station for the munchkins.
The 13th annual Clay Alliance Spring Pottery Fair will be held on Saturday, May 4th from 11am until 5pm at DeSales Corner on Woodburn Avenue.  Jake Speed and the Freddies will be playing from noon until three, so try to plan your visit during that time if you'd like to hear some great music!  The event is free to attend.
Here are some more details about the event ::
Attendees will have the chance to shop a wide range and selection of pottery – everything from functional wares to decorative art pieces. Artists and hobbyists in attendance can also browse and purchase clay tools and goodies from local suppliers. A group of Clay Alliance members will conduct various wheel and hand building demonstrations throughout the afternoon.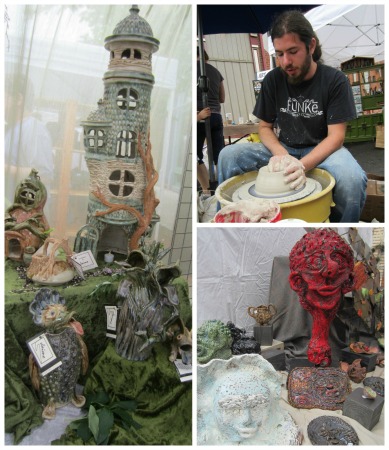 Spring Pottery Fair will also include a hands-on arts station where children can decorate ceramic mini-monsters or bowls for just $10 each. Proceeds from the children's arts station will go to Empty Bowls, a grassroots effort to end hunger supported by the Clay Alliance.
As part of the event, the Clay Alliance will host a raffle comprised of works by four Clay Alliance members – Lisa Conner, Trina Feldhake, Martha Healy, and Leslie St. Clair.  Raffle tickets are available in advance at Core Clay or FUNKe Fired Arts, and can be purchased at Spring Pottery Fair. Raffle tickets are a $1 each or six for $5. In addition, door prizes consisting of ceramic pieces created by Clay Alliance members will be given away hourly during the event from the Clay Alliance booth.
I hope you are able to make it to this fantastic street fair to see all of the fabulous creations!  It's really one of my favorite art fairs around town.
For more details you can visit the Clay Alliance Website or the Clay Alliance Spring Pottery Fair Facebook page.