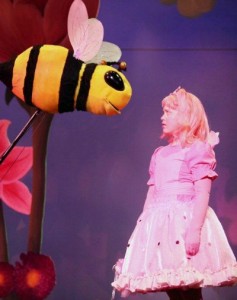 Last weekend, downtown Cincinnati was filled with happy little girls in pink tutus, pink tights, pink boots, pink hair bows…well, you get the point.  Why all the pink?
Pinkalicious the Musical is at  The Children's Theatre of Cincinnati February 14-16 & 22 on the Taft Theatre stage!
This is a fantastic show for both boys and girls, especially those age four and above.  My four year old daughter and I were lucky enough to see it last Saturday.  She was thrilled and dressed in pink, from head to toe, and sat enthralled the entire 55 minutes of the show.  She was fascinated that Pinkalicious really did turn 'pink' and that by eating 'just one more cupcake' she turned red!  And then her brother did too!  How did this happen?  We had a great time discussing actors, costumes and make up.  She was also intrigued by the floating and dancing cupcakes that Pinkalicious dreamt about every night.  That led to an explanation of theatre props and sets, as well as stage hands.  What a learning experience!  And, what a great job by  The Children's Theatre of Cincinnati for making such a magical production that made my daughter really believe in flying cupcakes and Pinkititis.
Another fun fact we learned about the production was that the larger than life blue bird and bumble bee puppets were created by our friends at The Frisch Marionette Company!  These puppets really helped set the mood in the already colorful and crazy playground scene.  Poor Pinkalicious could not get away from these kooky characters!
Pinkalicious the Musical is filled with energetic, fun songs.  I loved listening to Pinkalicious sing about her love of the color pink, but one of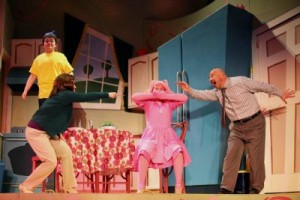 my favorite parts came when her father revealed that he too loved pink!  The show ended with a delightful family number when Pinkalicious, her parents, and brother learned that it's okay to love pink, but maybe it's best in moderation!
If you are not already familiar with the popular children's book Pinkalicious, here is what The Children's Theatre of Cincinnati has to say about this musical:
Based on the popular book by Victoria Kann and Elizabeth Kann, this is the tale of Pinkalicious, who can't stop eating pink cupcakes despite warnings from her parents. Her pink indulgence lands her at the doctor's office with Pinkititis, an affliction that turns her pink from head to toe – a dream come true for this pink-loving enthusiast. But when her hue goes too far, only Pinkalicious can figure out a way to get out of this pink predicament.
Saturday February 22nd at 2:00 is your last chance to see Pinkalicious the Musical at The Children's Theatre of Cincinnati .  Tickets may be ordered by calling 1-800-745-3000, online  www.ticketmaster.com, and at select Kroger outlets.
When not blogging for Family Friendly Cincinnati, you can find Michelle writing at her personal blog, I'm Living the Good Life.