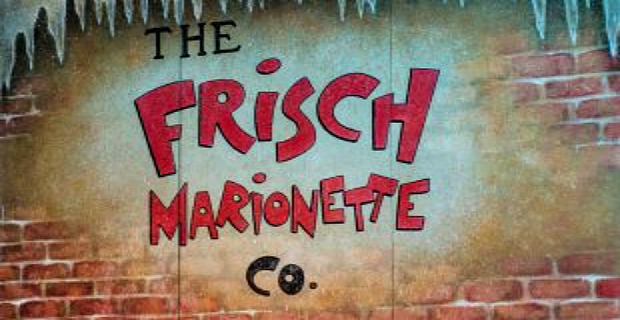 Many years ago, eight to be exact, I took a certain (now) nine year old boy to a marionette show.  We went to our church to see The Frisch Marionette Company perform Peter and the Wolf.  When I think of marionettes, I think of wooden dolls with tangled strings dancing around inside of a cardboard stage.  The Frisch Marionette Company turned that idea on its ear!
We had a front row seat on the floor, where we munched popcorn, waiting for the show to start.  First of all, because I too was confused, Frisch Marionette Company has nothing to do with Frisch's Big Boy.  Yes, I'm sure you were also wondering.  In 1995, Kevin Frisch established Frisch Marionettes and has been entertaining children and adults ever since.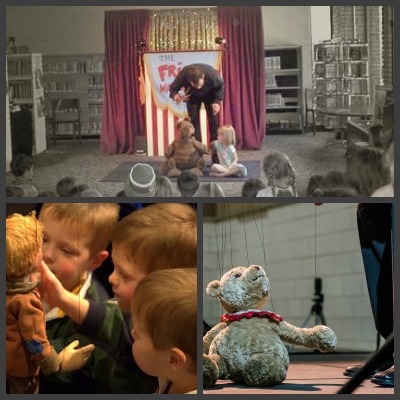 At the shows we have attended, Kevin, and sometimes a helper, do all of the marionette handling and performing.  Before the show starts, he usually tells the audience about Frisch Marionettes, how the marionettes work and gives a demonstration to show how he makes the characters move their limbs and change expressions.  He will also tell you how his company hand made different marionettes and how to make your own.
One of my favorites is a teddy bear that he took apart and removed some stuffing, making it more flexible, to magically make it a marionette.  As soon as my kids heard about this, guess what they wanted to do over the holiday break?
Last December, as a part of our holiday tradition, we were able to see another Frisch Marionette show at our church.  It was the holiday variety show that featured a Christmas worm who falls in love with a candy cane, a gorgeous ice dancer, a juggler, a grumpy elf, graceful sugarplum fairies and much more.
Kevin brings each marionette to life with such sleek, fluid movements that you forget he is there.  Even when he is on stage along side the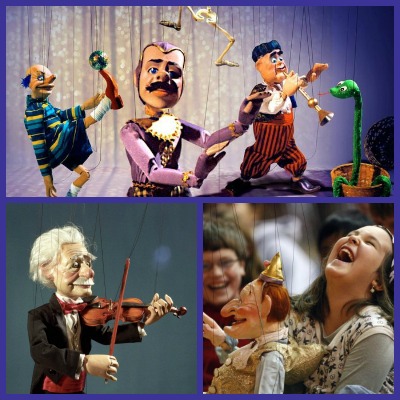 puppets, the characters have their own personalities.  One of my favorites, aside from the lovely ice dancer, is the marionette who is also a puppeteer and has his own marionette.  It is fascinating to watch.
After the show, kids are encouraged to come up and meet a marionette and even give them hugs.  How often do performers let you come on stage after a show and feel their costumes and see first hand how things work?
The Frisch Marionette Company has built puppets, masks and costumes for The Central Park Zoo, New York Aquarium and The Puppetworks Inc. They've been seen in People Magazine, SHOWTIME'S "Twisted Puppet Theater", the PBS Documentary "The American Puppet," and onstage with The Cincinnati Opera as well as in the New York store windows of Saks 5th Avenue, Bloomingdales' and Hermes New York.  And most recently the motion picture Mr. Magorium's Wonder Emporium.
If you would like to see a show, here is their schedule for the next couple months.  Make sure you check them out on Facebook to follow their performances and any other news.  You never know when you may see one of The Frisch Marionette Company puppets in a production at Children's Theatre of Cincinnati, on television, or in a movie!
Rumpelstilzkin
February 24, 2013 at 3:00pm Deerfield Township presents at Kings High School 5500 Columbia Road Kings Mills, Ohio 45034
March 3, 2013 at 2:00pm Wyoming Civic Center located at 1 Worthington Avenue  Cincinnati, OH 45215 Phone (513) 821-5423
April 27, 2013 at 11:00am Covedale Center For The Performing Arts 4990 Glenway Avenue  Cincinnati, OH 45238 Phone (513) 241-6550
Hansel & Gretel
March 16, 2013 at 7:00pm Sharonville Recreation Center 10990 Thornview Drive Sharonville, Ohio 45241  Phone (513) 563-2895
Variety Show
March 30, 2013  at 10:30am & 1:00pm Hoosier Theater in Vevay, Indiana 209 Ferry Street  Vevay, IN 47043 (812) 427-2319
Please call each venue, or check their website, for details.  We hope you enjoy The Frisch Marionette Company as much as we did!
When not blogging for Family Friendly Cincinnati, you can find Michelle writing at her personal blog, I'm Living the Good Life.