Today we are excited to welcome Joe long, Community manager for ChoreMonster, to Family Friendly Cincinnati. ChoreMonster is an AWESOME application, created right here in Cincinnati, that is sweeping homes across the country, helping parents get kids excited about chores, and helping kids have fun completing them.
———————————————————————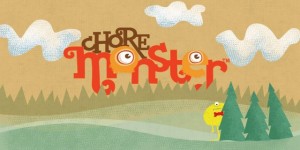 We all know how terrible it can be to assign chores for your kids. They are getting old enough to help out around the house and learn some responsibility, but it can be really difficult to find a system that not only keeps you organized and efficient as a parent, but one that keep your kids engaged too.
You assign a chore, it gets completed and it's rainbows and puppy dogs around the house. Then you assign another and again, happiness. But then a week or two goes by and the rainbows have faded. Your kids aren't very interested in these 'chores' anymore and may have even figured out you are trying to make them work! So you get creative and break out the arts and crafts and make your very own chore chart! It takes a loooong time to make and you actually end up spending more money on it than you did on your last dinner out, but it's the answer to your chore problems, right?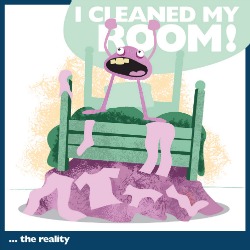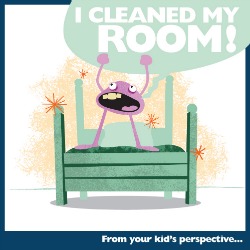 These two cartoons say it all, lol
You love your new creation, but your kids just don't warm to it and just like the first wave, the chart starts off great but ends up in the same place, sadness.
Now, take a step away from your failed art project chore chart and imagine a world where your child begs you to do chores. A world where they they actually earn awesome rewards and a collection of funny monsters! A world where you use the devices that you and your kids stare at most of the day to complete and accept their chores!
Ok, snap out of it, this is actually a real thing. Some guys with kids created an app called ChoreMonster and it's kind of incredible.
But what IS it?
ChoreMonster is a suite of web and mobile apps that aims to make chores fun for parents and kids. Kids can earn points by completing chores that they can turn in for real life rewards like ice cream, an hour of Xbox or even a canoe trip. Parents can enjoy a simple, hassle-free, digital system that takes the tension out of family chores. Our mission at ChoreMonster is to improve the lives of parents and children with the tools they use every day (for a more in depth view into our thinking, you can read this). ChoreMonster is available on the web and for IOS devices.
And oh yeah, did I mention that ChoreMonster is based right here in Cincinnati and the founders are graduates of a pretty incredible startup accelerator The Brandery?
It's true, so ditch those chore charts and get back to some rainbows and puppy dogs with ChoreMonster.
———————————————————————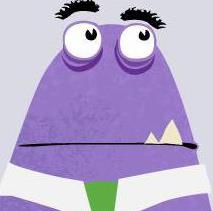 Joe Long is a father of three boys and is also the ChoreMonster Community Manager. To read more about ChoreMonster and his parenting successes and failures visit the ChoreMonster blog.