My name is Heather Alessandro, and I am writing to talk about Paige's Princess Foundation which is a memorial foundation in honor of my daughter Paige who passed away in 2010. Losing a child is obviously something you never "get over".  I have just gotten used to the shock of it and adjusted my thoughts to live with it better.   I'm still always looking to fill the tremendous void that losing my daughter left in my soul.  To that end, I have been extremely lucky in receiving the love and support of a few awesome friends who have helped me start Paige's Princess Foundation.  Through the ability to help other kids, I have gained the most healing and peace from losing my own child.  While our charity technically benefits local kids with special needs, it ends up benefiting me much more than them.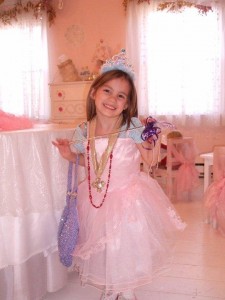 We work on this Foundation throughout the year and partner with Cincinnati Children's Hospital Occupational and Physical Therapy departments to pay for therapies and therapeutic equipment that insurance doesn't cover.  Many people think that no matter what, if your child needs a medical service, they will receive it regardless of a person's ability to pay.  While that is true in many cases, therapy is not considered a medically necessary expense.  So, patient families at Cincinnati Children's who have chronic disabilities must work within their insurance coverage, which most limit therapy visits and exclude alternative therapies and home equipment.  Many of these families have extremely high out of pocket medical expenses.  I know that we did when we were caring for Paige.  If your child has a chronic disability, it would mean that there is no cure but rather a spectrum on which you could see improvement.   And, the way to reach a child's full potential on function is through therapies and learning to compensate.  Paige's Princess Foundation is there to help local families obtain all of the resources needed to move their child forward.  Last year, we were able to assist 45 local families.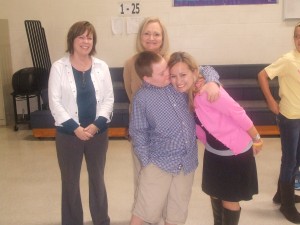 We all love working with these kids and, especially, getting to meet them.  It's a true privilege to be even a small part of their journey.  Personally, it helps me connect with Paige.  For instance, I received an email last year asking for a piece of equipment from a mother for her son who happens to have Down Syndrome.   I really noticed how many times she noted that it was hard to explain "Ben" on paper but she would love for me to meet him.  I didn't meet Ben at that point, I told his mom he met all of the qualifications and we would approve the equipment and just meet when we were ready to give it to him.  And, then, I did get to meet Ben and I could immediately tell why his mom would want me to meet him.  Ben's spirit lit up the room with such a happiness and exuberance for everyone around that I couldn't help but remember how Paige did the exact same thing.  How they were both so special that everyone just wanted to be around them.  And, that was a great gift that Ben and his family gave me that day.  Not a day goes by when I don't think of how special that moment was for me in connecting back to Paige.
We would love to have even more community support to help more great kids like Ben.  Our major fundraiser, Paige's Princess Run 5k is coming up on May 18th at Wyandot Elementary in Liberty Township.  Run registration is $25 for adults; $15 for kids (under 3 is free).  If you are not a runner/walker, we also have a great carnival for the kids starting at 10am.  Please consider joining us as we honor Paige and all of the special kids like her and work to make sure that these special kids get every opportunity they can to succeed.  For registration information or to make a donation, please visit www.paigesprincessrun.com.