I don't know quite how it happened, but summer vacation is drawing to a close for my family.  The older kids are going back to school on Wednesday!  I always dread this transition from summer fun to school life.  I do my best to jump right back into the routine with excitement, so the kids get excited too.  And I work hard to stay organized and find time-savers so that everyone is a little less stressed in the mornings.
I know that some of you are in the same boat as I am, whether your children are heading back to school, or maybe you teach and you are heading back to work.  The writers at Family Friendly Cincinnati & the good folks from the Kenton County Public Library are going to try to help you send the kids back to school with the least amount of stress possible.  We have compiled a list of tips, time-saving techniques, routines & other organizational ideas to help you through the back to school days this week (or in the coming weeks).  And for those of you with children who are nervous about school, the library has a few great ideas for easing this transition.
After reading our ideas & tips, please leave comments below..we would love to hear your back to school advice on anything from easing transitions to packing lunches!
Ways to ease the Back to School Jitters from the Kenton County Public Library ::
Preparing for School : Books and databases to help with the transition
Posts stating children are nervous about the first day of kindergarten, going to middle school, attending a new school or just going to school at all are flooding Facebook feeds everywhere. The Kenton County Public Library can help with the first day jitters through online databases and books.
Children who are worried that they have forgotten everything from the previous year or just don't feel ready can visit www.kentonlibrary.org/databases and choose Learning Express. They can then choose from tests, courses and eBooks in math, social studies, writing skills and reading. Children can also practice other languages and learn about other countries' culture by choosing the language learning databases. You will need a computer with an Internet connection and a library card number.
The Library also offers a plethora books on going to school with topics varying from going to a new school, the first day of kindergarten, starting preschool and even jokes appropriate for school. See the list below for some of the fiction and non-fiction books that will help calm the nerves:
My First Day at a New School by Charlotte Guillain
First Day of School by Nicola Barber
Monster School: First Day Frights by Dave Keane
Two Little Chicks Go to School by Valeri Gorbachev
Polka-Dot Fixes Kindergarten by Urdahl, Catherine
We Love Our School!: A Read-Together Rebus Story by Judy Sierra
Mom, It's My First Day of Kindergarten! by Hyewon Yum
Captain Awesome to the Rescue! by Stan Kirby
The Name Game! by Marissa Moss
Yoko Learns to Read by Rosemary Wells
Adventure Annie Goes to Kindergarten by Toni Buzzeo
The Art of Miss Chew by Patricia Polacco
Marco Goes to School by Roz Chast
It's Time for Preschool! by Esme Raji Codell
8 Class Pets + 1 Squirrel / 1 Dog = Chaos by Vivian Vande Velde
Miss Bindergarten Gets Ready for Kindergarten by Joseph Slate
The School's Cool Joke Book by Sean Connolly
Visit www.kentonlibrary.org to put any of these books on hold or stop by the Covington, Durr or Erlanger Branch to check out items.
 Back to School at Amy's House ::
Here's some of our tips:
I use magazine holders (cheap at Ikea!) to keep each child's homework/important school papers organized…when they get home we clean out the backpack and sort anything that needs to be returned or completed in the magazine holders (each has their name) so that we can stay on top of all of their projects and due dates and homework.
The night before we always set out clothing from shirts down to socks, shoes and underwear so that sleepy heads don't have to try to find something that matches or find that special shirt at 7 a.m. while they are half awake.  I also pack lunches and backpacks the night before and even set my own clothes out for the next day so that I can grab and go without having to put together an outfit at the last minute…especially if we run late doing other things.
I have 2 plastic Rubbermaid bins with lids that lock that I use to store all of their artwork, writing projects and other items throughout the school year.  At the end of the year I sort through it and we look at how their handwriting has improved or relive some of their projects that they really enjoyed then either save the items to be scrapbooked later on or recycle (after taking a picture of course!).  Then we leave the bin empty for the next school year's work!
We always make first day of school a BIG deal… I decorate with balloons and streamers and make signs and put it all up while they are at school so that they come home to a decorated house.  I make or purchase a special dessert, they get to pick a special dinner for me to make and I make a cool centerpiece for the table.
Back to School at Michelle's House ::
I installed a pretty towel bar with S-hooks hanging on it for backpacks and coats.  Each child has 2 hooks.  We've eliminated the last minute mad dash for the door by knowing exactly where those backpacks are!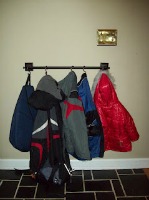 We have a different colored folder for each child and put their name on the front in giant letters.  In it I put all of the stuff from the first few weeks of school……class lists, rules/procedures, club information, etc.,  I also write on one of the pockets their bus number, school address and phone number, teacher phone number and email, and any other key information that is better to have in one place.  I keep these folders on a shelf in our dining room cabinet.
I tape the monthly lunch menu and cubscouts calendar on the inside of the kitchen cabinet door so we can quickly check it.  We pack lunches, but once a week I let my son pick a day he wants to buy lunch.  He can check the menu each week by himself and let me know when he wants to do it.
We are bus riders and I like the driver to know both me and my child.  On the first day, the last day and some times during the year we make banana bread, cookies or some other treat to give him.  Anyone who drives around 30-50 elementary school kids deserves some sugar.  Plus, maybe this is why my son still gets dropped off in front of our house in the afternoons? I don't know, but I like it! I like to do the same for the office staff. They absolutely deserve it too!
Check out Michelle's blog http://imlivingthegoodlife.blogspot.com/ to see if she really is living the good life!
Back to School at Kristin's House ::
One thing that I've done is keep a 3 ring binder for each school year.  I subdivide the binder into categories so that I have an easy reference point if we need to refer to something. We don't keep everything that comes home but keep important info in this or if they worked on a paper, wrote a poem or did something special in school they want to save, we can include it. Some of the categories we have used are:
Class List/School Info (phone numbers)
School Schedule
Subdivide by Subjects – we don't keep everything but slot in important papers or work they'd like to save.
Art – I buy those clear sheet protectors and slot in art work that they really want to keep if it can fit in the sheet protector. We don't keep everything but special things here.
After School Activities
At the end of the year, this also turns into a keepsake book.
Back to School at Katie's House ::
I'm all about getting ready for school the night before.  I set out their clothes the night before, check the backpacks the night before and I even start getting their lunch boxes packed the night before.  This helps our mornings be a little less chaotic!  Read more about my lunch-packing ideas in this post on the little things blog.
In celebration of the first day back to school we make a trip to the store and everyone gets a new outfit to wear for the first day of school.  This helps get the kids excited, they love picking out something new to wear.  Of course I steer them towards the $5 sale shirts and pair that with shorts they already have at home, but there's something special about new clothes.
Another thing that saves my sanity during the school year (and summer too!) is menu planning.  I spend a long while each Sunday working on our menu plan for the week.  I clip coupons, choose recipes and make my grocery list.  The trick is to pair up your recipes with the right night.  Is it a crazy busy day on Monday because of extracurricular activities?  Then plan to do a slow cooker dinner!  Or is Friday night always a special family night?  Then plan a family favorite dinner for that night that might take more time to make if you have the time.  I cannot tell you how much menu planning has helped me!  I used to get stressed out at dinner time, and often times I would throw my hands in the air and we would just head out to eat, which isn't the healthiest, or cheapest, option.  Menu planning has saved me money, time & tears.
Check out Katie's blog (the little things) for more organizational tips, crafts for the kids, recipes, menu planning inspiration and more!
Back to School at Karen's House ::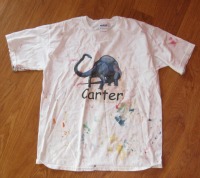 My kids have to have art shirts. When they were in Kindergarten, I bought them white cotton shirt online in a fairly big size and had them designed with a cute image and their name. Each year, I've loved seeing the shirts come home on the last day of school all decorated with another year of hard work. I will always keep them as a memory of their elementary years. (PS – the art teacher loved that I did this as their was never an argument or discussion when someone said "you have my art shirt". This didn't apply for my two!).
You can read more from Karen on her personal blog Little World After All.
Now it's your turn!  What is some advice about heading back to school that you can share?  Any tips to save time or save your sanity?  Any organizational tools you cannot live without?  Leave comments below, we want to hear how you make going back to school easier on your family!