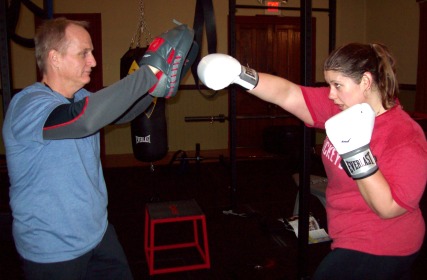 You have kids to feed, a house to clean, a dog to walk, a PTA meeting to attend, a fundraiser to plan and about ten places to go while the kids are in school today.  What about exercise?  Where does that fit?  It doesn't?  Who can blame you?  I mean really….isn't chasing the kids through the house at bath time enough of a workout?  Until jumping over toys or bicycles on the lawn is a sporting event, you should probably do some type of exercise.
Moms need an exercise routine that fits into our schedule, is tailored to our fitness level and goals, and is not going to bore us to tears.  Because if you have this, I promise that you will have more energy to jump over those toys.  You will have more patience with the kids.  And, you will have more brain power in those PTA meetings!
I have chosen to work with a personal trainer.  I need the motivation of knowing someone is waiting on me to workout.  Lame, I know.  But, I'm sure there are more ladies out there like me.  Plus, it is nice to have someone come up with an exercise routine for you.
They say "showing up is half the battle."  Let me clarify….it is not.  You need to show up and work hard.  This is why I need someone like Rob Frommer, at My Gym, to tell me what to do and not let me wimp out when I beg for lighter weights….or when I want to throw in the towel and go out for donuts.  And even when he likens my punching to "knocking on grandma's door" I still like working out with him.
My workout is very challenging, but not so difficult that I cannot do it.  Rob comes up with interesting and demanding exercises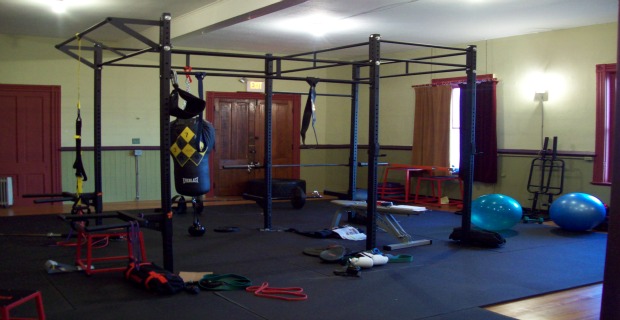 for each session that focus on a different muscle group each time.  We mix up cardio with weights.  Sometimes he gets crazy and we do a stair workout….on real flights of stairs.  We box.  He's brought a deck of cards and we've used those….but I cannot share all of his secrets!
The workout is what you make of it and Rob makes sure he understands your goals.  Then he develops a routine specifically for you.  It is fun, motivating and definitely demanding.  He is not going to make you do anything he cannot do, or that he thinks you cannot do.  He will make sure he understands any physical limitations or injuries you have and will adjust the routine accordingly.  And, if you are brand new to exercise, he is going to start on an easier level, not with running to the top of the Carew Tower.  It is going to be as challenging as you need it to be.
My Gym studio is located at 300 Dave Cowens Drive in Newport, Kentucky.  His rates are reasonable, especially compared to the trainers at corporate gyms, and he is flexible in workout times.  This is very important to me because not all of my kids are in school during the day, and my husband's work schedule is not consistent.  You can work out alone, with a partner, or in a small group.  He even has married couples who work out together.  Contact him at (859) 240-0724 for more details.
 Need more options for your busy schedule?  Try one of these:
Whatever you choose, working out will make a huge difference in your life.  You may not think you have time for it, but if you make the time, other activities in your life will be easier.  I find that juggling the many responsibilities of a mom is a lot easier when I feel better.  So, get up an hour earlier and try something new!
When not blogging for Family Friendly Cincinnati, you can find Michelle writing at her personal blog, I'm Living the Good Life.