Today we are honored to have a guest post from Leslie Sams, co-chair of the Congenital Heart Walk on September 17th.  Leslie was kind enough to share her personal story with us about her son's Congenital Heart Defect and details on how we can all help raise money for research.
————————–
After my son Caleb was born last March with a Congenital Heart Defect (CHD) called Transposition of the Great Arteries, we were devastated.  When he was only hours old, Caleb was transferred to Cincinnati Children's Hospital and we were told he would need open heart surgery that week to save his life.  Thanks to lots of prayers, amazing medical personnel, and research that had laid the foundation for the operation Caleb had, he survived the surgery, recovered quickly, and for the most part is now a typical little boy.
After Caleb was discharged from the hospital and we had time to breathe, I knew I wanted to get involved and give back.  I found out about the Congenital Heart Walk and I was anxious to get involved.  The Congenital Heart Walk is a joint effort between the Children's Heart Foundation and the Adult Congenital Heart Association.  The Children's Heart Foundation is the only organization solely dedicated to funding CHD research.  The Adult Congenital Heart Association assist patients as they transition from pediatric care to an adult congenital heart specialist and provides support for individuals affected by CHDs.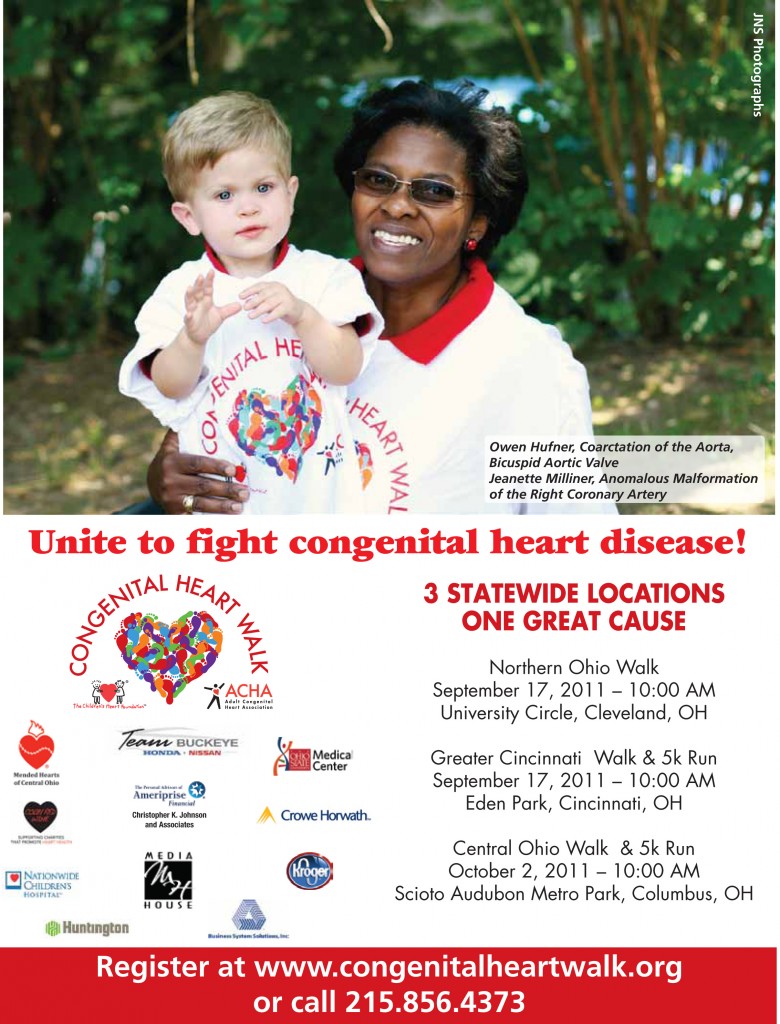 This year is our second annual Congenital Heart Walk in Greater Cincinnati and will take place at scenic Eden Park on September 17th.  This will be a family friendly event including a craft for kids, face painting, raffles, and inspirational speakers.  Families can also make a day of it since Eden Park is also home to Khron's Conservatory and the Cincinnati Art Museum.  Registration for the walk begins at 9:00am and the walk/5K starts at 10:00am.  Participants can register online at www.congenitalheartwalk.org and can choose to walk 1 mile, a 5K or run a 5K. There is no entrance fee but we do encourage participants to raise donations.
By getting involved with the Congenital Heart Walk I have learned that many other families are affected by CHDs.  Almost 1 in every 100 babies is born with a Congenital Heart Defect and almost half will require an invasive procedure in their life time.  Also while research and surgical techniques have come so far in the past three decades, we still have so far to go.  Sadly, 20% of babies born with a CHD won't live to celebrate their first birthday and the long term outcome for many of these children is still unknown.
Please join us at the Congenital Heart Walk on September 17th and help bring hope to the many families affected by Congenital Heart Defects.
Leslie Sams, Heart Mom Living in Northern, KY
Co-Chair Congenital Heart Walk-Greater Cincinnati