Please join us in welcoming local Mom & blogger, Rebecca Bromels to the blog today. We're very excited to have her share this post with us.
—————————————–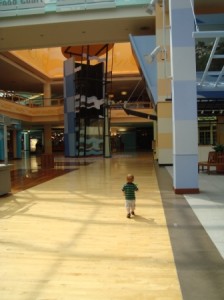 Like many parents, I've been feeling increasingly house-bound this summer because of the record heat.  My son Henry, an energetic and sociable 1 year-old, can only run back and forth from the living room to the kitchen so many times before we both get crabby.  Luckily, during the incredibly rainy April this year, I discovered a great, FREE indoor spot to visit on weekends: Cincinnati Mall.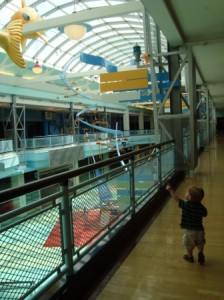 Wait, you say, isn't that mall closed?  Nope.  It's over 90% vacant, but its anchor stores, Babies R Us, Kohl's, Burlington Coat Factory, and Bass Pro Shops Outdoor World, as well as the Danbarry Cinema are still open– which means the mall space inside is also still open every day.  A handful of other stores inside are hanging on, but otherwise, the inside of the mall is basically long, empty corridors with shuttered stores on both sides. On upper floors, entire corridors are roped off and lights are out to save energy.  While that sounds a little creepy, it is actually a wonderful space for parents whose toddlers just need to roam.  Wide-open corridors, lots of natural light, air-conditioning, brightly-colored walls and design elements, and great hits of the 1960s playing over the speakers makes it feel like a giant playroom.
On a typical rainy or too-hot Saturday, Henry and I grab his stroller and drive to the Mall.  We start by window shopping in Kohl's, then I turn him loose inside the mall and we play "chase me".  He loves looking at his reflection in the empty windows and polished floors, and pointing out shapes in the carpet design.  We say "Hi!" to the seni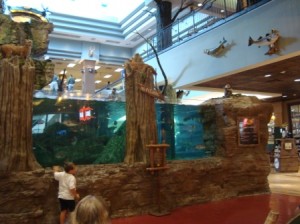 or citizens who are "mall-walking", the security personnel, and the few other families. In the center of the mall is Henry's favorite ride: a glass elevator.  We usually ride at least twice.  There's also a couple of mechanical kiddie rides that take quarters scattered throughout the mall– if I'm feeling indulgent, I'll let him ride one of those, too. On the upper level, you can find a small play area with a slide and a few things to climb on.  It's been stripped of whatever branding some television studio originally slapped all over it, but kids don't seem to mind the lack of recognizable characters. Eventually, we get to the Bass Pro Shop which has lots of kid-friendly displays including a big tank of live fish.  Also, their general store serves snacks and hot coffee for sleepy parents.  By the time we start the walk back to Kohl's, Henry's getting tired and crawling into his stroller.  Nap time!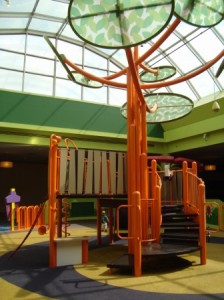 When we've tried taking Henry to other malls to get out of the house, we have to keep him in the stroller all the time– my one attempt to let him walk ended with him being knocked down by a careless teenager.  Children older than 4 or 5 probably won't find that there's enough to do or look at in Cincinnati Mall, and may be too tempted to cross into roped off areas and climb stopped escalators. For older kids, $3 tickets for first-run movies at the Danbarry Cinema can make for an inexpensive family night out. In January, developers announced that they were seeking new attractions to occupy the mall including an ice skating rink and possibly an indoor waterpark. Reimagining this as a space for families might be the way to transform this dead mall into a community asset. But for my toddler, Cincinnati Mall provides Henry with what he craves: room to run.
Cincinnati Mall is located at 600 Cincinnati Mills Drive, 45240.  Monday to Saturday: 10 am to 9 pm.  Sunday 12 pm to 6 pm.  Cinema and anchor store hours may vary.
—————————————–
Rebecca Bromels joined ArtsWave as Director of Communications in 2011.  Rebecca discovered her love for arts administration during her twelve-year tenure at Cincinnati Shakespeare Company, a professional non-profit theater in the heart of Downtown.  A passionate advocate for arts education, she expanded the organization's audience by creating the Shakespeare Summer Camp, Groundlings, and Shakespeare in the Park programs. Rebecca lives in St. Bernard with her husband, John, and son, Henry.  Rebecca blogs at http://myextrahour.wordpress.com/.