This week we are SUPER excited to welcome Amy Schardein with the Kenton County Public Library to Family Friendly Cincinnati. Amy is a mother of two and the Early Childhood Librarian for Kenton County. This week we invited her to share with us an update on the renovations taking place at the Covington branch.
Families of greater Cincinnati: If you haven't figured it out from FFC or the fabulous Katie Scheper I truly love my job here at the Covington Branch of the Kenton County Public Library! I love the kids, the books, my colleagues and I especially love eating working in Covington.   In my eight years here there has been one glitch: I've been limited by our library building.
We're out of space, and have so much trouble sometimes doing modern library activities in our older building. For instance, my job (Early Childhood Librarian) did not exist, even as a concept, when this building was built in 1974. One meeting room was enough, no one knew to plan ahead for computers and it seemed like a 25 year life span on the roof was enough.  Fast forward to this century and we find ourselves short on shelf space, scrambling for meeting and programming space and we never seem to have enough computers.  Not to mention that the stairwells do not meet current code and the repairs on the heating and cooling unit are almost constant.
No more! Big changes are happening at the library! Our building is undergoing an extensive renovation that will transform it into a vibrant, spacious and welcoming library that will better serve all of our patrons.  We are adding a drive through, expanding every department and creating a bevy of meeting spaces.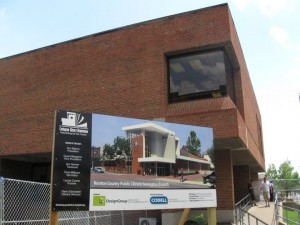 In addition to being  twice the size of the current children's department ,  the new children's department will feature a meeting/program space just for children, a garden space,  Early Literacy Stations for our youngest computer users, and 20 computers for children .  We've been working closely with the fabulous architects and designers at DesignGroup to choose family friendly furnishing and finishes. We are so excited! I'm building quite a list of things I want to do in our new space.  I know our library families will love it!
The library is OPEN during renovation and we're still offering programs in the Children's department.  Since our parking lot is closed, you can park across the street in the Midtown Parking Garage and we can validate your parking.  If you come during the day, I recommend taking a look at the construction outside. Lots of our little people love the diggers – it's become part of their library visit routine.   You can find more information about the building project here or by liking us on facebook at https://www.facebook.com/KentonCountyPublicLibrary.  I hope to see you soon.
P.S. Pick up a Summer Reading log and earn prizes for reading this summer.
Amy