Family Friendly Cincinnati is pleased to welcome Elizabeth Hickerson with Little Songbird Music Studio in Florence. Music is such an important part of helping our children develop their language skills and today Elizabeth shares her tips for encorporating music into your family's everyday lives.
Giveaway Closed. Thank you to all who entered. Congratulations to readers Sara Tamsukhin & Laura Cantrell.
__________________
I get a lot of weird looks when I tell people that I teach music to young children. Especially when they find out I teach babies. "But what do you do??" is usually the first question. It's a good one!
Have you ever thought about the way you help your child develop their language skills? You talk to them, read to them, play with them, describe things around you. No caring parent sits their baby in a closet for the first year and figures they will start teaching that stuff, "when they are ready". Can you imagine the language and developmental delays a child like that would have? You can do the same with music. From day one, if you sing and play musically with your little one, you will notice a difference. My four month old niece is now "singing" to her music class CD's. She babbles tunefully when the singing voice comes on, and listens when there are only instruments.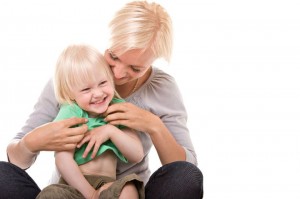 The truth is, music is a language just like any other, and anyone can learn! Yes, even you! There have been numerous studies that show we learn music the exact same way we learn language. Everyone is born with musical potential. Obviously, not every child is a little Mozart, just like not every English speaker is Shakespeare, but just like we can all learn our native tongue, we can all learn music. And with any language, the younger you start, the more naturally it comes.
Do you find making music in your house intimidating? You aren't alone! Here are suggestions on how making music can be a natural part of your family culture:
1) Sing with your children! I know, you don't like your singing voice. Your baby does! Stop comparing yourself to Beyonce and just go for it!
2) Dance with your children! Music and movement are connected in the brain, and children learn from moving.
3) Listen to great children's music! If you hate your child's CD's, why should your child love them? There are lots of wonderful children's musicians out there, and many classical selections are wonderful for children. Look for people like Elizabeth Mitchell, Caspar BabyPants, or Laurie Berckner if you want to get started.cx For classical selections, I love Saint Saens' Carnival of the Animals, Peter and the Wolf, Beethoven's 5th Symphony, and so much more.
4) Model music making. If you want your children to make music, you should too! Take up guitar, piano or voice. Have you always wanted to learn cello? It isn't too late to learn!
5) Don't underestimate early childhood music classes! In our classes children sing, dance, play simple instruments and have a wonderful time. We teach them music the exact same way they learn language, so as they get older, music is a natural part of who they are. Especially if you want your child to one day play an instrument, start them now! Instruments come so naturally to our grads, and they are far more likely to stick with it than the average beginner.
Elizabeth Hickerson teaches Musikgarten classes for children birth – 8 years, and is the owner and director of Little Songbird Studio in Florence. She also highly recommends Miss Amanda's Music Garden in Clifton, and the Musik Kids program at the Wyoming Center for the Arts.
Win a Class Pass!
Elizabeth is giving away a spot in her summer classes to two of our lucky readers! Her summer session begins on June 13th and runs for eight weeks. Classes meet once a week for between 30 and 60 minutes, depending on the age of your child. You can find out more information about her classes, and see her class schedule here. Winner will be drawn Monday, June 6th at 3pm and will have 24 hours to respond.
To enter, do one (or more) of these things! (Leave a comment below for EACH ONE)