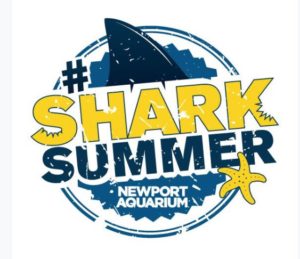 It's just not summer without sharks! Newport Aquarium, the Shark Capital of the Midwest, is kicking off the summer season with free kid's admission and a fintastic event celebrating sharks! During #SharkSummer, May 27 to July 8, guests will get the opportunity to journey through the aquarium, discovering fun shark facts and shark related exhibits around every corner. They'll even get to touch sharks including a new species of shark never before featured at Newport Aquarium. Plus, Sundays through Fridays, one kid (ages 2-12) gets in free after 4 p.m. with the purchase of a full-priced adult ticket. This offer is available for a very limited time only from May 27 to July 8 and must be purchased online HERE.
New Baby Sharks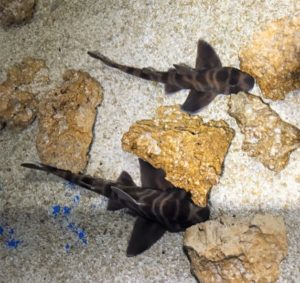 Newport Aquarium is excited to announce the arrival of a new species of shark that is swimming its way into Shark Central. Wasabi and Sake, two baby Japanese Bullhead Sharks just joined more than a dozen other sharks in the Shark Central touch tank. Guests can easily spot the sharks as they make sand angels in the bottom of their tank, and by their long fins as they swim alongside the bigger sharks. They join the rest of their kelp forest "cousins," including the Port Jackson, Leopard Shark, Leopard Catshark and Striped Catshark species. The aquarium is welcoming the new residents during Shark Summer from May 27 to July 8.
Extended Summer Hours
Just in time for summer, Newport Aquarium is extending its summer hours and will be open from 9 a.m. to 7 p.m. daily between May 27 and September 2.
Two Summers of Fun with an Annual Pass
For a limited time only, guests will get two extra months free when they purchase an Annual Pass.  That's 14 months of fun and discovery for the price of 12 months, plus exclusive Passholder events, bring a friend free days and additional savings throughout the year.
#SharkSummer
With extra time and free kid's admission, guests have the opportunity to visit Newport Aquarium for Shark Summer, which runs May 27 to July 8. See sharks like never before when you cross over the open waters of the 385,000-gallon Surrounded by Sharks exhibit on Shark Bridge. Experience what it feels like to touch six different species in Shark Central. Then, get nose-to-nose with sharks when they swim next to you and above you as you venture through more than 80 feet of acrylic tunnels.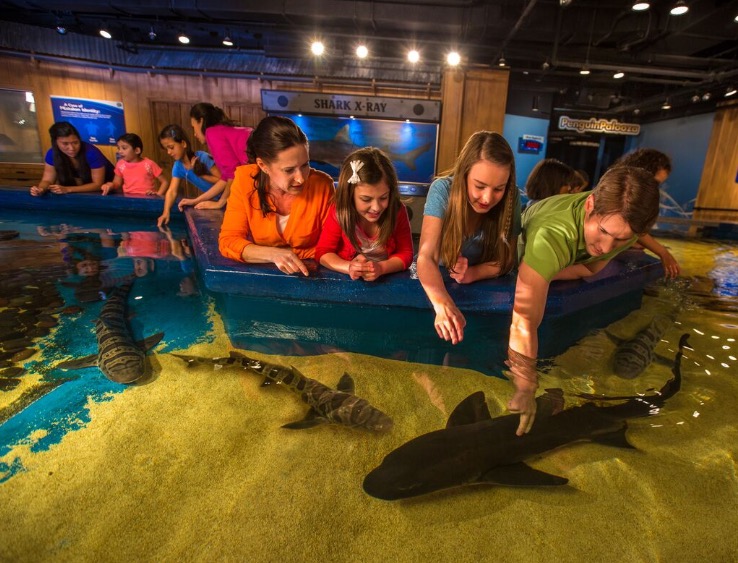 Shark-Infested Activities during #SharkSummer
Shark Nursery – See shark eggs from three different species of sharks. Guests will have the opportunity to see the early stages of life as a baby shark grows in the egg. This brand new shark nursery is in the Shore Gallery.
Shark Bridge – More than 2 million thrill-seekers have dared to cross Shark Bridge! Included with admission, Shark Bridge is a 75-foot-long rope bridge suspended just inches above nearly two dozen sharks.
Shark Talks and Dive Shows – Guests catch their first and largest views of shark rays and sharks in Shark Ray Bay Theater. Divers take questions from the audience about the biology and conservation of sharks and other animals found inside the huge habitat.
Shark Tank Feed – Guests can watch biologists feed the sharks and shark rays from either the Shark Ray Bay Theater, Surrounded by Sharks tunnels or through a biologist's point-of-view from the Shark Tank Overlook.
Touch Sharks – Inside Shark Central, guests have the opportunity to touch more than a dozen sharks including the brand new Japanese Bullhead Sharks. An Animal Experience Specialist teaches guests the proper technique to touch sharks and helps them understand each species in this international collection.
For more information, visit NewportAquarium.com or call 800-406-FISH (3474).