Please join us in welcoming Stephanie Allen, co-founder of Dream Dinners, to the Family Friendly Cincinnati blog! We're excited to share with you her tips for a more stress free holiday season. Scroll down to the bottom of her post for details on the four local Dream Dinners locations.
——————————————————————————–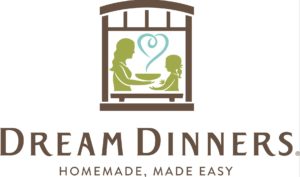 The holidays will soon be upon us, and while your time with your kids and family can be a source of great excitement and fun, the stress of planning and entertaining can be overwhelming if you're not prepared to tackle the challenges of the season.
With Dream Dinners' 15 years of experience helping families spend more time together through assembled meals, they've learned a few stress-free holiday entertaining tricks along the way. Here are a few that may help you relax and enjoy the festivities:
Choose menu items that can be made ahead, like soups and stews – which are perfect cold-weather food, too. Quiches and tarts freeze well, and can be made well ahead of time.
Save time on outdoor décor by choosing standout pieces. An eye-catching wreath on the front door or potted evergreens on the front stoop work well and give you back the hours you would have spent stringing twinkle lights.
Buy gifts in bulk. Buy a case of wine or champagne and send each of your guests home with a bottle. You can also double your batches of cookies, and send guests home with a tin of your favorites.
When it comes to decorating the house, keep it simple. Fill glass bowls and containers of varying shapes and sizes with vintage ornaments or twinkle lights. It's simple, beautiful and keeps your décor looking cohesive throughout the house.
Create a budget and a gift list before you leave the house. Then, organize your list by categories such as clothes, electronics, toys. This way you only have to make one quick trip to each store.
Set your table the night before your holiday party or dinner so there is no last-minute table styling stress. Label serving dishes with Post-its, pairing utensils with them in advance. This makes it easy to ensure you've accounted for each dish, and keeps you organized in the rush before dinner is served.
Consider serving dinner as a buffet instead, so you can enjoy the party you worked so hard to create. Just be sure to pull the buffet away from the wall. This allows your guests to serve themselves from all sides of the table, and prevents lines from forming.
Have fun with a "recipe remix" and turn your favorite recipes into easy appetizers. Make your meatloaf recipe into meatballs, or try something new like skewering strips of your Dream Dinners' Herb Crusted Flank Steak.
"We get so busy during the holiday season that we lose sight of what the holidays are about, which is spending time with friends and family," said Stephanie Allen, co-founder and president of Dream Dinners. "It's Dream Dinners' goal to make dinnertime possible, so families can make quality time with each other a priority. No matter how busy the holidays are, when families make the effort to create memories and spend more time together, the payoff is priceless."
Find the Dream Dinners nearest you:
Blue Ash
9715 Kenwood Road
Blue Ash, OH 45242
513-984-9866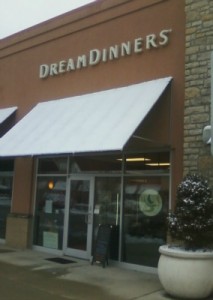 Cincinnati – Anderson
7466 Beechmont Avenue
Cincinnati, OH 45255
513-233-3732
Cincinnati – West
6507 Harrison Ave
Cincinnati, OH 45247
513-598-4949
West Chester
7743 Cox Ln
West Chester, OH 45069
513-779-3555
ABOUT DREAM DINNERS:
Founded in 2002, Dream Dinners' mission is to grow great kids by promoting the family dinner, and to strengthen American families by bringing the homemade meal back to the dinner table. Guests choose from seasonal, rotating monthly menus and prepare their dinners in-store without the hassle of planning, shopping and chopping. Dream Dinners lays out the ingredients in an easy-to-follow format so guests can assemble a month's worth of meals in about an hour. A pioneer and leader of the meal assembly industry, Dream Dinners brings Homemade, Made Easy to local communities through its 81 retail locations in 22 states. Named to Entrepreneur Magazine's 2017 list of top food-based franchises, Dream Dinners is also seeking qualified franchise candidates to join the brand's expansion in select markets throughout the country. Learn more at dreamdinners.com.