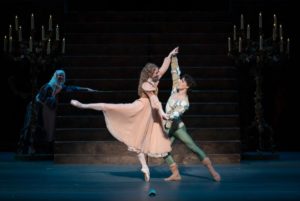 Cincinnati Ballet joins Cincinnati Symphony and Pops Orchestras, Cincinnati Opera, and May Festival, as a Cincinnati Music Hall resident performing company, with three productions in the 2017-2018 Season. Cincinnati Ballet's participation in the five-week Music Hall Grand Opening celebration will include six performances of Victoria Morgan's passionate and powerful Romeo and Juliet, October 26 through 29, 2017. The Nutcracker returns to the Music Hall stage in December, followed by Carmina Burana + Serenade,in February, 2018.
"Returning to Music Hall is a long-awaited, meaningful moment for Cincinnati Ballet," says Artistic Director Victoria Morgan. "There has always been something special about the elegant beauty of the theater that truly inspires our artists and audiences. I'm thrilled that our dancers will once again have the opportunity to perform in such a beloved venue – one that has an enduring and rich history in the community – and I know that our patrons will be delighted with the updates and improvements to their Music Hall experience."
"We are proud to be joining our fellow arts organizations at the newly renovated, historic Music Hall," says President & CEO, Scott Altman. "Arts are central to the pride, culture and vibrancy of Cincinnati and the reopening of this historic icon is symbolic of a thriving arts culture, and a momentous occasion for both the city and Cincinnati Ballet."
Morgan brings the most well-known love story of all time, Romeo and Juliet, to life with her unique blend of dance and drama. Shakespeare's legendary tale, written nearly 420 years ago, has not waned in its ability to captivate audiences with the unfolding of a great romance destined for tragedy. "Shakespeare's story is poignant, honest, and beautifully portrays conflicts that are still relevant in today's conversation," says Morgan. "It is a joy to be able to give life to his words through dance." The performance is set to Sergei Prokofiev's breathtaking score which will be performed live by the Cincinnati Symphony Orchestra, conducted by Cincinnati Ballet Music Director, Carmon DeLeone. Morgan's Romeo and Juliet premiered in 2008 and was last performed in 2013.
Cincinnati Ballet brings Frisch's Big Boy Presents The Nutcracker back to Music Hall, December 14 through 24 for the first time since 2006,with three performances added due to popular demand. Cincinnati Ballet co-presents a World Premiere Carmina Burana, in a unique collaboration with Ballet West, in February, 2018, paired with George Balanchine's iconic Serenade. Three Cincinnati Ballet productions, including The Kaplan New Works Series, Director's Cut: Musical Masters, and Bold Moves will be presented at the Aronoff Center for the Arts.
Music Hall, one of the nation's most treasured performance venues, has undergone a major renovation in Cincinnati's Over-the-Rhine neighborhood that will realize long-awaited updates and upgrades throughout the iconic structure, build upon its world-class acoustics, and retain the hall's historic grandeur. The $143 million renovation is supported by public and private contributions, and will add more than 31,500 square footage to the historic icon. Renovations include a refreshed exterior that connects the hall more directly to the neighborhood; a revitalized Springer Auditorium with new, more comfortable seating and flexible configurations for different types of performances; new practice rooms, dressing rooms and other backstage necessities for performers; a new large rehearsal/event space; expanded restrooms and concessions; and other enhancements to improve the patron and artist experience.
The Re(new)ed Celebration, a free community event which includes a behind-the-scenes look at the state-of-the art, newly-renovated Music Hall, will be held Saturday, October 7, from 10 am-3 pm. The event, presented by ArtsWave, will feature more than 50 live performances by Cincinnati Ballet, the Cincinnati Symphony and Pops Orchestras, Cincinnati Opera, May Festival, and additional arts groups. For more information visit www.artswave.org.
Cincinnati Ballet's return to Music Hall is only one of the exciting initiatives unveiled in the 2017-2018 Season as part of a long-term strategy for sustained growth and advancement. In addition, the "new" Cincinnati Ballet also encompasses an eye-catching, refreshed logo and brand identity for the Company, the launch of the Professional Training Division, the introduction of a brand new Family Series, and a groundbreaking partnership with Ballet West on a co-presentation of a World Premiere production.