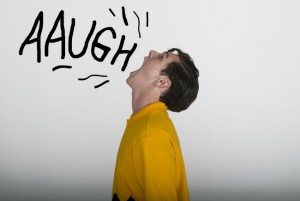 Last Friday night, my family and I got to see A Charlie Brown Christmas at The Children's Theatre of Cincinnati.  We were so excited.  Of course, we all love the television production of the show and were curious to see how it would be brought to life on stage.  Would Charlie Brown be bald?  Would Linus have his beloved blanket?  Would Lucy trick Charlie Brown with a football?
The show opens with a giant television on stage and the characters popping out of the screen. My kids were super impressed with Charlie Brown and his crew jumping out of the TV and wondered how in the world they did that.  It was pretty cool. And, it was a great way to show them the different characters.  My favorite was wondering how Pig Pen would look.  You'll have to catch the show to find out!
The characters and costumes were so bright and vibrant.  It was so much fun to watch. The Frisch Marionette Company did an excellent job, as I loved watching Woodstock fly around Snoopy, driving him a little crazy!
Here's a little more about the show:
Bring your family and celebrate Christmas with The Children's Theatre of Cincinnati's live rendition of everyone's favorite holiday special. A CHARLIE BROWN CHRISTMAS!  Don't let the hustle and bustle of the holidays get you down – Charlie Brown and the rest of the Peanuts gang are here to remind us all about what's most important during this Yuletide season.  By Charles M. Schulz.  Based on the television special by Bill Melendez and Lee Mendelson.  Stage adaptation by Eric Schaeffer.  By special arrangement with Arthur Whitelaw and Ruby Persson. Puppets by The Frisch Marionette Company. Directed by Roderick Justice.  Choreographed by Jay Goodlett.

2015 marks the 50th anniversary of the animated television special, A Charlie Brown Christmas.  Produced by Lee Mendelson and directed by Bill Melendez, the TV program made its debut on CBS on December 9, 1965.
A Charlie Brown Christmas is showing at The Children's Theatre of Cincinnati, through December 13th. Tickets prices are $7-$25 and show times are as follows:
Friday December 4th 7:30 PM
Saturday December, 5th at 2 PM
Sunday, December 6th at 2 PM
Saturday, December 12th at 2 PM and 5 PM
Sunday December 13th at 2 PM
The Children's Theatre of Cincinnati Taft Theatre is located at 5th and Sycamore Streets in Downtown Cincinnati. Please call 1-800-745-3000 or go to www.ticketmaster.com to reserve tickets.
We hope you get to kick off your holiday season with this awesome show!
Disclaimer:  I was provided tickets to this show in exchange for a giveaway and review.  All opinions are my own.  We loved the show!