My family and I — and to be honest, the whole FFC gang — love theatre in its many shapes and forms. We're big fans of Broadway in Cincinnati and can't wait for the upcoming season. We love The Carnegie and cannot wait to see the offerings for 2015-16. Ensemble Theatre of Cincinnati, Falcon Theatre, Know Theatre, Cincinnati Playhouse in the Park – SO many amazing theatre companies doing so much amazing work in our town. It's fantastic!
One of our absolute favorite companies is the Cincinnati Shakespeare Company. They manage to span the range from full on Shakespearean drama to slapstick comedy with ease. The entire company is so amazingly talented I am not sure how the building contains it all! We've seen countless productions at this point, my husband and I, and thoroughly enjoyed each and every one. 
That's why I am so excited to be taking both of my sons with me on a mother-son date night to see Cyrano de Bergerac this coming weekend! I am always on the lookout for opportunities to expose my kids to the arts, especially in the form of theatre as it has always been close to my heart, so when I heard that Cincy Shakes would be taking on Cyrano de Bergerac I jumped at the chance to take them!
Not familiar with the story? Here's a little about the show: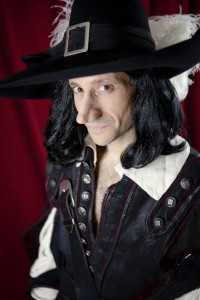 Cyrano (Jeremy Dubin) is a man of panache- a dazzling swordsman and a brilliant poet with a wit as quick as his blade. When he falls in love with the beautiful and brilliant Roxane (Caitlin McWethy), there is only one thing that stands between them- his gargantuan nose. When Roxane unknowingly confides in Cyrano that she is smitten with the handsome, but dimwitted solider Christian, Cyrano cannot resist the opportunity to finally speak his heart — through letters and verses signed under Christian's name. His words have Roxanne swooning, but who is it that she truly loves and how long can Cyrano remain in the shadows? The witty wordplay of Wilde, the swashbuckling swagger of "The Three Musketeers", and the unrivaled romanticism of "Romeo and Juliet" are all right under your nose in "Cyrano de Bergerac".
Jeremy Dubin is one of my absolute favorite actors to see perform. I have loved him in Comedy of Errors, Complete Works of William Shakespeare (Abridged), and so many more – I cannot wait to see him take on the role of Cyrano. The best part, though? I can take my kids. I do enjoy a good night out with my husband, but I am overjoyed at the opportunity to take my boys to see a Cincinnati Shakespeare Company production. Swashbuckling on the level of a good pirate movie, witty comebacks – everything they love, rolled into one fantastic production. It's going to be amazing!
Even better that this? We just got word that through our school district's Ascent Arts program, my oldest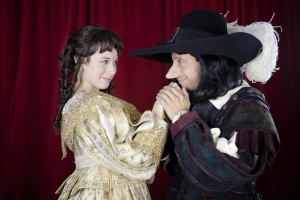 son will be working with actors from Cincinnati Shakespeare Company over the course of the year, culminating in a performance at the Cincinnati Shakespeare Festival in April! I was SO excited when I heard this! Both of my sons are in love with the theatre, with drama club at their schools, and with performing. For this mom, it's the most amazing thing ever in life. I long harbored a hope that they would follow in their mother's footsteps when it came to drama and performing (Yes, I'm a drama queen — I own that title). To be able to show them one of the finest and most talented theatre companies in action? I can't wait!
If you hadn't guessed, this production is very kid-friendly, so I hope you'll join me in the audience for Cyrano de Bergerac at Cincinnati Shakespeare Company!
Performances of "Cyrano de Bergerac" are scheduled from September 11- October 3, 2015 on Thursday, Friday & Saturday evenings at 7:30pm and Sundays at 2pm.  There is no performance on Sunday Sep. 13. The theater is located at 719 Race Street, downtown Cincinnati, two blocks west of the Aronoff Center.  Single ticket prices range from $22-$35 on Thursdays and Sundays and from $26-$39 on Fridays and Saturdays.To purchase tickets or for more information, call the CSC Box Office at 513.381.BARD (2273) ext. 1, or go online at www.cincyshakes.com. 
Upcoming productions include Death of a Salesman and As You Like It. For more information on these productions visit www.cincyshakes.com
*Photos courtesy of Mikki Schaffner Photography.
disclosure: I was provided with tickets to attend the opening night performance of Cyrano de Bergerac in exchange for sharing information on this production. That being said, I am a huge supporter and fan of Cincinnati Shakespeare Company and all opinions above are 100% my own.