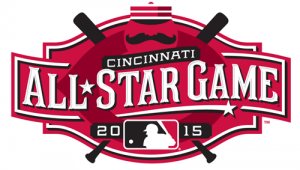 Cincinnati is proud to play host to the 2015 Major League Baseball All Star Game, which takes place on Tuesday, June 14th 2015.  But the big game isn't the only action going on.  Along with the All Star Game there will be all kinds of other fun festivities going on in Cincinnati & Northern Kentucky to celebrate the All Star Game!
2015 MLB All Star Game Events ::
T-Mobile All-Star FanFest at Duke Energy Convention Center ~ Friday, July 10 – Tuesday, July 14, Meet some of baseball's greatest players and get autographs and pictures, grab a hot dog, and have all sorts of fun!  Visit the MLB website for information about purchasing tickets.
Cincinnati Craft Brewer's Volkfest ~ The best summer beer festival is back during All-Star Weekend! Volksfest is a festival for the people of Cincinnati, brought to you by your favorite local craft breweries. Held July 10th and 11th at Listermann Brewing Company in Norwood, Ohio, Volksfest will feature beers only from local breweries.  There will be live music from local musicians, food vendors and fun activities for kids.  This event is FREE to attend, you just pay for the food & drink you'd like to enjoy.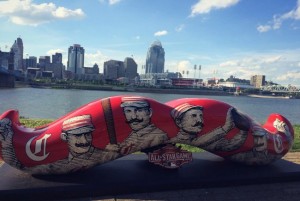 Find the Mustaches ~ 20 Commemorative Handlebar Mustaches have been scattered throughout Cincinnati & NKY, see if you can find them all!
2015 BB&T Summer Celebration ~  July 9-14, Six days of music, circus antics, family fun, a Ferris wheel and MORE!  Visit the COV200 Website for all the details.
The Color Run MLB All-Star 5K ~  Presented by Nike on Saturday, July 11 at 9:00 a.m.  Visit the Color Run website to register today!
Budweiser MLB All-Star Concert ~ Saturday, July 11  part of the Pepsi Music Series at Paul Brown Stadium, 8:00 p.m.
Hits of the Big Red Machine Era (1970-76) 7:30 p.m. July 11, 2015 KSO www.kyso.org Devou Park Bandshell, Covington, KY Free (though donations encouraged) As Sparky, Johnny, Pete and Tony were making River Front Stadium a World Series destination for four out of six years (1970-76), acts like Queen, Barry Manilow, The Hollies, KC and the Sunshine Band, Three Dog Night, Wings, the Bee-Gees were dominating the pop charts.  Nostalgic Reds lore and tuneage of the day will kickoff All-Star weekend and the KSO's 21st Summer in Devou Park.
All-Star Sunday ~ Sunday, July 12 at Great American Ball Park featuring SiriusXM All-Star Futures Game at 3:00 p.m. followed by the All-Star Legends & Celebrity Softball Game.
Gatorade All-Star Workout Day ~ Monday, July 13 at Great American Ball Park, featuring the  Home Run Derby at 8:00 p.m.
All-Star Game Red Carpet Show ~ Tuesday, July 14 Presented by Chevrolet, 1:00 p.m.
86th MLB All-Star Game at Great American Ball Park ~ Tuesday, July 14 at 7:30 p.m.
All Star Home Run 5K benefitting the Children's Home of Northern Kentucky ~ Saturday, July 18th at 9am in Devou Park.  Visit the event Facebook page for all the details.
Visit the Local Museums ~ many local museums have special exhibits going on focusing on Baseball in honor of the All Star Game:  Cincinnati Reds Hall of Fame & Museum: Exhibit, Stars of the Queen City;  National Underground Freedom Center: Exhibit, Diversity in Baseball; Cincinnati Museum Center: Exhibit, Queen City Baseball: Diamonds & Stars; Cincinnati Art Museum: Exhibit, Up At Bat: Warhol & Baseball.
The Public Library of Cincinnati and Hamilton County will feature items and images portraying the history of the Cincinnati Reds from its beginning as baseball's first professional team to the days of the Big Red Machine.  This will be on display through July 31 at the Main Library, 800 Vine Street in Cincinnati.  Items on display include Reds' jerseys, programs and photographs, an 1894 scorebook, a scrapbook from a player on the 1919 World Series team and original newspapers.
Wondering how to get around town to all of these events?  Don't worry about parking hassles…grab a Red Bike for the day!  Also, wanting to make sure you get all of your "steps" in this weekend?  Check out this article from St. Elizabeth Healthcare:  Your Walking Guide For Cincinnati's Big Weekend.

Did we miss an event?  Submit it here and we will add it to the post:  http://bit.ly/cincyweekendcalendar
At the time this was written the events and activities were accurate, but you may want to double check on events before heading out to them in case anything changes.