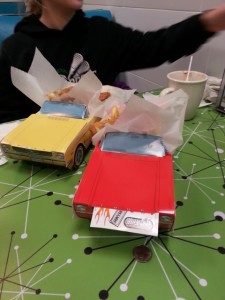 I love visiting Clifton. Most of our visits have centered around Ludlow Avenue (see 2011 post on Exploring Ludlow Avenue), but Clifton is also home to the University of Cincinnati and there are plenty of dining choices to keep college students coming back for more.  One restaurant, Hwy 55 Burgers, Steaks & Fries, will also keep our family returning to the area.  After visiting the Cincinnati Zoo, we headed to Hwy 55 for dinner. Hwy 55 is all about nostalgia and giving you the feeling that you are stepping back in time.  The brightly colored dining area was filled with booths beckoning you to enjoy a shake and fries.  As the name implies, you will find lots of burgers on the menu.  I really liked that that they gave you a nice variety of burger topping options for no additional charge. They had the basics like lettuce and tomato but they also had grilled bell peppers, grilled mushrooms, jalapeno peppers and more.  They also had a great kids menu. Plus all of the kids meals come out in a classic style car that the kids can decorate with cool car stickers. Both my girls had fun decorating their cars.  The kids meals include a drink, fries, and entrée for ages 12 and under (only $3.99).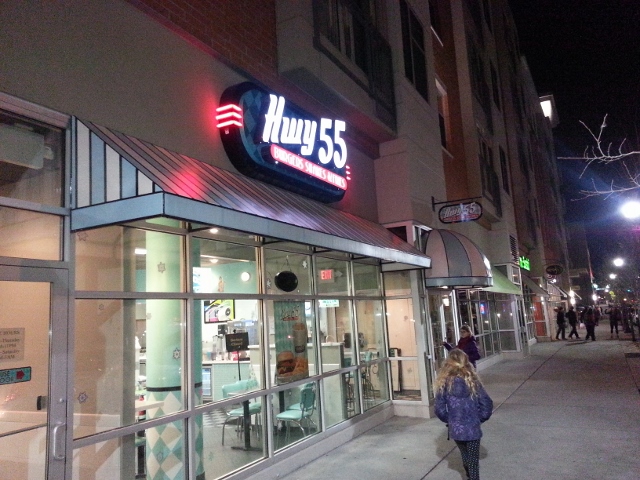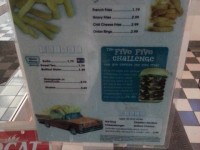 The night we visited, we witnessed some college students attempt "The Five Five Challenge". Oh my, this was something to see.  Four slim college boys ready to tackle burgers with buns and trimmings all stacked one on top of the other.  They had to eat the entire 55 oz of beef, with a side of fries and a 24 oz drink in 30  minutes or less. If they completed the challenge, the food was free.  My girls were mesmerized by their progress. They all started out strong but then you could see them starting to slow down and mid-way through they were dragging. We ended up leaving before the finale but we think that their stomachs failed them and that they did not complete The Five Five Challenge (uh-oh, that means they had to pay for all that food, $24.99).
Beyond burgers and fries, they also serve salads, a variety of platters, cheesesteaks, and, of course, desserts. Hwy 55 serves frozen custard. The night we visited they were having trouble with their frozen custard machine but they were still able to make shakes and those shakes were delicious and very filling. I sampled my girl's shakes after they couldn't drink anymore. YUM!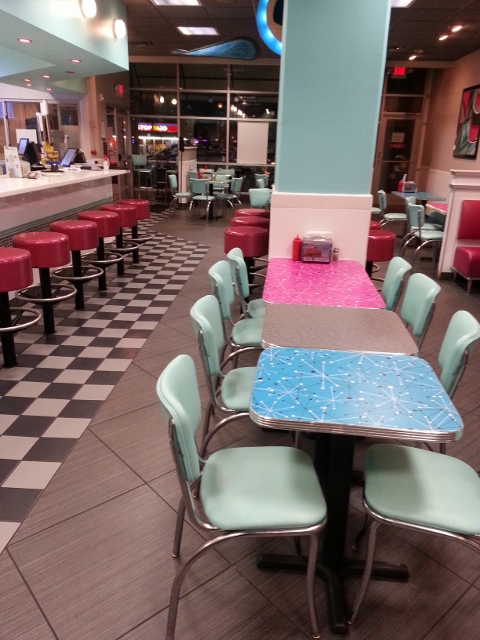 Another bonus is that we were able to find a great deal on CinciSavers.com for Hwy 55 so we got $30 worth of food for only $15.  Wow.  It looks like they still have the deal going on (expires 8/1/2015), so maybe you can get a great deal too.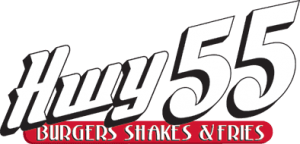 HWY 55 Burgers, Shakes & Fries
140 W. McMillan Street
Cincinnati, OH 45219
513-221-2520
When not blogging for Family Friendly Cincinnati, you can find Kristin writing on her personal blog, MasonMetu (from me to you).