When looking for fun activities for the whole family this holiday season consider the Holiday Toy Trains at the Behringer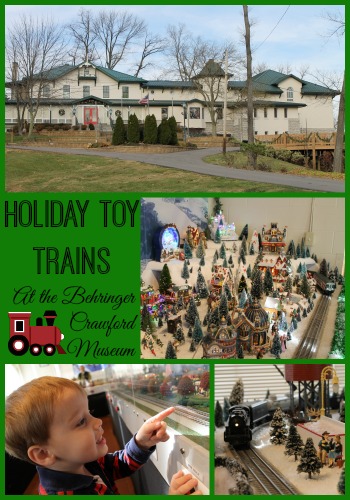 Crawford Museum in Devou Park.  And when I say "fun for the whole family" I mean that it's not just the kids that will be entertained by this train display.  I always enjoy our visit to the Behringer Crawford for this holiday tradition as much as they do.  I like to spend the time poring over all the little details that have been so carefully chosen for the display.   I'm just a big kid myself when I go to the Holiday Toy Trains exhibit!
With 250 feet of train track, over thirty push buttons, countless miniature buildings, several zooming trains, and a  layer of fluffy fake white snow, the Behringer Crawford Holiday Toy Train provides families with a great day of fun.  My kids love the interactive buttons on the display the best.  The buttons operate so many things, from a train whistle, to a flying Santa Claus, to lights, to doors, to a fire truck and MORE.  The fact that this display is so interactive and it's right at eye-level for the kids makes it perfect even for the young kids.
When you head to the Toy Train exhibit, be sure to grab a scavenger hunt paper from one of the volunteers so you can make a game of your visit.  Then you and your children can spend some quality time searching the lively display for the items in the scavenger hunt.  This train display has a little bit of everything, like a carnival, a peaceful winter village, a bustling town, and a forest filled with animals.  The folks who set up this display have collected many different buildings and figures over the years.  Each year when we go I notice new additions to the display, so we're not seeing the same exact display year after year.  For more pictures from our visit last year visit The Little Things blog.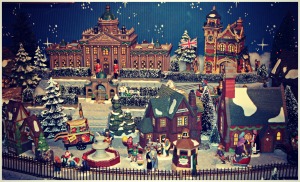 If you have any questions while you are visiting the display there are always friendly volunteers and train engineers on hand to chat with you.  After you have your fill of the train display, head into the next room to see the new Dickens Christmas Display, it's simply magical!  And then spend a few hours exploring the rest of the Behringer Crawford Museum.  It's a perfect place to spend the day with the children.  It's been one of my favorite museums in town since I was a very young girl.  Here's a post about the Behringer Crawford Museum on Family Friendly Cincinnati.
The

Behringer Crawford Museum

is located in Devou Park at 1600 Montague Road.  859-491-4003
For the 2015 Holiday Season the Toy Trains will be on display until January 18, 2015
For Prices, Directions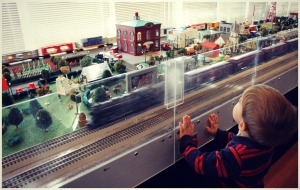 and Operating Hours (including special holiday hours) see the

Behringer Crawford Museum Website
Wednesdays are Grandparents Day! One grandchild admitted FREE of charge with each paying Grandparent
Polar Express Readings (read by local librarians – reservations required) November 30, December 7, December 14, & December 22nd at 2pm