This weekend may be the perfect Fall weekend!  And, we have lots of great stuff for you to enjoy crisp weather, fall festivals and family time!  We even have a couple of date ideas!  Check out our list of what's happening this weekend in Northern KY and Cincinnati!
SATURDAY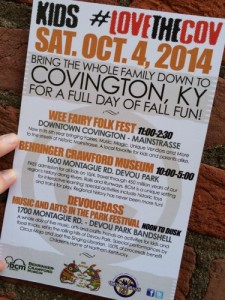 Kids Love The COV ~ FREE Family Fun in Covington on 10.4.14 ~ Spend an entire day in Covington having fun with your family! Start at at the Wee Folk Magic of Art Festival in the Main Strasse Village from 11am until 2:30pm, where kids can don their fairy wings and super hero capes and take part in free fun craft activities and enjoy fun live performances.  Then head to Devou Park for a FREE Music & Arts Festival: DevouGrass 2014, running from noon until dusk.  At DevouGrass you can listen to local bluegrass bands, buy lunch at some awesome food trucks, visit the unique craft vendors and get a jump-start on holiday shopping, and let the kids do FREE activities.  There will also be a visit from Circus Mojo and Joel the Singing Librarian.  To top off "Kids Love The COV" day, all children have FREE admission at the Behringer Crawford Museum on Saturday!  Read this post about KIDS LOVE THE COV for more details about the day's events.
Kids CrossFit Saturdays at noon NewCov CrossFit $5/class CrossFit Kids classes for ages 4-12 Saturdays at noon! The classes are only $5 each or you can get a whole month unlimited for $35.
Krohn Zone celebrates our Native Foods October 4, 2014/Noon-3 pm  Free with admission to Fall Show $4 Adults, $2 5-12yrs., FREE 4 and under Food demo. Join Krohn staff and Chef Ursula to learn more about native foods and sample some of the tasty selections. Chef Ursula will be creating recipes with the foods of the Native American tribes that lived in the Ohio River Valley. Come to this special program to learn more about native foods and sample some of the delicious dishes that she will be preparing–––like Corn Chowder topped with toasted sunflower seeds, Fry Bread with Maple Butter dipping sauce, Venison Chili, and Pawpaw Pudding!

Worldwide Breastfeeding Competition: Northern Kentucky Breastfeeding Challenge 2014 will take place from 10 a.m. to noon on Saturday, October 4, at the main branch of the Boone County Public Library, 1786 Burlington Pike, Burlington, Ky. During the challenge, Northern Kentucky mothers and children will compete against sites across the world to see which can gather the most babies latched on and nursing at the same time. It is sponsored by the Northern Kentucky Breastfeeding Coalition. Besides the breastfeeding count at 11 a.m., the event will also feature information on local breastfeeding resources, a raffle, snacks, and an appearance by Randi Rico, WLWT-TV meteorologist and new mom.
Fall Harvest Festival Saturday, Oct. 4, 1-5 pm Kenton County Public Library  Erlanger Branch Library Free admission Enjoy local foods and crafts with the Dixie Farmer's Market. Hay rides will run every half hour starting at 1:30 and ending at 4 p.m. Visit a farm animal petting zoo from 1-3, and enjoy live music at 4 p.m.  
ALL WEEKEND
Check out our Halloween post for lots of activities going on around town in October to get you in the mood for Fall and Halloween!  Lots of festivals, hayrides and HallZOOween at the Cincinnati Zoo are included!
Planning a date night this weekend?  Check out Dirty Dancing at the Aronoff Center!  It plays through October 5th.  Check out our review and then go see it for yourself!
Ohio Renaissance Festival ~ August 30th – October 19th, 2014 • Saturdays, Sundays, & Labor Day Monday • 10:30am – 6:00pm 
Old West Festival ~ Saturdays & Sundays, September 6 to October 12, 2014 ~ 10:00 a.m. to 6:00 p.m., Rain or shine. Howdy partners! Head out to The Old West Festival for a gun-slinging, sasparilla drinkin' good time with the whole family! The Old West Festival is located at 1449 Greenbush Cobb Rd between Mt. Orab and Williamsburg, Ohio just off St. Rt. 32. Cost is $12 general admission; $6 for children ages 6 to 12; and children under 5 are free. Parking is FREE. Please visit www.oldwestfestival.com or call 1-866-WEST-FES (1-866-937-8337)
Bonnybrook Farms' Fall Farm Days Sat. & Sun. Sept. 20 – Oct. 26 2014  3779 State Route 132, Clarksville, OH 45113 No Admission, $ for individual activites Fun on the Farm' activities include a family friendly Adventure Wagon Ride, "Pick your Own" Pumpkin Patch; Clodhopper Golf; Crazed Corn Maze; Pony Rides; Giant Slingshots; Orienteering; Horse Shoe Hill with 80' Underground Slide; Farm Yard Play Area; Birthday Parties; Farm Animals to Pet and Brush and Fish to Feed. Guess the Weight of the Gianormous Pumpkin and The Great Pumpkin Hunt. Pumpkin Chunkin' on Halloween weekend. Made from scratch Farm Kitchen Cafe. 
Bonnybrook Farms' Lantern Light Nights Fri. & Sat. Sept. 26 – Oct. 25, 2014 7:30pm-10:30pm  3779 State Route 132, Clarksville, OH 45113 No Admission, $ for individual activites Take a wagon ride along the old stone roads of this historic farm, back to a time when only lanterns lit the way. Tune your eyes and ears and you may catch a glimpse of travelers past! Soldiers, town folk, spies and politicians portrayed by professional theater actors commemorate the 150 year anniversary of the Civil War in Ohio. The Lantern Light Wagon Ride is a family friendly, history-based ghost tour. Bring a flashlight to find your way through the shadowy rows of the CrAzEd C0Rn MAzE, but
beware of what you might see….or what might see you….along the way.  
Krohn Conservatory Fall Show "Ancient Gardeners: Indigenous Earthworks" September 6-October 26 Krohn Conservatory $4 Adults • $2 Children (5-12 ) • FREE 4 and under The Krohn Fall Show, Ancient Gardeners: Indigenous Earthworks will provide an opportunity to enjoy the beautiful fall flowers, and to learn about the amazing ancient gardeners and their incredible indigenous earthworks! Plus special events scheduled through out run of show. 
Yarn Bomb the Covington Library September 1-October 12 www.kentonlibrary.org  Covington Library  FREE Help us yarn bomb the Covington branch in celebration for the one year anniversary of the renovation. Everyone is welcome!