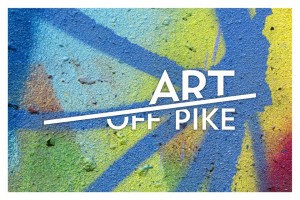 We are so excited about the 10th Annual Art Off Pike returning to Covington this weekend on Sunday, September 28 from 11 AM until 5 PM.  Art Off Pike takes place on 7th Street between Washington and Madison and highlights the best our city has to offer of the local arts scene in all it's many forms.
Here's a little about the event from the organizers:
As vibrant, diverse and noteworthy as the city it calls home, the 10th Annual Art Off Pike asks all of us to appreciate and enjoy not just the art that hangs on the wall, but also performances, dance, music, fashion and film.

The longtime event, happening September 28 from 11 am to 5 pm, will take place on 7th Street between Washington and Madison and is expected to draw as many as 5,000 people to the city's urban core. Free and open to the public, art lovers can visit the festival to browse the works by more than 50 talented artists, then take time to watch artistic demonstrations and enjoy performances geared at fun for the entire family.

In addition to the vendors and performances, hungry attendees will find plenty to eat at Art Off Pike, with food booths featuring Covington favorites such Rima's Diner, KungFood Chu Amerasia, Whack Burger, Chicago Don's Hot Dogs, Old Town Café, and Braxton Brewing Company.

Those into fashion will have the opportunity to accessorize their wardrobes by bidding on jean jackets bedazzled with a Covington theme (naturally) at the Upcycled Jean-jacket Fashion Show and Auction.

Also debuting at Art Off Pike is CoSign, a program connecting small business owners, designers and sign fabricators who will unveil newly fabricated signs for businesses along the Madison Avenue corridor starting at 2 pm. A new sign will be revealed every 10 to 15 minutes to create a walking parade of participating businesses, participants, and community members.

Capping off the event will be an outdoor screening of "The Goonies" at the Madlot at 6pm, presented by Gorilla Cinema. Transforming the MadLot into a traveling sideshow theater, attendees can enjoy gourmet food, craft cocktails and live music by Cincinnati band Heavy Hinges. Attendees can come and simply watch the movie, or if they choose, they can embrace their inner "Goonie" and follow a treasure map leading them to discover hidden gems throughout Cincinnati and Kentucky.
Art Off Pike will also utilize Madlot, a new pop-up performance park located adjacent to MKSK Architects for performances by a variety of local arts organizations. Presented by Artswave and sponsored by The Jacob G. Schmidlapp Trusts, Fifth Third Bank Trustee, performances will include:
11-12:00              Why Shakespeare?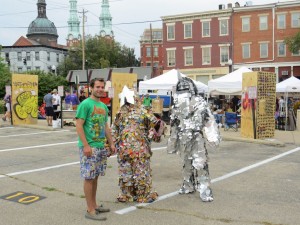 12-12:45               Bi-Okoto African Roots-Global Dance and Rhythms performance
1:00-1:45             Bach and Boombox (Cincinnati Chamber Orchestra)
2:30-3:00            Elementz Dance performance by Studio Kre8v
11 – 4:00*             Forealism Tribe will be perform throughout the event (in the crowd)
This is a fantastic FREE event and will be a fantastic way to spend a lovely Sunday afternoon!  There will be plenty of parking in the city garage, or you can grab a free spot on the street. For a full list of vendors and more information about Art Off Pike, visit artoffpike.org.