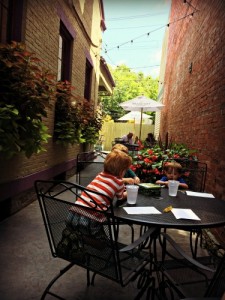 The MainStrasse Village is a great place to go when you are looking for a tasty meal or even just cocktails & appetizers or coffee & dessert.  There are so many great restaurants and bars to explore.  One of the great places to dine in the village is Main Bite, which offers everything from delicious appetizers to fresh salads to hearty main dishes to desserts (which I have yet to try but based on the other dishes I've had at Main Bite I feel that the desserts are going to be amazing too).
Main Bite has an intimate dining room, & they also offer patio seating outside.  It's a very quaint and lovely place to dine.  Main Bite is family friendly, so you could take your kids and have a family dinner there, or it would be a perfect place to meet up with girlfriends for a ladies night out, or for a hot date night without the munchkins.  It's just an all-around great place to grab a bite to eat.  They also offer carry out, which I picked up once for a picnic in Goebel Park.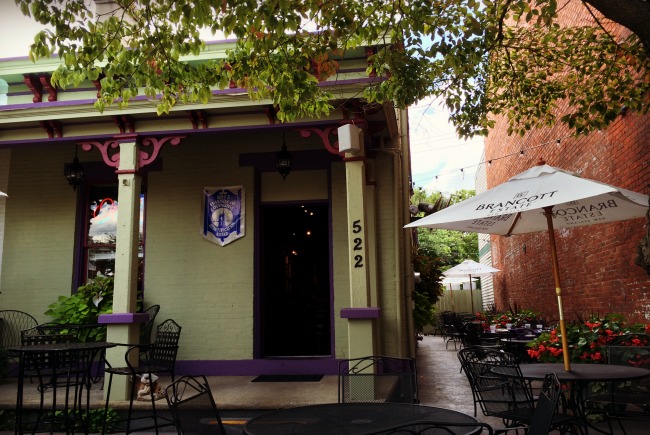 We started out sharing a of couple of awesome appetizers:  Black & Blue dip made with beans and Sundried Tomato Artichoke Dip served with Pita.  And then we moved on to the entrees, of which there were many interesting options to choose from.  Our entire meal was amazing, but as per the norm it took me forever to decide what to eat because their menu gave me too many options that I wanted to try.  Fortunately our main dishes were brought to us in sizes that would be perfect for sharing.  And we all offered to share bites of our lunch with each other, but we all filled up on our own lunches so I didn't get to try anyone else's meal.  I can tell you that we were all raving about what we ate, and each dish had generous portions.  I had a Sriracha Steak Flatbread, and my friends dined on Buffalo Chicken Flatbread & Carnitas Corn Tacos.  The boys had Penne Pasta with Marinara while sweet Maya had the Strawberry Greens salad from the Children's Menu.  Take a look at these mouth-watering dishes: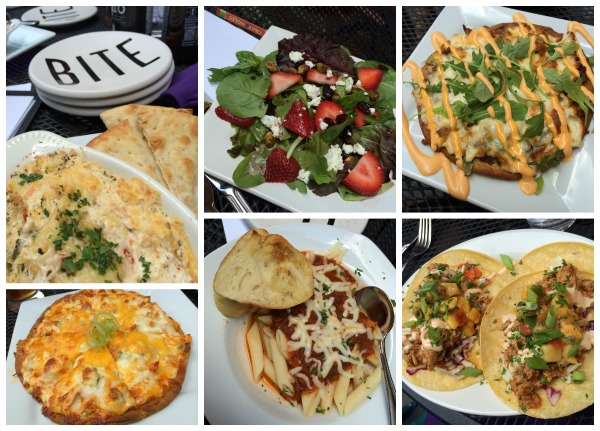 Main Bite offers appetizers, salads, main dishes, desserts and a kid's menu.  I appreciated the fact that the kid's menu was not just the usual kid-friendly usuals, but offered such items as a strawberry salad and pasta with marinara.  And then there was the adult beverage menu.  Another case of too many choices and too little time.  Main Bite offers Brunch on the weekends, which I intend to check out very soon!  And they also offer many gluten free menu items.  You can see all of their menus on the Main Bite website.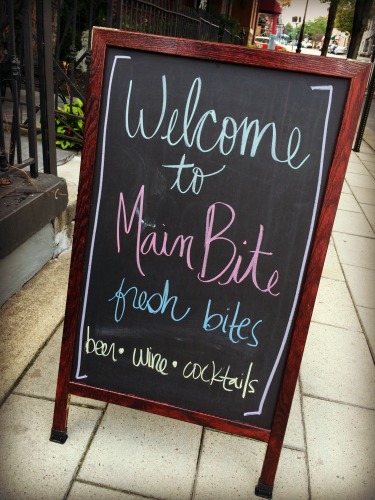 Main Bite is located at 522 Main Street in the Main Strasse Village
When not blogging for Family Friendly Cincinnati, you can find Katie writing at her personal blog, www.thelittlethingsjournal.com