I love spring. Seeing the flowers bloom, opening windows for some much needed fresh air, enjoying a freshly cut lawn and seeing your kids actively enjoying the outdoors are a few of the reasons I love this time of year.  After hibernating for most of the winter, it is nice to be able to get outside.  One of our favorite things to do is to visit some of our local playgrounds and parks.  Living in Mason, we have an abundance of wonderful places to play but we also enjoy venturing downtown and enjoying the parks there too.  One park that is tops on our list is Washington Park.  Located in a large green space in front of Cincinnati Music Hall, this park is filled with beautiful trees and surrounded by beautiful older buildings, churches, and historic sites (Memorial Hall).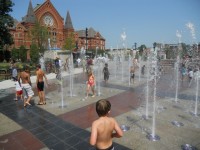 The park offers many events and amenities that will appeal to families.  The fenced in children's playground offers plenty of interactive fun. There is a castle to climb, a big shareable swing, slides, a sandbox and more. When the weather warms up, the kids will be able to enjoy the water park. Make sure you have your kids wear a bathing suit or have a change of clothes handy since they won't be able to resist zig zagging through the water that sprays up through the ground.  They even time the water jets to music so it's fun for parents to enjoy as well. At night, you might notice the water turning colors too. It's really beautiful to see.
The park also features a large gazebo bandstand surrounded by park bench seating. Maybe you'll be lucky enough to see a bride and groom on their wedding day or enjoy a live musical performance.  There is plenty of green space if you just want to spread open a blanket and have a picnic too. Another highlight is the enclosed dog park.  We've visited the dog park many times and love seeing the dogs enjoy their own space. We always ask the owners if it's okay to pet their dog first.
If I had visitors coming to Cincinnati, I would definitely take them to visit Washington Park. Plus, this spring 2014 they offer so many wonderful and FREE events you can enjoy. Some family-friendly highlights include:
Washington Park will also hosts festivals, free movie nights, concerts, exercise classes and more throughout the year.  Visit their website and see their "Events at the Park" page to stay up to date on all you can enjoy.  Don't forget your cameras since there are some great opportunities for beautiful pictures at the park.  There is a convenient parking garage located below the park with reasonable rates.
  Address: 1230 Elm Street Cincinnati, Ohio 45202
Find Washington Park on Facebook
When not blogging for Family Friendly Cincinnati, you can find Kristin writing on her personal blog, MasonMetu (from me to you).