The Cincinnati Shakespeare Company is now performing William Shakespeare's Hamlet at their theater in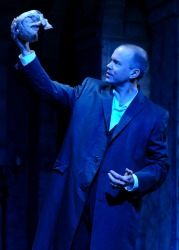 Downtown Cincinnati.  If you are a lover of William Shakespeare or of live theater you should purchase tickets to see this show.  It was fantastic.
We consider a night out at the theater a perfect date night, so imagine my excitement when I was offered complimentary tickets to see Hamlet at the Cincinnati Shakespeare Company.  Michael and I have both read Hamlet, so we were familiar with the story, but even so, the fact that it was set in the Edwardian era gave it a different flair.  You can read all of my thoughts on this impressive show over at The Little Things Blog.  The actors and actresses were amazing in all of their roles.  I fell in love with Hamlet all over again watching them bring it to life on the Cincy Shakes stage.  The Cincinnati Shakespeare Company's theater is small and intimate, and you feel as if you yourself are part of the action.  And there is a bar serving cocktails and refreshments in the lobby that you can enjoy before the show, during intermission and after the show (you are welcome to take drinks into the theater).  I love that they have their own Moerlein Brewing  Company beer especially for Cincy Shakes:  Much Abrew About Nothing.   If you are looking for something new to do for a date night consider a night out at the theater, perhaps even dinner beforehand at one of Downtown Cincinnati's many great restaurants.   Of course, this does not have to be a date night…it just happened to be so for myself.  Going to a show would make for a great ladies night out, or perhaps you have an older child who has recently read Hamlet and would like to see it performed?  Or how about inviting one of your parents for a night out on the town?  I do suggest that you get your tickets soon though, as several performances have already sold out.
Hamlet at Cincy Shakes:
Cincinnati Shakespeare Company, Cincinnati's stage for the classics, continues their 20th Anniversary Season with William Shakespeare's classic tragedy "Hamlet", playing January 10- February 8, 2014.  This production is directed by CSC Producing Artistic Director, Brian Isaac Phillips and features CSC Resident Ensemble members Brent Vimtrup, Bruce Cromer, Sherman Fracher and Sara Clark.  The production design is generously sponsored by Legg Mason.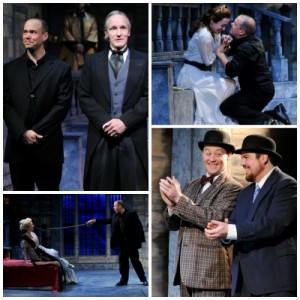 Considered by many to be the greatest play in the English language, "Hamlet" is a story both epic and intimate, encompassing both political and familial machinations, and exploring the consequences of the one upon the other. CSC's upcoming production will be set in the Edwardian era (a time period that will be familiar to any fans of the PBS series "Downton Abbey") on the eve of World War I. It was a time when the world teetered on the edge of chaos, and the personal conflicts of those in power would have consequences that would be felt for decades to come. "It's going to be an extremely exciting production with a tremendous cast," says Producing Artistic Director Brian Isaac Phillips, "Even if you've seen it before, this is going to be a production not to be missed."  
Also exciting is the pairing of this classic masterpiece with Tom Stoppard's contemporary masterpiece "Rosencrantz and Guildenstern Are Dead", which will open just days after "Hamlet" closes with the cast of "Hamlet" reprising their roles. It takes the story of "Hamlet" and turns it on its head, telling it from the befuddled point of view of the minor characters Rosencrantz and Guildenstern. "It is one of funniest and smartest comedies of the twentieth century," says director Jeremy Dubin, "Doing it back to back with "Hamlet" will give audiences a chance to see the other side of the coin- trust me, that's really funny especially if you know the play."
"Hamlet" features long-time resident company members including Bruce Cromer as Claudius in his first production with CSC this season.  He was last seen on the CSC stage in the runaway hit "To Kill a Mockingbird" as Atticus Finch.  Playing the titular role of Hamlet will be CSC Resident Ensemble member Brent Vimtrup.  Audiences will remember Brent from many CSC productions over the last four seasons including the summer blockbuster "The Hound of the Baskervilles" and his incredible performance as Richard II in CSC 2013 production of Shakespeare's "Richard II".  He was also recently seen as John Procter in his critically acclaimed role in "The Crucible", a co-production between CSC and Xavier.  CSC Artistic Associate Sara Clark appears as Ophelia in "Hamlet".  She has been seen most recently on the CSC stage as the Artful Dodger in "Oliver Twist" and in her critically acclaimed role as Abigail Williams in "The Crucible".  Playing Gertrude is thirteen year CSC Resident Ensemble member Sherman Fracher for her premiere production at CSC this season.  All of the above and the cast will reprise their roles in "Rosencrantz and Guildenstern Are Dead".
 Performances of "Hamlet" are scheduled from January 10- February 8 on Thursday, Friday & Saturday evenings at 7:30pm and Sundays at 2pm.  Preview performances are on Wednesday Jan. 8 and Thursday Jan. 9 at 7:30pm and tickets are $20.  No performance on Sunday January 12 or February 9.  The theater is located at 719 Race Street, downtown Cincinnati, two blocks west of the Aronoff Center.  Single ticket prices range from $22-$31 on Thursdays and Sundays and from $26-$35 on Fridays and Saturdays.  If available, $14 student rush tickets may be purchased 30 minutes before a show with a valid student ID.  Visa, Discover, MasterCard, and American Express are accepted.  Ticketing fees may apply.  Discounts are available for students, seniors and groups as well as Enjoy the Arts and AAA members.  To purchase tickets or for more information, call the CSC Box Office at 513.381.BARD (2273) ext. 1, or go online at www.cincyshakes.com. 
The Cincinnati Shakespeare Company is located at 719 Race Street, Cincinnati.  You can find important details about tickets, shows, parking and more on the Cincinnati Shakespeare Company website.  And be sure to follow Cincy Shakes on Facebook!  Cincy Shakes Photos by Rich Sofranko
Disclaimer: I was given a pair of tickets to see this production, but I promise you that the opinions are 100% my own.
When not blogging for Family Friendly Cincinnati, you can find Katie writing at her personal blog, www.thelittlethingsjournal.blogspot.com.