Making memories with your children shouldn't cost you an arm and a leg. For our most recent Living In The Cin mission we were challenged with planning a day of fun for under $50.  Right away we knew what we were going to write about, and its the perfect time of year too — spending the afternoon along scenic Route 8 in Northern Kentucky.
A Day Along Route 8
When we need to get out of the house and spend time outdoors, one of our family's favorite ways to do so is along scenic Route 8 in Northern Kentucky.  More than 114 miles of winding road, Route 8 is also known as Mary Ingles Highway or River Road. Its scenic route runs along the Ohio River, stretching from Boone County all the way to South Portsmouth.
Because of its location along the river, Route 8 is the perfect road for an afternoon drive or bike ride, and, lucky for all of us, there are plenty of fun spots to stop along the way.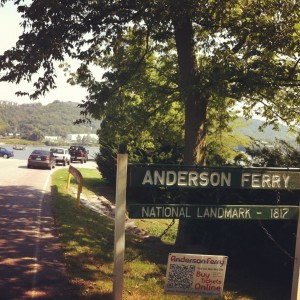 Stop One: The Anderson Ferry
4030 River Road | Hebron, KY 41048
Our first stop along Route 8 is Anderson Ferry (http://andersonferryofficial.com). Founded in 1817, the Anderson Ferry is on the National Register of Historic Places, and our list of favorite places too. Depending on what you are in the mood for, there are a variety of ways to ride the Ferry – you can ride across from the comforts of your car for $5 (or bike for $1), or you can do what we love, and park your car and ride across on foot for just $.50 per person each way.
Stop Two: United Dairy Farmers
4332 River Road | Cincinnati, Ohio 45204       
Once you cross the Ohio River by ferry your children will be excited to see that directly across the street from the Anderson Ferry on the Ohio side is a United Dairy Farmers. (Very smart of you UDF…..) After a fun ride across the Ohio, who couldn't use an ice cream treat, especially on a warm day? After enjoying our ice cream we head back down to the Ferry and ride across to our car in NKY.
Stop Three:  McGlasson's Farm
5832 River Road | Hebron, KY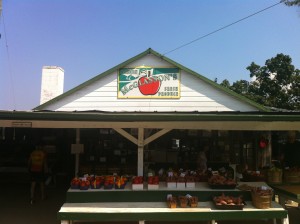 Back in our car, we continue our journey west on Route 8 and head to one of our family's favorite spots – McGlasson's Farm (http://www.mcglassonfarms.com/). This roadside farm has been in operation for six generations and is a great spot to stop and pick up fresh fruits, homemade apple cider and of course, plenty of  fresh veggies. We always like to stop here to pick up snacks to take with us to the park (our next stop). The boys love getting to choose which apple they'll get from all the varieties that McGlasson's has. Also, you can use this as an educational opportunity to talk about the different varieties, and the staff is always super friendly and happy to answer questions about what makes for a good eating apple, what makes for a good pie apple, etc.
The farm also has events throughout the season including a big Fall on the Farm event coming up where you can pick your own pumpkins, listen to live music, enjoy carmel apples and other seasonal fun.
Stop 4: Giles Conrad Park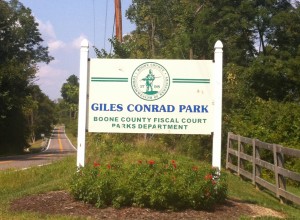 7500 River Road | Hebron, KY 41048
After McGlasson's, we pop back into our car and continue our scenic drive down Route 8. Our next stop? Giles Conrad Park (http://www.boonecountyky.org/parks/ParkInfo/7) for bike riding, boat watching and playground fun. A relatively young park, Giles Conrad park opened in 2004 and it is pretty big — 43 acres.  The park features a playground, basketball court, fitness stations, and a beautiful view of the river.  The park also has 1.3 miles of paved path perfect for bike riding, dog walking or just walking/running in general. The park also has a creek, which my boys love exploring – looking for turtles, frogs and fossils.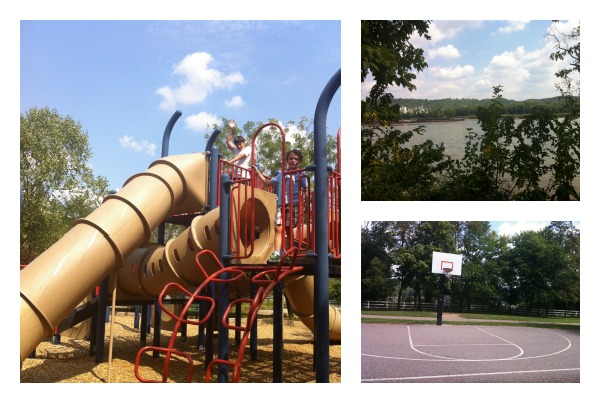 Stop 5: Homeward Bound!
After spending a few hours at the park we decided to call it a day. In total our day cost us $20.50, not including gas.  We spent $3 riding Anderson Ferry, $7.50 on ice cream at UDF and $10 on produce at McGlasson's Farm. I'd say it was a pretty affordable and fun day and that plenty of memories were made!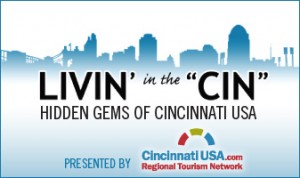 This post was inspired by our Livin' in the Cin mission to discover and share a Cincinnati dining hidden gem. Livin' in the Cin is the Cincinnati USA Regional Tourism Network's (RTN) new initiative that taps into and creates a movement of passionate Cincinnati USA advocates. The goal is to generate awareness and excitement about the region and broaden residents' perceptions of the area from a place they live to a place they should rave about to family and friends as a visitor destination.