My family has found a new (to us) park to explore in the Hamilton County Parks, it's the Mt. Airy
Forest.  Where has this park been all my life?!?!  Why had we not explored it before this summer?!  We have actually been to this park for a wedding, but did not take time to explore the day we were there.  This park is huge (over 1,400 acres) and it offers so many great things to do and see.  If you haven't been there yet, please add this to your list of places to go around town!
 Here's what makes Mt. Airy Forest a Family Friendly Place to Explore ::
Everybody's Treehouse ~ this gem is exactly what it says it is…it was designed so that everyone can enjoy it, whether they be walking, or in a stroller, or in a wheelchair, or in a scooter of some sort.  The wide ramps make it easy for anyone to enter.  And the view of the forest from the treehouse is just beautiful.  The treehouse is a perfectly peaceful place to take a break after a long hike, grab a snack before finding your next adventure in the park, or even for bird watching.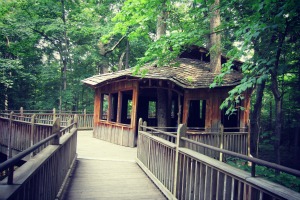 Playgrounds & Picnic areas ~ Just driving around Mt. Airy Forest you are sure to stumble upon a perfect spot for a picnic, with the many tables and grills that they have.  They also have shelters you can rent (and two lodges that are available for rent).  And their playgrounds are a wonderland for the munchkins.
Hikes Galore ~ There are many paths that wind through the Mt. Airy Forest, and it's a beautiful place to explore the woods.  On the day we went, I wasn't thinking straight…it was the first sunny day after two straight weeks of rain, so we had a rather muddy hike.  I was really impressed by how clean the trail seemed.  There was very little garbage on the path, which was nice.
Pup-Friendly ~ There is an enclosed area for pooches to run and play and make new friends.
Disc Golf Course &

The Nati Disc Golf Pro Shop

~ where you can talk to disc golf experts and find all of your disc golf needs.  After you find the perfect disc you can hit the Mt. Airy Disc Golf Course.  This is fun for the whole family!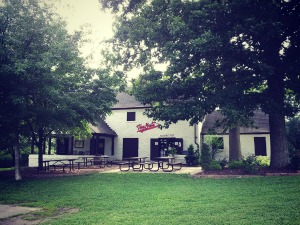 Wedding Pictures or Ceremonies

~ This park is a gorgeous location, with the woods, gardens and gazebos, in which to have photographs taken for weddings, or any other event.  And it's a beautiful place to hold a wedding.  Our cousin was married at one of the lodges in the Mt. Airy Forest and it was a perfect spot for a small intimate wedding.
Horseback Riding Trails ~ Not only are there many hiking trails in the Mt. Airy Forest, but there are also horseback riding trails as well!

Arboretum

~ See beautiful trees, gardens, a lake and gazebos in the lovely Mt. Airy Forest Aboretum.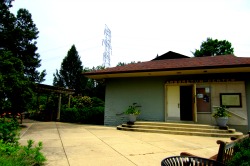 Mt. Airy Forest is located at 5083 Colerain Avenue, Cincinnati You can find out more information on their website.
What is your favorite thing about Mt. Airy Forest?