I overheard my dad say to one of my kids today in passing…"Oh I wish we were at the beach".  So true, it seems to me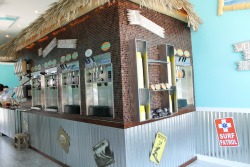 the best place to be on a day when it's 100 degrees would be the beach.  But if you can't make it to the beach this summer the second best place you could be is Kocanut Joe's Frozen Yogurt in Fort Mitchell.  The decor & ambiance of Kocanut Joe's makes you feel like you are in a cool beach hangout.  The walls are an ocean blue, and the tables are custom made from surf boards!   Beach-scene photographs adorn the walls and the frozen yogurt machines are built into a wall that looks like a tiki hut.
A friend of mine from high school, Ken Kocan, along with Joey Zembrodt had the genius idea to bring frozen yogurt to Ft. Mitchell.  I have to say that personally, that's one of my favorite things about this frozen yogurt shop.  So many frozen yogurt places are popping up these days, but this one is locally owned and operated.  If you've read any of my posts on Family Friendly Cincy you know I love & support small businesses!  Aside from being locally owned there are other factors that sets Kocanut Joe's apart, such as ingredients and flavors.  I'm not going to pretend to understand how frozen yogurt is made, but I do know that Ken & Joey are working hard to make sure that they are serving high quality products that are healthier alternatives to other sweet treats.  Their yogurt is delivered to them in frozen form, instead of a powder mix, and it contains active live cultures (ie: the healthy stuff in yogurt).  They also have a special section for folks with food sensitivities.  They have a Vanilla yogurt that is non-fat, no sugar added and an Orange Sorbet that is non-fat and lactose free.  Mix those two together and you have a delectable Orange Creamsicle.  I love that they are trying to take a healthy approach to their frozen yogurt sales!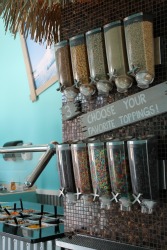 Another thing that I LOVE in their shop is that not only do they have a toppings bar where you can scoop your favorite toppings out of dishes, but some of their toppings are in individual containers on the wall.  This is a great feature for people who have food allergies to have the toppings in their own individual self-serve container.  (See picture to the right to get a better idea of this contraption).
Kocanut Joe's just opened today, so I was prepared to cut them some slack as you sometimes have to do with new places who are still working out the kinks.  But that was completely unnecessary on my part.  Everything seemed perfect and ready for customers (with the exception of one machine acting up, but a repair-man has already been called in).  I predict this place is going to turn into the cool place to hang out…for families, teenagers, couples on first dates, people from the neighborhood who can walk to the shop, or anyone who loves a good frozen yogurt!  While I was there people were coming and going, grabbing themselves a quick sweet treat.  There are custom made stools & surfboard counter-like tables, and there is also seating outside on the sidewalk in front of the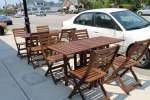 store.  The owners are tending to all of the details, making sure everything is running smoothly and helping the employees learn the ropes.  The employees were all very friendly &  helpful and seemed to be quite happy to be working in such a cool place.
Ok, you are probably waiting for me to quit yakking and get to the most important details of all…the flavors.  I had a terrible time choosing what to get today, because all of the flavors sounded enticing.  They are ::  Sea Salt Caramel Pretzel (which I had – delicious!) ~ Vanilla + Orange Sorbet = Orange Creamsicle ~ Pomegranate Energy + Blueberry = Tart &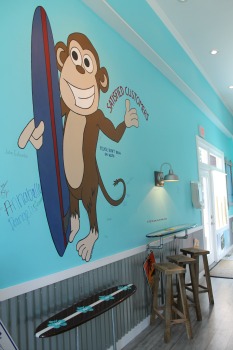 Tasty ~ Birthday Cake + Strawberry = Strawberry Shortcake ~ Peanut Butter + Triple Chocolate = Peanut Butter Cup.  The flavors will be changing periodically, and Ken said that sometime down the line they'd like to start making their own flavors.  They have quite a large variety of toppings to choose from as well, and they have cookies & brownies that you can add to the bottom of your cup before pouring in the yogurt.  It seems they have something for everyone at Kocanut Joe's.
When I left Kocanut Joe's I called my dad because I knew he needed a beach fix from his comment earlier in the day.  He said he might just have to head out there later today with my other two children who didn't go with me so that they could try it out for themselves.
Kocanut Joe's is located at 2479 Dixie Highway in Fort Mitchell. Be sure to "like" them on facebook to keep up with everything happening at Kocanut Joe's!  And as a disclaimer…even though Ken is a friend, I am giving you my 100% honest opinions of this shop.  I see many trips to Kocanut Joe's in my family's future!