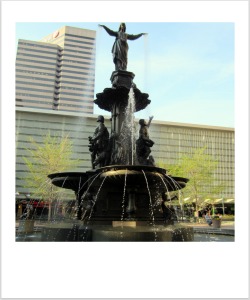 Downtown is a great place to take the family for a day of fun.  And not just for special occasions like Opening Day or to visit the Ice Skating Rink on Fountain Square.  Downtown can be a great place full of fun things to do & see any day of the week!  I've put together a list of my family's favorite things to do downtown to share with you.
:: Parking ::
First let me address parking, because when I talk to folks about going downtown this always seems to be a concern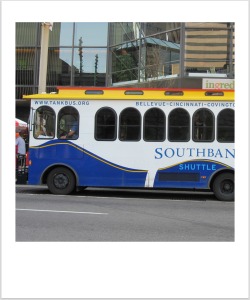 .  Surprisingly, sometimes there are actually spots at meters on the street that you can catch (just watch your time!).  The most popular option is to park underneath Fountain Square, it's convenient to everything I'm going to mention in this post.  For more information about parking lots downtown see this website.  I have paid to park under Fountain Square many times, but my kids like to park in Covington for our visits to downtown.  What's that you say?  She parks in Covington to visit downtown?!?  Why yes I do!  We like to park (for free) in a lot off of 5th Street in Covington (very near the corner of 5th & Philadelphia) and then catch the TANK Southbank Shuttle over the river.  The Southbank Shuttle to Cincinnati is only $1 per person (children under a certain height are free), it comes every 15 minutes and it drops you off right at Fountain Square.  My kids think it is so exciting to ride the bus over the river, even the two kids who ride a school bus every day think the Shuttle is cool.  And if you are lucky you might even catch the shuttle that looks like a trolley!  For more details about where to catch the trolley, the route it takes and the hours it runs please see the TANK website.  Or if you are feeling adventurous you could park your car somewhere in Covington and walk across the Suspension Bridge, it's a beautiful way to enter the city!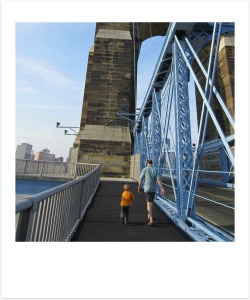 :: Breakfast ::
Once you've figured out your parking and made it downtown with your family in tow you will want to grab a bite to eat for breakfast before exploring the city.  I suggest Hathaway's Diner, a fabulously vintage diner inside the Carew Tower.  You can read all about it in Amy Q's post on Family Friendly Cincinnati.  I've been eating there since I was a kid, and I think it's delicious plus I love that 50's diner vibe that it has going on.  My kids love it too, and the prices are pretty reasonable!
:: The Contemporary Art Center & UnMuseum ::

Just a hop skip and a jump away from Fountain Square is the Contemporary Arts Center, located at 6th & Walnut.  You should definitely make a stop at the CAC to visit the exhibits du jour, but also to let the kids explore the UnMuseum, which is located on the 6th floor.  It's a wonderland for children who like to explore with all of their senses!  There really is no other children's museum quite like this.  You can read more about it in my post that I wrote for Family Friendly Cincinnati a few months back.  And if you time your visit right you might be lucky enough to participate in one of their many cool art projects that they host for young children and !  Check out their website for more details.
:: Lunch on Fountain Square ::

If it's a nice day out, I would suggest taking a walk around the city to check out all of the cool architecture and fabulous shops there are downtown.  Then I would head to Fountain Square for lunch.  They have many tables set up, and often they will have events going on in the square (see the Fountain Square website for more details on events & activities).   Sometimes when we are downtown we bring our own picnic lunch, but lately I've been on a "Food Truck" kick.  Downtown just keeps getting more and more cool food trucks!  I'm not sure how many there are, but I know there are a few tasty trucks that frequent Fountain Square: Cafe de Wheels, EAT!, Pizza Bomba and New Orleans To Go.  If you know of another food truck I'm missing please leave the name in the comments section below!  I love getting lunch at a food truck…there's something so cool about standing there watching your lunch be made fresh for you while you wait.  I love the variety of food these trucks serve up, but if you can't find what you are looking for in the trucks there are countless restaurants downtown you can try!  I'd love to hear your favorite downtown eatery below in the comments 😉
:: Carew Tower ::
If it's a pretty day outside you should make a visit to the top of Carew Tower!  It is the 2nd tallest skyscraper in Cincinnati and a gorgeous Art Deco building that is definitely worth checking out.  You can read more about the history of Carew Tower on wikipedia, it's really a cool history.  And to find out more about hours the observation deck is open you can visit this website.  You will have to pay a few dollars to go out on to the Observation Deck, but it's worth it.  The views are absolutely breath-taking!  Bring your cameras, and even some binoculars to make the best of the view.   You can get to the Observation Deck through the main hallway at Carew Tower, follow the signs to the elevators, or ask someone to point you in the right direction.  We went a few years back and my kids are still talking about it.  They thought it was so cool to be up so high and to be able to see over the city, look down on Fountain Square and to look all the way into Kentucky where we live.
:: Dessert ::
To round out your trip downtown, you must stop by Graeter's on Fountain Square and grab a cone!  Especially if it is a warm day…you will need a treat to cool off!
What is your favorite thing to do Downtown!?!