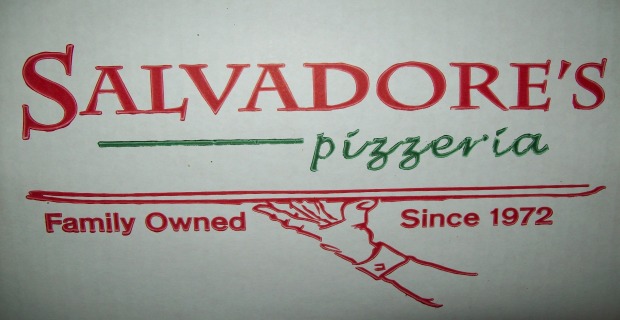 My family is always on the lookout for small, hole in the wall, home town places to eat.  We love the quaint, friendly feeling these restaurants offer.  A friend told me how much they love Salvadore's Pizzeria—both for the delicious pizza and the fantastic value.  After we visited, we not only loved the prices and food, but also the atmosphere.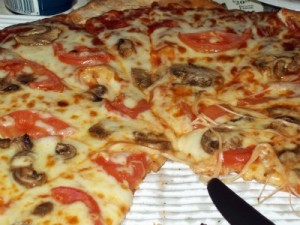 After driving back from visiting family in Louisville one Saturday night, we were all tired and hungry.  Mom did not feel like cooking dinner and the kids did not feel like waiting for it.  Then we remembered our friend's recommendation of Salvadore's Pizzeria, at 3623 Dixie Highway in Elsmere, Kentucky across from Montgomery Cyclery.  Salvadore's has been family owned and operated since 1972 and uses fresh ingredients.
We walked into the small pizzeria, ordered our food at the counter and took a seat in a booth near the window.  While  we waited for our pizza, the kids passed the time reading the table cloth made of old fashioned newspapers.  When the pizza arrived, which was in no time at all, it was hot, cheesy and delicious.
Salvadore's menu boasts a variety of appetizers, pizzas, calzones, salads, pastas and hot sandwiches.  When you go to the counter to place your order, look for coupons on the back of the paper menu.  Our favorite is the large pizza with up to three toppings for $11.99.  We also love the breadsticks.
The pizza is super cheesy and fresh.  And, if that's not cheesy enough, you can order EXTRA cheese as one of your toppings!
Salvadore's has a limited delivery area.  But, if you want a place to watch the game this weekend, they have a large tv with an excellent viewing area.   I hope you enjoy it as much as we do!
When not blogging for Family Friendly Cincinnati, you can find Michelle writing at her personal blog, I'm Living the Good Life.