Please join us in welcoming our newest contributor, Sara J.  Sara works in education and is the mother of two girls. She resides in northern Kentucky. We are super excited to welcome Sara to the FFC family! Sara and her girls spend a lot of time in MainStrasse Village and today she's sharing her thoughts on the perfect afternoon in the Village.
Even if it is raining, a day in MainStrasse Village in Covington, Kentucky will bring sunshine to the faces of your little ones. Frequently, my two little girls, two and four years old, look forward to our "girls day out" and allow the magical village's cobblestone streets to take us to our favorite stops. Allow the village's new outdoor art mural to lure you into J.R. Green Company, where we wander the aisles looking for educational books, games, stickers, etc.
Hop across the street to Stoney's Gifts featuring All Things Princess & Fairy. Grab a magical pair of fairy wings, tea set, princess cookie cutters, or any number of other specialties featuring delicate fairies. Don't forget to say hello to the enchanting, Kita the long-haired kitty. Yes, she is a real cat.
Stroll down Main Street and visit MK's Totebags and Monogramming. Order a customized, embroidered baby blanket, wedding towels, purse, or other special gift for your next wedding, baby shower or event. Mary Kay, the owner will even wrap it for you.
After working up an appetite hob knobbing through the village, the girls and I like to grab the best mac'n cheese this side of the river at Cock N Bull Restaurant. This quaint little pub's menu offers kid-friendly items (i.e. chicken fingers, fries, etc.), has tasty entrees for adults and fabulous outdoor seating featuring the infamous "Goose Girl" fountain. Have a couple pennies on hand to make a wish in the fountain.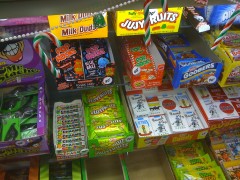 On your way back to the car, with the village's chimes bell tower signaling nap time, stop in at The Candy Bar; grab some of your old-time, childhood candy favorites, yes they have all of them. Quick hint before you go, some of the shops have unique operating hours, and may not open until 11:00 a.m. so be sure to check out MainStrasse Village's website for shop owner hours, festivals, and the rich history associated with the village, at www.mainstrasse.org. You will want to be able to tell your children the story associated with the Goose Girl Fountain.
This magical village, rich with history of our region, provides a perfect avenue to educate, inspire, and enrich your child's imagination. Check it out.