This Saturday, August 7, Miami Whitewater Forest will be hosting the Appalachian Heritage Festival from 1pm – 10pm. The Festival takes place at the Harbor.  We took our family to this Festival about five Summer's ago and it was such a nice, laid back event.  We really enjoyed listening to the music and watching the craft demonstrations.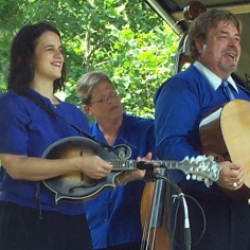 There will also be food (including a chicken dinner that sounds down right yummy!). If you plan on listening to the music, be sure to bring your lawn chair or blankets to sit on.  Entrance to the Festival is free, but you will need a Hamilton County Park District Permit for your vehicle ($2 daily or $5 annual – if you purchase the annual permit you can mail in a rebate for $5 to spend at any of the HC Parks including the Festival of Lights).
While you're there, plan to make it a day. Miami Whitewater Forest has some absolutely great bike and walking paths; there's Parky's Pirate Cove Wet playground; a big lake for fishing or rent a boat and get out on the water; and tons of other things you can do.
But getting back to the Appalachian Heritage Festival, read below to see what the Great Parks website has to say about this fun Festival:
"At 3:00 p.m. "Emily Hogeback and Wayne Luessen" will delight the audience with bluegrass music and country music. Emily has been blind since birth. She began playing the violin when she was seven years old. Emily has developed a love for bluegrass and country music and has become a very fine fiddler. She also plays a slide guitar called the dobro, studying with local bluegrass musicians and has spend countless hours learning the styles of bluegrass greats like Josh Graves and Jerry Douglas. Emily is a creative improviser, always ready to throw in a few  "hot licks" which make her performances personal and soulful. It's quite amazing to hear her perform a ballad like the country classic "When You Say Nothing At All" and belt out the vocals like Allison Drauss while playing the dobro at the same time!
The next group to perform is "The Sloes" at 4:30 p.m. The Sloes are a progressive acoustic duo who has been performing their own music and a number of eclectic covers since 2000. In 2006 they released our debut CD, "Desperate Train", which Cincinnati's Citybeat Magazine declared to be one of the "Best of 2006". The positive response to their music has allowed them to play a number of wonderful events, including the 2007 and 2008 Midwest Mandolin Festival in Indianapolis, 2008 Midsummer at the Meadow opening for Josh Gracin, three consecutive years at the Midpoint Music Festival, the Hyde Park Art Show, Wild About Wine and the Green Garden Party at the Cincinnati Zoo, the 2007 Modern Folk Festival, and dozens of wonderful Greater Cincinnati establishments, including Arnold's, Barleycorn's, and their "home base" of Mama Vita's in Loveland.
At 6:00 p.m., it will be "Retread Bluegrass Band" on stage. The Retread Bluegrass Band is an energetic group of talented pickers and singers from the Cincinnati area. Active in the tri-state area since 2002, Retread has played numerous prominent venues including The Kentucky Wool Festival, Blue Ash Heritage Days, The Ohio Sauerkraut Festival, Red Barn and WAIF radio shows, The Cincinnati Nature Center, The Famous Old Time Music Company, Coney Island, The Historic Southgate House, symphonic collaborations with the Blue Ash Montgomery Symphony Orchestra and The Clermont Philharmonic Orchestra and featured artists at The Renfro Valley KY Music Center. Retread also plays numerous private parties, weddings and school education programs.
The last group called "Vern McIntyre's Appalachian Grass" will take the stage at 8:00 p.m. Vernon McIntyre's Appalachian Grass is a bluegrass band with style.  The band delivers an entertaining stage show with driving instrumentals, close knit harmonies, amusing novelty songs, and a show stopping trick fiddling act.  The combination of music, energy, showmanship, and humor just can't be beat. Each band member contributes a unique element to the Appalachian Grass. The band is unified by Vernon's matchless rhythm guitar picking, while Robert Campbell's hard driving banjo is the backbone of the bluegrass sound. Kitty and her fiddle add a spark of excitement.  Lead vocals rest mostly in Vernon's capable hands with an occasional solo from Emily, Kitty, or Tammy.
Visitors won't want to miss the craft demonstrations that have been passed down through generations. There will be tatting (the process of making knotted lace), wood carving, basket making, spinning and needlepoint. Visitors will also enjoy delicious chicken dinners with all the fixin's and refreshing beverages. "