I've loved bookstores ever since I was a little kid. My mom's an English professor, so I always knew I could talk her into buying me a book or two before we left the store. (It usually didn't take too much convincing.)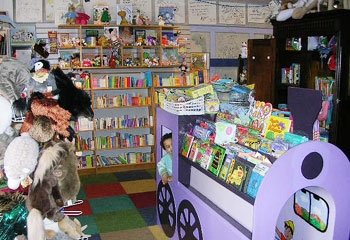 Too bad Blue Manatee Children's Bookstore in Oakley wasn't around back then. This cute independent bookstore didn't open until I was a teenager–and I didn't even know about it until I had kids myself. I would've been in heaven there as a kid! The place is just perfectly designed to engage children in all things reading.
Of course, Blue Manatee has scads of books for children from babies to teens. But there are so many other reasons to love this store, such as cute toys, gifts, puzzles, games, puppets and more. Your child can attend book signings of their favorite authors or interactive story times, often including a free craft or activity. Moms and dads can get some tasty snacks and coffee at the adjoining Decafè (and grub for the kiddos, if you can pull them away from the bookstore's delights). You can even have your kid's birthday party at the store!
On Saturday, Oct. 24, Blue Manatee is celebrating its 20th anniversary with an all-day party, starting at 10:30 a.m. and wrapping up just before bedtime at 7 p.m. Stop by for song-singing, mess-making, shirt-printing, book-signing and more. The festivities are free and open to all ages.
If your schedule is already packed on Oct. 24, you can head over to the Blue Manatee on any cold, rainy day and watch the sunshine light up your child's face the moment you walk in the door. It's magical!
Blue Manatee Children's Bookstore and Decafè is located at 3054 Madison Road (Oakley Square), Cincinnati, OH 45209. Call 513.731.2665 or visit their website or blog for more information.