Hidden away in the Riverside Drive area of Covington on the corner of Riverside Drive and Garrard Street  is a tiny but charming park that goes by the name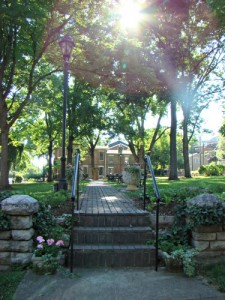 of the George Rogers Clark Park. Some would not agree with me about this being a fabulous little find, after all, there is no playground, the size is quite small, and it is on a street corner with no barriers to protect wandering children. But hear me out…sometimes a park is more than just a place to play when you have children.
I took my three children to this park early on a Tuesday morning, before we ventured to storytime at the Covington Library. We had stopped for donuts on the way, and had a little donut picnic on the benches that are scattered throughout the park. My children ran to the benches and settled themselves with their sugary treats and what happened next was magical (as far as mothers are concerned). For nearly a half an hour they just sat there and ate and chatted quietly while they watched the river float on by (even my two year old!). They were fascinated by the boats going by, dogs taking their morning walks, ducks waddling down by the river, and just watching life move around them.
I enjoyed watching them watching the world. And when we left I schemed of all new peaceful things we could do in this park: perhaps we could bring art supplies down someday and draw pictures of the river, we could come down and try to name all the different dogs we saw walking by, we could have a reading day and spread a blanket on the ground and just read for a while, the possibilities are endless. If you are looking for a calm way to spend one of your last days of summer try this beautiful little park.
Here are some pictures from the beautiful George Rogers Clark Park: