The Adventures of Tom Sawyer, adapted by Laura Eason from the novel by Mark Twain, will open at The Otto M. Budig Theater just in time for the start of the holiday season! This high-spirited adventure tale will be directed by Associate Artistic Director Sara Clark and features Resident Ensemble members Cary Davenport, Caitlin McWethy, Kyle Brumley, Miranda McGee, and Justin McCombs.  This production is sponsored by Dinsmore, Johnson Investment Council, and PNC.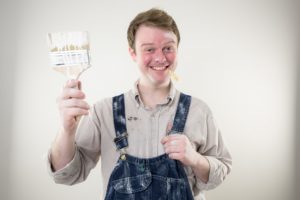 Young Tom Sawyer (Cary Davenport) is a boy who lives a simple life but longs for adventure and glory – and to catch the eye of his pretty classmate Becky (Caitlin McWethy). Tom's world of boyhood fantasy is turned topsy-turvy when he and his best friend Huckleberry Finn (Kyle Brumley) witness a crime and get swept up into a real-life adventure as they learn important lessons about bravery, honesty, and what it is to grow up.
"I'm so excited to give audiences of all ages a chance to use their imagination and engage with this performance," says director Sara Clark. "It's an exciting adventure for children, and a smart, funny, poignant experience for adults. This play beautifully captures the memory of being young – the surety in our own beliefs before doubt and cynicism starts to creep in, the extent to which we wear our hearts on our sleeve. Glory of high status among your peers. Wounded pride, the impulse to run away and make everyone feel sorry for how they treated you. We still feel things that deeply as adults, we just get better at concealing it. And as Mark Twain himself said, 'My books are water; those of the great geniuses are wine. Everyone drinks water.' It's an accessible and friendly play for everyone."
The Adventures of Tom Sawyer runs November 17-December 9, with performances on Thursdays, Fridays, and Saturdays at 7:30 PM and Sundays at 2:00 PM, as well as Saturdays November 25 and December 9 at 2:00 PM.  There will be no performance on Thursday, November 23. Preview performances are November 15 and 16 at 7:30.
The Adventures of Tom Sawyer is recommended for children ages 8+ but the whole family can still join us- on Sundays Nov. 26 or Dec. 3, bring your younger kids (4+) for Artist-led child care DURING the performance! The "Playdate" program is only $15 and free for Subscribers. The option to add this program will be available as you are buying tickets for either of these show dates. Activities will range from Shakespeare Storytime to theatre games and crafts. Share the great benefits of CSC's programming with your children: Playdate will style activities to correspond with each production, so even your youngest can join in the discussion on the ride home!
The theater is now located at The Otto M. Budig Theater at 1195 Elm Street in OTR, adjacent to Washington Park. Single ticket prices range from $14-$52.  Student/Children and Preview tickets are only $28. If available that day, $14 student rush tickets may be purchased thirty minutes before a show with a valid student ID. This production is a part of this season's subscription package which is on sale through Dec. 31. Visa, Discover, MasterCard, and American Express are accepted. Ticketing fees may apply.  Discounts are available for students, seniors and groups as well as AAA members. To purchase tickets or for more information, call the CSC Box Office at 513.381.BARD (2273) ext. 1, or go online at www.cincyshakes.com.
Valet Parking is now available for every performance! Make reservations for $10 in advance when purchasing tickets. Purchasing in advance guarantees a spot at the discounted rate of $10 (vs. $15-20+ at the curb).  Valet is available right at the corner of 12th and Elm Street in front of the theater and begins approx. 1.5 hours before a performance. Cars can be picked up up to 1 hour following a performance. (After 1 hour, you will need to arrange pick up with the Valet service directly.) The Valet will have your name on the list after you purchase- it's that easy!
###
About Cincinnati Shakespeare Company:
Cincinnati Shakespeare Company is a professional theatre company dedicated to bringing Shakespeare and the classics to life for audiences of all ages.  In the summer of 2017, the theater relocated to the Otto M. Budig Theater, a brand new facility in OTR. CSC's repertoire is made up of the works of William Shakespeare, literary adaptations, and contemporary classics.  CSC performs on a Small Professional Theatre contract with Actors' Equity Association. Cincinnati Shakespeare is a member of the Theater Communications Group and the Shakespeare Theater Association.  Each year, Cincinnati Shakespeare Company's Education and Outreach Programs reach over 50,000 young people and underserved community members each season by taking Shakespeare into schools, parks, community centers and by hosting educational matinees of mainstage productions.  In 2015, CSC was proud to become one of the first five theaters in the United States to "Complete the Canon" by producing all 38 plays by William Shakespeare. CSC is a 501 (c)(3) non-profit organization and all donations are tax deductible.  Cincinnati Shakespeare Company is proud to be Cincinnati's stage for the classics!
About The 2017-2018 Season:
This season is funded by ArtsWave and is generously sponsored by The Otto M. Budig Family Foundation.  Cincinnati Shakespeare Company receives operating support from The Ohio Arts Council, the Shubert Foundation and is supported, in part, by the generosity of thousands of individuals and businesses that give annually to ArtsWave. The Ohio Arts Council helped fund this program/organization with state tax dollars to encourage economic growth, educational excellence and cultural enrichment for all Ohioans. Production dates and information on the season are available online at www.cincyshakes.com.
The National Endowment for the Arts in partnership with Arts Midwest presents Shakespeare in American Communities. Cincinnati Shakespeare Company is one of 40 professional theater companies selected to participate in bringing the finest productions of Shakespeare to middle- and high-school students in communities across the United States.