If your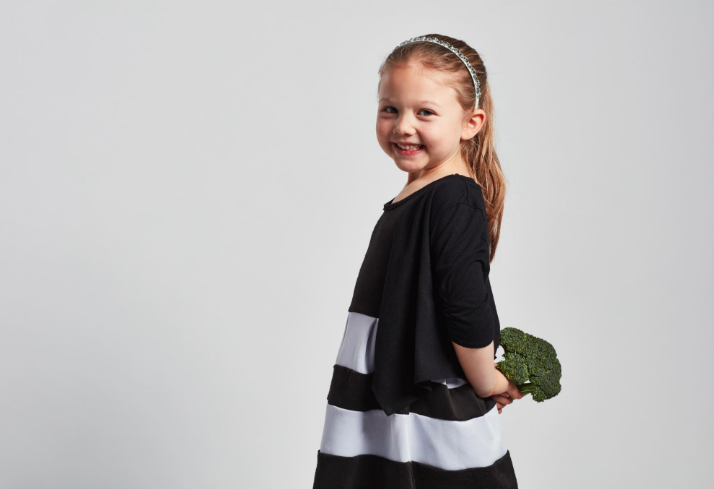 kids tend to skip salad then try making it the main event. Here are five hearty winter salads
brimming with nutritious veggies and dressed with sweet-and-salty fruits and proteins.
For many kids, these are the salad days. So why not dress them up?
Salad days are those when we are young and inexperienced. So isn't it natural to fill them with actual salads with new tastes? Makes no difference that it's cold out. Winter is a great time to try new salads filled with in-season veggies and a variety of sweet-and-salty fruits, nuts and proteins . In fact, a salad can be a meal in itself, and a beautiful one at that.
So let's turn the standard bowl of salad into a bowl of cherries. (Dried cherries, that is, which are scrumptious on any salad.) Following are five fab winter salads brimming with rib-sticking nutrition.
1: Yummy Roasted Vegetable Pasta Salad
This veggie-rich salad is a nutrient powerhouse. It's loaded with vitamins C, B, E and K for healthy minds, bones, tissue growth and immunity. Roasting veggies also brings out their natural sugars and gives them a pleasant texture. If you can, opt for fun-shaped pasta. Thanks for the inspiration, SuperHealthyKids!
What you need:
1 red onion
1 red bell pepper
1 yellow bell pepper
1 zucchini
7 oz. asparagus
7 oz. baby broccoli
5 oz. cherry tomatoes
2 tablespoons olive oil
2 teaspoons dried oregano
14 oz. dried pasta
What to do:
Chop the vegetables and place them in a large bowl with the olive oil and oregano. Mix until coated.
Divide the vegetables between two baking trays. Roast in a 400-degree oven for 15 minutes, turning once.
Meanwhile cook the pasta according to instructions. Drain under cold water.
Allow veggies to cool before mixing with the pasta. Serve immediately or store in an airtight container in the fridge for up to two days. 
2: Apple-Brussels Sprout Salad
This recipe calls for shredded Brussels, so they will be hard to identify by fussier kids. Brussels sprouts are a great source of vitamin A (for eye health) as well as potassium and bone-strengthening manganese. The apples and nuts add protein and fiber. Thanks for the recipe, Delish!
What you need:
2 tablespoons red wine vinegar
2 tablespoons extra virgin olive oil
1 teaspoon of honey
¼ cup chopped parsley
½ teaspoon salt
¼ teaspoon ground pepper
½ cup chopped walnuts, toasted and cooled
2 pounds of Brussels sprouts, shredded
1 large Fuji apple, cored and thinly sliced
¼ cup grated pecorino cheese
Dried cherries or cranberries (optional)
What you do:
Whisk together the vinegar, oil, honey, salt, pepper and half the parsley. Set aside.
Toss the Brussels sprouts, apple slices and toasted walnuts with half the dressing. Add more dressing to taste if desired. Top with the cheese and remaining parsley. Sprinkle with the dried cherries or cranberries. Ready to eat!
3: Zesty Southwest Cowboy Caviar
OK, the word "salad" isn't in the name. Still, this veggie-rich dish meets the definition. It takes just 15 minutes to prepare (plus time for chillin'). This colorful dish is loaded with vitamins C and B-6 (boosts metabolism), the powerful antioxidant lycopene and protein.
What you need:
½ cup sweet onion, finely diced
1 green bell pepper, chopped
1 red bell pepper, chopped
3 small celery stalks, chopped
15-oz. can of northern beans or black-eyed peas, drained and rinsed
15-oz. can black beans, drained and rinsed
10-oz. can tomatoes, drained (optional: mildly spicy rotel tomatoes)
1 cup corn, drained
1 cup Zesty Southwest Vegy Vida
What you do:
Get out a large bowl for all the ingredients and toss them in. Ask the kids to help mix them up with the Vegy Vida using an extra large spoon. Chill and eat with nacho chips or a fork. Southwest Cowboy Caviar also can be served in soft taco shells. Have more Vegy Vida in hand for topping.
4: Napa Cabbage, Pear and Carrot Salad
You shouldn't have trouble finding these veggies in season. But if Napa is hard to find, substitute regular cabbage. The original recipe (thanks, Kitchen Corners!) calls for Asian pear, but Bosc or other pears are fine as well.
What you need:
4 to 5 cups of Napa cabbage, sliced
2 carrots, peeled and shredded
1 pear, sliced
Sliced almonds, toasted and cooled
Sesame seeds to garnish (optional)
Dressing:
3 tablespoons vegetable oil such as canola
2 tablespoons rice vinegar
1 teaspoon soy sauce
1 teaspoon sesame oil
1 teaspoons sugar (or one teaspoon agave syrup)*
Salt and pepper
What you do:
Mix all salad ingredients in a large bowl and set aside. Separately, whisk together dressing ingredients in a medium bowl. Ask kids to add the dressing to the salad and toss until well covered. Done!
*We cut the sugar suggestion for this recipe in half
5: BLT with VV Salad
This BLT comes with a gobble and an oink. Instead of bread, te bacon and turkey are served out of a bowl, tossed with lettuce and tomato. Add avocado if you'd like. Thanks for the inspiration, ZisBoomBah!
What you need:
Tomatoes (cherry or whole sliced, one ounce per serving)
3 tablespoons of crumbled bacon
4 cups of romaine lettuce (one cup per serving)
4 oz. of cheese (we suggest Swiss)
6 oz. of turkey breast
1 avocado, pitted and diced (optional)
Dressing of your choice (all-natural ranch suggested)
What you do:
Toss the romaine, tomatoes and bacon with 1 tablespoon of dressing. Add more to taste. Top with turkey, cheese and avocado. Dish up and go!
_______________________________________________
Vegy Vida is the first and only dip made especially for kids and their sensitive palates to help them acquire a taste for veggies. It is made with a proprietary all-natural extract that softens the flavor of veggies for kids, who have three times more taste buds than adults and therefore are more sensitive to vegetables and other foods. Vegy Vida is made in five kid-friendly flavors: Creamy Ranch, Cheesy Cheddar, Savory Bacon, Zesty Southwest and Cool Buffalo. You can find Vegy Vida in the produce section at select supermarkets. To learn more, visit us at www.vegyvida.com.