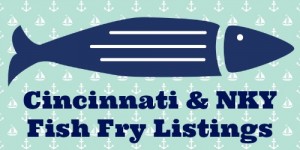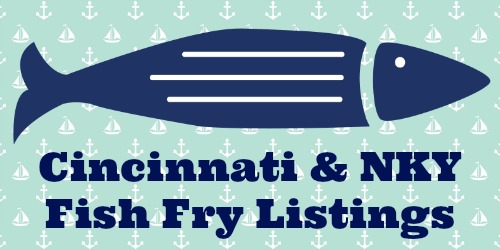 We love to eat seafood at our house, all year long.  But especially during Lent each year because that is when you can find some awesome Fish Fry Dinners to attend.  Fish Fry Season is upon us and to help you find the perfect place for a fish fry dinner on Fridays during Lent we asked local organizations to tell us about their events and put together a Northern Kentucky & Cincinnati Fish Fry Listings post.  There is nothing like going to a Fish Fry during the Lent, especially in our region.  There are many organizations on both sides of the river that serve up fish fry dinners on Fridays during Lent, and they all seem to have their own unique spin on things that makes them special.  Not all Fish Fry Dinners serve up just fried fish, some have other menu options for you, and many offer a bake sale to top off your meal.  This list will be a great resource if you love fish fry dinners, and maybe it will even help you find somewhere new to dine.  Keep in mind that most of these Fish Fry dinners are to support a local organization, school or charity, so there's all the more reason to hit one up.  You'd be getting out of cooking dinner AND helping someone in your community!  Sounds like a win-win to us!
**Note, this information was all supplied to us and to our knowledge was correct when published.  Due to winter weather on any given weekend though it would be wise to double check to make sure the Fish Fry you are attending is still open.
Northern Kentucky & Cincinnati Fish Fry Listings 2016
Bridgetown Finer Meats
6135 Bridgetown Road We serve s GIANT beer battered Haddock sandwich on bakery rye with homemade tartar sauce! Also available are potato wedges, slow simmered green beans, macaroni & cheese, lobster mac & cheese, lobster bisque, amongst others! 11:00-7:00 beginning February 5, February 9, and every Friday during Lent including Good Friday! 11:00-7:00 February 5, February 9, and every Friday during Lent, including Good Friday 513-574-3100 www.bridgetownfinermeats.com
Brooks Flooring for DCCH Center
1898 Ashwood Dr, Ft Wright, KY 41011 Brooks Flooring in Ft Wright hosts Fish Fry to benefit DCCH Center for Children and Families on FRIDAY, MARCH 18 from 11am-1pm! Get your plain or spicy codfish fillets with fries, mac-n-chee, coleslaw, drink, and dessert FREE with a donation for DCCH! Carry-out orders are available for $10 by calling 859/341-6555. All proceeds benefit victims of child abuse. 3/18/16; 11:00 am – 1:00 pm dcchcenter.org or 859-331-2040
Crescent Springs / Villa Hill Fire Department Fish Fry 
When: Starting Febuary 12th at 4-8PM and continuing every Friday for the next 7 weeks.
Who: Crescent Springs/Villa Hills Fire Department
What: The best fried fish and sides since 1954
Where: 777 Overlook Dr.  Crescent Springs KY 41017
Why: To help the general fund for the fire department.
Father Dejaco Council 5220 Knights of Columbus
11186 S. Licking Pike We have a Wonderful Smoke Free Family Fish fry. We offer a Full Dinner Menu with Reg. Pollock, Cod, and a Super Healthy Baked Fish Dinner. Regular Fish & Cod Dinner has 2 4oz pc's of Fish, Hush puppies, Cole Slaw, Bread, and French Fries. The Baked Fish Dinner comes with a 6oz Fillet of Baked Fish on a bed of Long Grain Wild Rice, Cut Green Beans, Tossed Salad, and a Pc. of Garlic Bread. We also have Shrimp and Chicken Nugget Dinners, Pizza for the Kids, and many other Great Items. Our Regular Fish Dinner Starts at $6.50 Every Friday of Lent, and Every 1st Friday throughout the Year kofcdejaco.org
Immaculate Heart of Mary
7800 Beechmont Avenue IHM Fish Fry menu includes baked and fried fish, fish tacos, shrimp Caesar salad, fries, hush puppies, pizza, macaroni & cheese, side salads, cole slaw, applesauce and delicious desserts.   Phone in carry-out orders from 4-6:30 p.m. to 388-0031 and orders will be ready for pick up. Reserved parking spots for carry out. Credit cards accepted. Proceeds benefit the IHM Boosters.  We will not hold the fish fry on Ash Wednesday or Good Friday.  Friday evenings, February 12 through March 18, 2016, 4:30-7 p.m. in the school cafeteria 513-388-0031
Prince of Peace Montessori School
625 Pike Street in Covington, KY. Prince of Peace Montessori Fish Frys, which are open to the public, take place from 5-7 pm on Fridays during Lent. Guests can enjoy hand battered fish as well as fried shrimp, delicious sides such as mac n cheese, coleslaw, and green beans, homemade desserts, and domestic and craft beers. Live entertainment will change weekly, and will include performances by Steve Bonafel, The Herald Bluegrass Tradition and more. New this year, Prince of Peace Montessori will offer reserved parking spaces for carry out orders.  Learn more at www.popcov.com/FishFry
Saint Agnes
1680 Dixie Hwy, Ft. Wright, Ky Come enjoy the tasty fish set-up on the Oh so famous salty rye bread or shrimp platter. New this year…….baked salmon on a bed of rice. Don't forget the tasty desserts baked with love by the Girl and Boys Scouts of Ft. Wright. Lastly don't forget to wet your whistle at the bar featuring can and craft beer. Feb 12, 19, 26 and March 4. 5-9
Saint Catherine of Siena
1803 N. Ft. Thomas Ave. Ft. Thomas, KY 41075 (in the undercroft of church)  Fish Frys Around The World:  Each week a different country will be highlighted and meatless dinners from that country served. If you prefer a traditional Fish Fry dinner, that will be available each week also. Come join us for scrumptious hand-breaded fish dinners, fun and fellowship at St. Catherine of Siena, in Fort Thomas, KY. Serving time is 4:30-7:30, in McCrystal Hall (the church undercroft)
Here is the menu schedule:
February 12 American – Hand-breaded cod, French fries, hush puppies, macaroni & cheese, slaw
February 19 Chinese – Sweet-n-sour shrimp, fried rice, egg rolls, fortune cookies
February 26 Mexican – Fish tacos, Fiesta rice, chips/salsa
March 4 Irish – Guinness-battered cod, Izzy's potato pancakes, slaw
March 11 Cajun – Shrimp Jambalaya, Corn Maque Choux (pronounced korn mock shoe), Cajun spiced diced sweet potatoes
March 18 American – Hand-breaded cod, French fries, hush puppies, macaroni & cheese, slaw
Also available: baked fish, blackened fish, clam chowder, gourmet grilled cheese, and desserts made by St. Catherine's American Heritage Girls troop." Every Friday in Lent, except Good Friday, 4:30-7:30 PM stcatherineofsiena.org
Saint John the Evangelist
9080 Cincinnati Dayton Road, West Chester, OH 45069  Lenten Fish Fry Fridays during Lent Feb. 12, 19, 26, March 4, 11, & 18  4:30–8 p.m. in the Parish Center  Join us for our annual delicious fish fry this Lent! The fish fry is managed by the Knights of Columbus. The food is great and the prices are, too! The menu includes a choice of meals: 8 oz. fried fish, baked fish, fish sandwich, shrimp, crab cake, combo, fish sticks or cheese pizza. Side dishes include fries, macaroni and cheese, green beans and coleslaw or apple sauce. Drinks offered are water, milk, soda, tea, coffee, beer and there are many different desserts to choose from as well. There is also an adult supervised Kids Room. Our fish fry Fridays provide funding for the Girl Scouts, Boy Scouts, Campton Mission, Christ Renews His Parish, the West Chester Firefighters, and the Knights. We hope you will join us!" February 19, 26, March 4, 11, 18 4:30-8:00pm in Parish Center www.stjohnwc.org
Saint Joseph of Camp Springs
Ky 6833 Four Mile Road,Camp Springs Ky Fried and baked fish,fried catfish,salmon and shrimp. Eat in or Carry Out. Fridays during Lent,4:00 pm to 7:30 pm 859 635 5652
Saint Mary Parish
211 Fourth St., Aurora, Indiana 47001  "Cod with God", Fish, breaded, hand-dipped or baked, grilled cheese, macaroni & cheese, green beans and/or corn, cole slaw, French fries, apple sauce, pasta salad, home made desserts, lemonade, coffee, tea or water. Carry out. Drive through (enter on Main St.)  Feb 12,26 & March 4,11, 25. 4:30-7:30pm 812 926-1558
Saint Maximilian Kolbe Church
5720 Hamilton Mason Road, Liberty Township 45044 The "Fish Friars" of St. Max provide a fish feast every Friday throughout Lent (except Good Friday). Our specialty is a Combo Platter of beer battered cod and shrimp, plus a crab sake, hush puppies and 2 sides. We also have baked cod and grilled salmon for those watching their waistline! Sides include homemade coleslaw, fresh cut fries, mac & cheese and more. Cheese pizza from Raymond's and clam chowder are also available. Kids' meals too. Prices $4-8. Fridays, Feb 12-Mar 18, 4:30-8 saint-max.org
Saint Patrick Church
3285 Mills Rd. Taylor Mill, KY 41015  Fish, Shrimp, Salmon, Tilapia. Grilled or Fried. Drive thru available.Home Made Desserts.  Confession is available from 6-7 PM: Stations of the Cross at 7:45 after the Fish Fry.  4:30 – 7:30 PM Every Fridy in Lent Thru March 28 859-356-7749
Saint Thomas More Church – Boy Scout Troop 452
800 Ohio Pike, Cincinnati, OH 45245 Baked and Fried Fish, Pizza, Mac-n-Cheese, Shrimp, or Grilled Cheese – main entrees. For adults – in addition to the main entree, two sides, drink and dessert for $8.25. For Children – in addition to the main entree, one side, drink, and dessert for $6.25. Our special feature – the Boy Scouts serve our customers. Come and join us for a wonderful family event. February 12, 19, 26, March 4,11,18, 2016 from 5-7:30pm 513-315-3991
Saint Thomas Parish
428 S. Ft Thomas Ave. Ft Thomas, KY 41075 Hand cut & breaded Cod Loin filets. You come for the Fish but you will also find the best homemade Mac n Cheese on the planet. Other options include: Shrimp, Pizza, French Fries, Cole Slaw, jello and Homemade Desserts. Full beverage service and family atmosphere. 2/12, 2/19, 2/26, 3/4, 3/11, 3/18 from 4-8pm 859-572-4641
Saint Vincent Ferrer
7754 Montgomery Road Kenwood, Ohio 45236  A fish fry not to be missed! All proceeds support our school athletic program. Premium baked and fried fish are available, and we feature homemade chowder!  A fish dinner ($8) comes complete with 2 sides, drink, dessert and homemade coleslaw and tartar sauce! Child friendly environment, including high chair availability (we are a school fish fry, so we know a thing or two about kids!), and kids meals ($4.50) include chicken, fish, or pizza plus a side, drink, dessert, and homemade coleslaw.  Feb. 5, Feb 12, Feb 19, Feb 26, March 4 5:30 – 7:30
Standard Club
643 Laurel Street, Covington, KY 41011  Fish Sandwich Set-Ups $7.00, Fish Sandwich $5.00, Grilled Cheese Set-Ups $5.00, Set-Ups include: Cole Slaw, Hush Puppies and your choice of Mac -n- Cheese or Crinkle Cut Fries  03/11/16 5:00 till 8:00 PM http://www.standardclub.webs.com
Trinity United Methodist Church
101 E Southern Ave Covington, KY 41015  Join us every Friday at 5pm for our annual Fish Fry! Hush puppies, tartar sauce and Mac & Cheese included!  KIDS EAT FREE!!!!  Adults- $9  Seniors- $8  Children- FREE  Every Friday: February 12 – March 18. 5:00pm-7:00pm 859-261-4010
Wayne Fire & Rescue Aux
797 Wright St. Newtonsville 15+ years at serving our community and supporting the Wayne Township Fire Department. We are recognized as the best fish fry in our area. 5:30 to 8:00 pm 2/12 2/19 2/26 3/4 3/11 3/18 3/25 513-625-4212
If you don't see your organization's Fish Fry on this list you can submit it using an easy online submission form, just click this link: FISH FRY FORM
Looking for more Lenten Dinner ideas?  Check out this post:  Great Lenten Dining in Cincinnati & Northern Kentucky