Lent is here, and with it the search for delicious meat-free dining options. We've got a fantastic roundup of local fish fries that need to be on your list for the season, but one cannot live on fried fish alone. Check out our list of great lenten dining options in Cincinnati and Northern Kentucky.
Cincinnati area: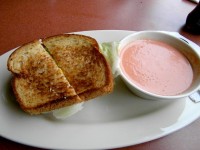 Tom + Chee — What could be more lenten friendly than grilled cheese? There are many vegetarian options already built into their menu, but you're also able to customize your sandwich and make it anything you want it to be! Add a cup of one of their amazing soups and you've got a perfect meal.
Sleepy Bee Cafe — First of all, you can't beat the pancakes at Sleepy Bee Cafe, but they also have a delicious lenten special – Shrimp and Grits made with Bluefoot shrimp that are sustainably farmed without hormones or antibiotics in Ecuador. You can also find a soy or gluten free menu, as well as vegan options.
Melt Eclectic Cafe — Melt's menu contains plenty of meat-free options for your lenten dining pleasure, including fresh homemade soups and a veggie cheesesteak sandwich to satisfy your meaty cravings guilt free.
Green Dog Cafe — Green Dog Cafe can accommodate your lenten requests easily with their already impressive vegetarian and vegan menu. They also offer fish selections, and all of their ingredients are locally sourced and environmentally conscious.
Mellow Mushroom — There are plenty of vegetarian options at Mellow Mushroom! Mega-veggie pizza, Cosmic Karma, Gourmet White, or build your own – you can't go wrong with a visit to Mellow Mushroom.
The Melting Pot — Date night? How about a four course Fondue for Two for $34.95 per person? Vegetarian and seafood options are available, making this a perfect lenten date night destination.
Northern Kentucky:
You can also check our the posts below for more great options:
Northern Kentucky and Cincinnati Fish Fry Listings 2015
Vegetarian Dining in Cincinnati and Northern Kentucky