We love bringing you family friendly events, deals, and activities and know that family time is


important. We also know that every once in awhile we need time to be adults together, to reconnect, to talk, laugh, and enjoy each other's company away from the demands of family life. Experts say that maintaining a date night is one of the most important things you can do as a couple to keep your relationship strong and keep the lines of communication open.
The problem? Finding time, resources, and ideas to keep date night interesting and enjoyable. That's where Date Night Cincinnati comes in. Date Night Cincinnati, presented by our savings partner eReach Savings Cincinnati, is your one-stop resource for finding the best deals, events, date night ideas and so much more. Whether you are looking for the most romantic date night restaurant in town, fun ways to turn a night at home into date night, special events, or a great deal to keep date night budget friendly, Date Night Cincinnati has you covered.
When you visit the website you'll find a directory of date night restaurant reviews and we're proud to say that several of our Family Friendly Cincinnati writers are also contributors on the Date Night Cincinnati website!
There's nothing worse than lining up a sitter for the kids, getting all gussied up and ready to go, and finding your dinner options scant or unappealing. With Date Night Cincinnati's review directory you will always be able to find the perfect date night spot and be confident that it will be everything you hoped it would be.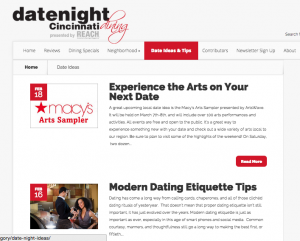 Looking for a date night (or day) idea that thinks outside of the box? No problem. Date Night Cincinnati's Date Ideas & Tips page has ideas for local events, museums, outdoor fun, unique date night opportunities, and much more. Need to brush up on your tipping etiquette or get advice on gift giving? They've got you covered there too.
Needless to say, we're pretty enamored of this site. Anything that helps couples get out of the house for a little while to be more than just mom and dad is pretty amazing, in our opinion.
We're so excited about this new site that we've partnered with Date Night Cincinnati to host a date night giveaway! Read on to find out how you can enter to win a $25 Melting Pot gift certificate!
WIN WIN WIN

One lucky FFC reader will win a $25 gift card good towards a date night dinner at The Melting Pot!
Question:
What is your favorite date night destination?

Bonus Entry — worth 5 extra entries:
Sign up to receive the Date Night Cincinnati weekly eNewsletter, here: http://bit.ly/1ujxGdh
Extra Entries:
Check out Family Friendly Cincinnati  and Date Night Cincinnati on Facebook.
Tweet about this giveaway, including @FamFriendlyCin and @DateNightCincy in your Tweet.
Find us on Instagram and share your date night photos: @DateNightCincy and @FamFriendlyCin and use #DateNightCincy
The winner will be drawn and notified via email (we'll also announce it on our Facebook page) on Friday, March 6 at 2 PM. Winner will have 24 hours to respond or another winner will be chosen.
disclosure: Date Night Cincinnati provided the Melting Pot gift certificate as a giveaway for our readers.