Were you one of those kids up at the break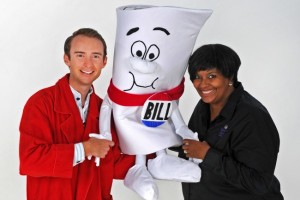 of dawn on Saturday morning watching cartoons?  If the answer is yes, you can probably sing along with me right now to "Conjunction Junction"…what's your function?!  Oh yes, you remember.
You are in luck!  This February The Children's Theatre of Cincinnati is going to rock it out with SCHOOL HOUSE ROCK LIVE! JR.  featuring the local 80s band, The Rusty Griswolds!  Here is a little more about the show:
The Children's Theatre of Cincinnati continues its 90th MainStage Season with SCHOOL HOUSE ROCK LIVE! JR. at the Taft Theatre, directed by Angela Powell Walker. Originally conceived and directed by Scott Ferguson.  Book by Scott Ferguson, Kyle Hall, George Keating.  Music and lyrics by Lynn Ahrens, Bob Dorough, Dave Frishberg, Kathy Mandry, George Newall and Tom Yohe.

This musical is adapted from the Emmy® Award-winning educational cartoon that rocked the house from the '70s to '80s each Saturday morning. SCHOOL HOUSE ROCK LIVE! JR. hits the Taft Theatre stage with a rock-and-roll revue, featuring local rock sensation, The Rusty Griswolds!

Tom is a frantic school teacher who is nervous about his first day teaching. When he turns on his television to calm his nerves, his surroundings come to life and his lesson plan is illuminated. Throughout the show, various characters help Tom create fun and interactive lessons to engage his students in all sorts of subjects. This show features middle school education through song and dance, including classic hits like "Conjunction Junction" and "Three is a Magic Number."

And what better way to bring this musical to life than through the talents of the incredible local rock band, The Rusty Griswolds. Since 1999, The Rusty Griswolds have been performing; bringing energy as only they can to the best music of the 80s and SCHOOLHOUSE ROCK LIVE! JR. will be no exception!
SCHOOL HOUSE ROCK LIVE! JR. show times are as follows.  Tickets may be purchased at 1-800-745-3000 and www.ticketmaster.com.
Friday, February 13 at 7:30 PM
Saturday, February 14 at 2 PM
Saturday, February 14 at 5 PM
Sunday, February 15 at 2 PM
Saturday, February 21 at 2 PM
WIN!!!
Would you and a friend like to check out this performance on us?  Well, The Children's Theatre of Cincinnati has partnered with Family Friendly Cincinnati to give one lucky reader TWO tickets to the opening night performance—that show is Friday, February 13th at 7:30pm.  Please make sure you can attend that show time before entering, as the performance time cannot be changed.  Must be 18 and live in the surrounding area to win.
Here's how to enter:
Entry 1:  Tell me your favorite song from the School House Rock series.
Entry 2:  Share this giveaway on Facebook and tag Family Friendly Cincinnati as well as The Children's Theatre of Cincinnati.  Leave a comment that you did.
Entry 3:  Tweet about this giveaway and leave a comment that you did.  Tag @FamFriendlyCin
That's it!  Enter soon because opening night is going to be here before you know it!  The winner will be drawn randomly on Monday February 2nd and announced on Facebook.  The winner has 24 hours to respond before another is drawn.
If you go on Saturday February 21st, don't miss Kid's Kuisine, a tasty fundraiser for The Children's Theatre of Cincinnati, presented by Cincinnati Magazine from 11:30 AM to 1:30 PM at the Taft Theatre Ballroom, 317 E. 5th Street, prior to the 2 PM performance of SCHOOL HOUSE ROCK LIVE! JR.   Kid's Kuisine guests will enjoy food and drink from exciting sponsors while area restaurants will showcase creative kid's menus.  There will also be "Play with your Food" stations plus young chefs will get inspired at the cooking stage. Children's and adult tickets are $10 per guest when purchased in advance and $15 per guest at the door.  To purchase visit cincinnatimagazine.com/cmevents or call Chris Ohmer at 513-562-2777.
Disclaimer:  I was given complementary tickets for the show in exchange for this giveaway and review.  All opinions are my own.