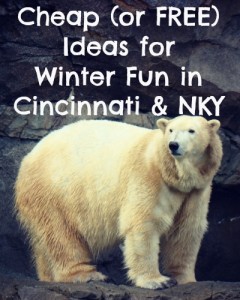 Winter is that time of year when the kids tend to get a little bit stir crazy.  This winter in particular has been bad for our family, having battled the flu and asthma over the holidays, and the fact that there's been very little snow has made my children blue.  By the end of each weekend I feel like the entire family is climbing the walls sometimes.  But since we just had the holidays our wallets are still hurting, and that makes it hard to take a big family out for fun on the town.  Inspired by a need to get the munchkins out of the house we did some research and put together a list of Cheap (or FREE) Ideas for Winter Fun in Cincinnati & NKY.  I hope this helps your family combat the winter blahs and inspires you to find a cure for your cabin fever!
**UPDATED in February 2016
Cheap (or FREE) Ideas for Winter Fun in Cincinnati & NKY  ::
The Cincinnati Art Museum ~ How wonderful is it that we have a museum filled with masterpieces that is free to visit?!?  You just have to pay $4 to park (FREE parking for members), and then you can wander the museum free of cost!  The museum also offers family friendly programs on the weekends.  Visit The Cincinnati Art Museum website for more details.
Cincinnati Zoo "Penguin Days"  ~ From now until March 11th you can visit the Cincinnati Zoo and pay half price for admission!  What a deal!  Bundle up and go see what the animals are up to during the winter months.
Visit the UnMusuem for FREE ~ Beginning on February 13th 2016 The Contemporary Arts Center will be offering FREE admission for three years thanks to a generous donation. Take advantage of this deal and bring the family to explore the Contemporary Arts Center and have some hands-on fun at the UnMuseum.  It's one of our favorite places to explore with the kids downtown!  Visit the Contemporary Arts Center website for more details.
Storytime ~ Most local libraries, and some local bookstores like Blue Manatee offer FREE storytimes for children.  My family has been enjoying storytime at the Covington Library since my children were small.  Storytimes are not just about the books anymore either….sometimes you'll find opportunities to dance, sing, play instruments or even have a tasty snack.  Check out library and bookstore websites to find a storytime location near you!
Winter Family Days at the Newport Aquarium ~ Through February 28th 2016 ~ Kids 12 and under get in FREE (two children get in free with each paying adult).  Tickets can be purchased at the Aquarium, online or by phone.   Visit theNewport Aquarium Website for all of the details.
The Krohn Conservatory ~ Admission to the Conservatory is quite reasonable, and it's a nice warm place to get close to nature during the cold months!  General admission prices are: $4 for Adults and $2 for Children 5-12 years old.  Please note admission prices may change with seasonal shows.